In our 2018 annual business conference for YourTango Experts, we're going BIG.
This year we're talking about upleveling. Upleveling your business. Upleveling your cash-flow. Upleveling the services, products, and offerings you bring to the world … and together, discovering what is getting in your way of having the success you want.
Because, let's face it, there are ample clients out there for the work that you do.
Yet for many Experts, the work doesn't lead to the rewards you most desire.
In our very special 2-day conference (there is a bonus 3rd day that we'll share a little later in this page), we are going deep and exploring what your clients need in order to connect with you and purchase services today.
Not tomorrow.
Not next week.
Today.
Our speakers are world-class therapists, coaches, and healers, all of whom are living the dream.
And the good news is, there is room out there for all of your versions of the dream. Getting there requires clarity of purpose, being honest with yourself about your motivations AND doing the work to discover what is stopping you.
Welcome to 2018's YourTango Expert's Conference: Upleveling Your Business For Living A Passionate, Service-Focused Life
Over the course of this immersive weekend, we will teach you effective and results-driven strategies to grow your business while staying in your joy, including…
Strategies to find, connect and attract clients who are actually in need of the services you provide. Who is your modern-day client? Many of our attendees assume they should market to GenX and Baby Boomers, but want about Millennials? How does the maturing on our planet affect your business and are you prepared for the client of tomorrow? In this session, we'll take a deep dive into the latest trends, research and behaviors of clients in different age brackets and explore how they seek help on the Internet, social media and from referrals.
What tools do you need to make it all work? In this session, we will cover the latest and greatest for online marketing. Experience abounds here so you learn where to invest your dollars and what tools are simply NOT worth the fee.
Nurture campaigns and all you need to think about when a new subscriber joins your mailing list so they go from warm to SOLD. The sensitive process of leading a new subscriber into your campaigns is critical. How often should you email your list? What feels like it's too frequently and leads to unsubscribes vs. too infrequently and leads to a lower open rate. This session covers all of these topics and more!
Platforms (and all that you must master) so you're in front of clients who are ready to hire you. We're talking about articles/blogs, Facebook/Facebook Live, newsletters, drip campaigns, your image and personal self-disclosure.
How to sell BIG ticket items. It's not as hard as you might think but does demand some awareness of the marketplace, how consumers purchase high-dollar items and a consideration of your expertise to understand the most logical choice for your most valuable products/offerings.
Uber-niching and targeted sales. Not everyone has to, nor should they, dilute their message to make it relevant for the masses. Sometimes it's best to super-target your marketing to attract the best audience for your services. We'll show you how it's done.
Overcoming writer's block and creative hiccups. As small business owners, we wear many hats. Learning to break through creative blocks means you can always tap into your awareness of what your clients need and the best ways to deliver that to them. This session is invaluable for anyone who blogs, does content marketing, social media posts or AdWords.
If your passion project is writing a book (and getting it published AND making money from it) that is part of a special add-on Sunday event. Last year we covered the basics of a great book proposal (and yes, we have several success cases we can share), this year we're going deep and exploring your ideas and the seeds of inspiration and doubt that keep you from publishing.
And more.
This amazing weekend is personal. It's passionate. It's energizing and it's a whole lot of fun.
If you want 2018 to be your breakout year, one where you UPLEVEL your life AND your business, you don't want to miss this event.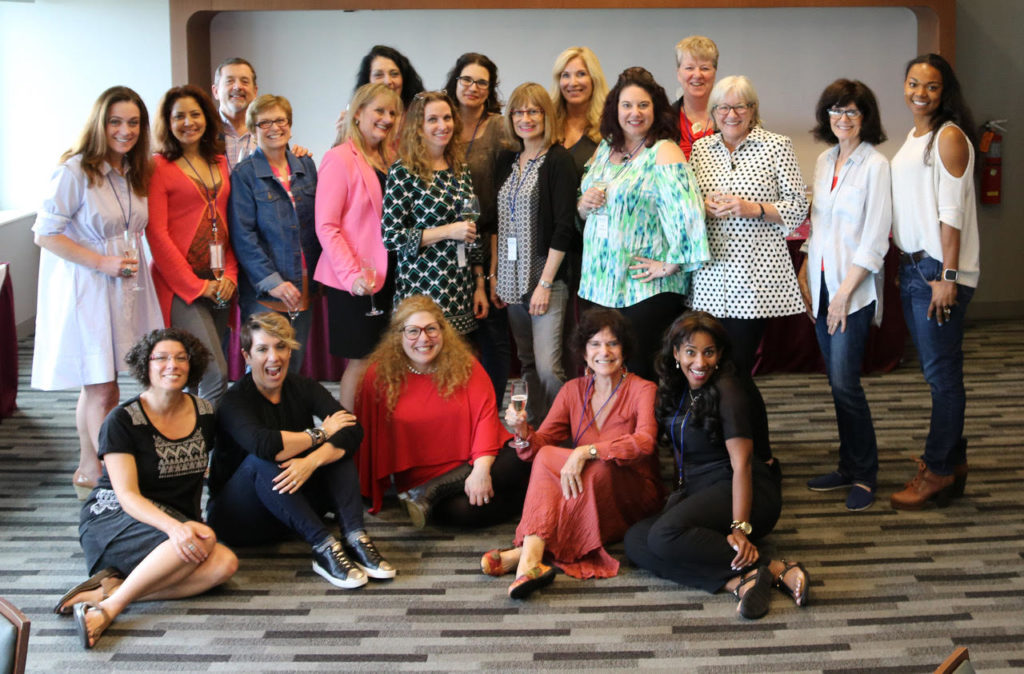 NUTS AND BOLTS:
Conference dates: Friday & Saturday, October 12-13, 2018.
9-5pm at Crown Plaza Hotel, JFK airport
The conference includes all that is above along with all of your meals. Vegetarian meals are available. Please let us know after registering if you have any food allergies or restrictions and we'll do our best to accommodate.
Total fee is $599.00 USD
Sunday, October 14, 2018 
Our special add-on day gets into the heart of great writing. We will focus on ideas and talk about which ones have the genuine potential to sell to an agent or work in a product launch. This intimate day is complete with training on how to write a book proposal that agents are looking for. The cost of this add-on day is just $100 more.
Sunday's training will bring budding authors together to focus on creativity, ideation, writing blocks and training to clear out specific blocks so you can start the journey of writing YOUR book.
Total fee to attend the full conference Friday, October 12-14th, 2018 is $699.
To register for this special event, please email Deb@yourtango.com to secure your spot. She will get you all the information you need to join us.
And if you're curious about how our business tools, marketing, and training has worked for clients, read up about it. If you need help marketing your practice, we would love to chat.
We are so very excited to see you in NYC in April!
Melanie, Susan, Maryn, Deb, Natalie, Cari, Karen and the whole YourTango Expert's team