Content marketing (otherwise known as publishing articles or blogging) has been touted by many as the missing link in business development. Marketing firms from HubSpot to business magazines like Forbes have all documented the immense difference made to a business when their online presence is strong.
A few statistics for you to consider:
As a healer with two goals in mind (helping clients and making a living), you need a simple plan that will allow your website to grow as your business needs evolve. Publishing articles works in this way provided a few basics requirements are followed.
As a skill, writing online articles is incredibly different from writing scholastic papers, white papers or legal reviews. Articles that are online are conversational; they are intimate, personal and when done right, connect to the heart of readers in a very powerful way.
When your writing strategy is done right, you connect with readers who are on the journey to get help for their life.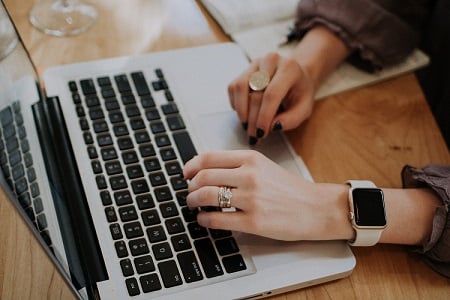 As a business owner, you want to connect with clients who are exploring their options for healing. What draws readers in? Articles.
Articles lead readers through a journey, one that when done right leads the client through the process of collecting information so decisions can be made about what to do.
Some are essays that poignantly tell a story. Others are how-to articles that teach or educate the reader on how to live a better life, bake a cake or remove a splinter.
No matter the subject matter or writing style, online writing in this form is everywhere.
When it comes to marketing your business, the goal is to get your content in front of the readers who are seeking the support you offer.
That's where publishing articles on YourTango come in…
Our website is a highly targeted audience of women and men seeking answers to life's problems with an interest in self-growth. Some clients are deeply into the process and others are scratching the surface (a journey that everyone must go on as they feel their experiences and reach out for help). No one can bring a client into services (counseling, coaching, etc.) except the client. Clients decide.
As a healer, you know this: our services are always offered at the request of a client. In fact, without clients in need, we have no work. So the most important thing you can do as a practitioner who wants to grow your practice, find clients, improve cash flow, develop a product, write a book (and sell it) or some other related goal, you need to build a strong audience of readers who believe in your advice.
That is the ticket to marketing your business and getting away from the challenge of finding new clients.
YourTango's platform covers the bell curve of topics on the love spectrum:
From dating to cohabitating to marriage. Intimacy, communication, conflict, and resolution. Relationships with yourself, your partner, your children, and your world.
Our Experts blog about the large variety of "how to" topics clients seek out on search engines. How to topics from potty training, to asking someone on a date, to sharing intimate feelings, to forgiveness, to learning how to say no and set boundaries… and many, many more. In fact, we would bet that you would be downright shocked to learn how many searches are done for "how to" topics online!
We also cover the basics about counseling, coaching, healing, spirituality and more.
And tough topics like loving an addict or a narcissist, divorce, miscarriage, grief and more.
Over the years we have learned more than a few hard-earned lessons about content and the big one is this: when you give readers the articles they are naturally looking up online, you will be rewarded with clicks into your website, sales, and friendship.
Our readers love us, but you must know that the Expert content, the topics that are discussed with subject-matter expertise, are written by people like you.
That is our truly secret-sauce. Instead of paying a bunch of writers to research these topics, we teach Experts,  just like you, how to take the intimate knowledge you have of your field, translate that into articles that publish on YourTango so they're visible to our audience of 13-16 million readers each month, and drive traffic back to your website.
When you publish on YourTango not only are you putting your articles in front of a targeted audience who is deeply in need of your help and support, you're also building your online platform (not sure what that is, read here for more on online platforms and why they matter), your brand, AND sending traffic to your website so those individual clients can engage with you for your services.
And the best part, you don't have to be a writer to take advantage of our site. We actually teach you how to do it.
Here are just a few of the important items included in your membership as a YourTango Expert:
From hot topic prompts for what to write about, to branded ideas that marry up with your expertise, we bring the topics to you.
We also teach you how to write if that's something you would benefit from. You don't have to be a journalist to leverage our platform, you just have to be willing to learn how it all works.
To that end, we give 30+ hours of free business coaching to all of our members each year.  This weekly training is the one place you need to stay in touch with all that's happening online so you're prepared for the road ahead.
When people share reviews of our service with us, the overwhelming our business coaching and hot topics are the "kicks in the pants" they needed to start a content marketing plan for their business.
If you would like to learn more about becoming an Expert on YourTango, please visit this page for more information.
If a private consultation would be helpful, please schedule one with our team. We would love to chat and explore how blogging on YourTango can help support the growth of your business.