Demand More From Your SEO Audit By Knowing What Should Be Included In An SEO Website Audit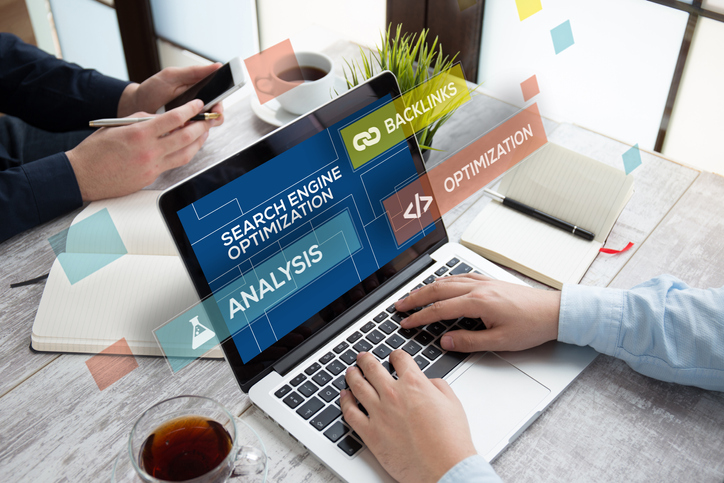 If you're a business owner with a website, chances are at some point you will be solicited by a company or companies that attempt to scare or confuse you into purchasing their SEO website audit services. There has been a growing trend of companies who email you to "inform" you that there are critical site errors within your website that are preventing you from ranking on Google. More than that, the ransom note — err, the email will tell you that all your work is for naught BUT you can pay XYZ company to fix it.
The fact is many of these solicitations tend to fall quite short with the information they provide. The email that you receive is the result of only a quick surface look at your website. There is no way they can see the back end of your site to give you the correct information, nor would they invest that kind of time without the guarantee of being paid.
Truth be told an SEO audit is something that you should do for your website periodically. Think of it as a kind of a spring cleaning for your site. And once you understand how an SEO audit works and what it should accomplish you will come to find out that most of the SEO companies who send out emails are just pitching their services to anyone and everyone looking for a bite. When all is said and done the business owners who understand the process will stand to gain the most from the process.
An SEO audit is an analysis of your website, the purpose of which is to determine the searchability of your site and how likely your site is to show up on a Google search (or any other search engine). A good SEO audit will identify issues that prevent your site from showing up on search engine results pages (SERP). The audit will also identify any other issues that may affect performance such as page loading speeds, useful content, security, and ease of use.
How Long Does An SEO Audit Take?
The time required for an SEO audit varies from website to website. The reason for this is simply because every website is different. Some websites can be quite large with 15 – 20 pages while others may only have 4-5 pages. When you entertain the idea of an SEO audit, remember that the time requirements are not one size fits all. The answer to the question of timing can only be estimated after an initial evaluation. Promises to meet time hacks that are made prior to an initial evaluation should be a red flag.
That said, the process of doing an SEO audit can take a few days to a few weeks. You're probably wondering why in the world would an SEO website audit take a few weeks? Let's examine this using the analogy of a car. Let's say there is a problem with your car and you take it to the mechanic. Would you expect that the mechanic would do the inspection, tell you what the problems are, and leave it at that? Or would you expect the mechanic to tell you what needs to be done to correct the problems and then proceed to do just that?
That's what we thought.
An SEO audit can take a few weeks because not only do the auditors examine every aspect of your site, ideally, they should offer a plan to fix whatever they find wrong. And executing those necessary fixes is what takes the bulk of the time.
Why Are SEO Audits Important?
When you're running your own business you're always focused on the details of running that business. As far as your website goes, more than likely you are focused on content creation like blogging consistently for example. While you're caught up in what you're doing on the front end it's easy to lose sight of what's happening on the back end. So while you're busy creating content you may not be ranking on Google. At the end of the day,  there's no point in all of the work you're doing and you're just spinning your wheels.
An SEO audit shows you what's working and what's not. For example, if your site is slow to load, it will never rank on Google, because no one will ever wait for a slow loading site, they'll simply move on. More importantly, an SEO audit identifies opportunities for improvement. It is an SEO website audit that will show you what you need to do to rank higher in the SERP.
Common Terms Used In Relation To SEO Website Audits
Perhaps it would be helpful to understand the terminology related to your website so that if, and when you receive solicitations from SEO companies you will know exactly what they are talking about. Moreover, understanding these basic SEO terms can help you to be more proactive with your site. A full understanding of common terms and phrases that are commonly used can go a long way towards taking the fear out of meddling with it.
We've chosen a few terms relevant to SEO, that you should be familiar with. Let's take a look.
Sitemap

–  List of pages on your website. Search engines use the sitemap to discover pages on your site and add them to the search results page.

DA –

Domain Authority is a metric that measures how well your website may rank in the search engine results. Ideally, you want a higher domain authority.

Crawling-

The process by which search engines search for content.

Indexing –

The process of adding new content to the search engine results.

Organic Search Results –

Search results that are shown based only on relevance to the query. Unpaid search results.

SERP-

Search Engine Results Page

Backlinks –

Links from external websites that point back to your website.

Internal Links –

Links embedded in your content that point to other content within your own website.

Meta Description –

A brief summary telling the reader what the page is about.

Page Title –

 A short description that tells the reader what the title of the page is.
Of course, this is not a comprehensive list of every SEO term in existence, but these are a few of the most commonly used terms. Moreover, these are the terms that one may find in a solicitation letter by an SEO company looking to pick up your business.
What Is A Technical SEO Audit?
While an SEO audit looks at the surface level of your website, a technical SEO audit digs a little deeper. Let's use a car analogy again to illustrate. An SEO audit would be like looking at the make, model, and color of a car. It looks at what can easily be seen on the surface. When we're talking about a website, we're talking about loading speed, content, and many of the other aspects that directly affect the user.
A technical SEO audit would be more like checking under the hood or at the mechanics of the car, such as brakes, oil, engine, etc. In terms of a website, we're talking about checking for URL errors, how many pages Google has crawled and indexed, securing your website with the most current encryption, removing low-value content and updating meta tags. A technical SEO audit is a more in-depth look at the inner working of your website audit.
What Is A UX Audit?
To answer this let's first clarify what UX even means. And this one is easy. UX is simply the industry lingo for user experience.
AUX audit looks at your site from the user's perspective. The audit attempts to investigate the behavior of your users. Why do they do what they do? Why are they not doing what you hope for? For example, if you are selling a course on your website, and users are adding the course to the cart but they don't "check out" and complete the purchase, the UX SEO audit will attempt to figure out why.
How Does Blogging Affect My SEO?
In a recent post, we discussed all the reasons why blogging is important to your service-based business. If you remember one of those reasons is to improve your SEO.
Search engines look for valuable content and subsequently add them to the search engine results page or SERP, through the processes of crawling and indexing.  Blogging creates a consistent flow of inventory for the search engines to crawl and add to the results. It is how search engines find you and blogging regularly is the best way to show the search engines that your site is a valid source of information and therefore worthy of landing on the SERP.
How Much Does An SEO Audit Cost?
A typical SEO audit package can cost anywhere from free –  several thousand dollars. While that may seem like a big difference, often SEO audits are free to help you understand what's really going wrong with the site and how much effort is required to fix it.
You don't pay for the work unless you choose to contract with the vendor. Our SEO audits, for example, are always free because we are not sure before we get under the hood if we can even fix what's going wrong. We need to take a look and then share with clients what we find. From there, packages make sense.
Your audit should analyze your website to identify problem areas, develop a plan to fix any issues, and improve your search engine rank for keywords you want to connect your brand to. Plans to grow your website via content marketing, social media marketing, paid advertisements, paid directories, and more should be a part of your strategy.
Your website will NOT grow from SEO improvements alone.
This is an important fact to know. Websites require traffic to grow, so your plan must include how new traffic will visit your site. Without it, you may gain an initial boost of traffic, but you will soon plateau and stop growing. If this has ever happened to you, now you know why.
From the audit, you should be offered a package of services to help. Ideally, that package should include the following:
The initial SEO website audit that looks at site speed (mobile and desktop), mobile-friendly score, GDPR compliance, website backend and management, red flags that will prevent the current version of your site from growing, traffic sources, blogging plans/efforts, social media, current SEO ranking, competition, and backlinks.

Keyword research. This is in-depth research to understand exactly how customers find you via organic searches and the competition your brand is against to grow into these coveted spots. This data should not come from free tools, otherwise, there will be missing variables that play an important role in your strategy. To confirm, ask what tools the auditors use to find authentic keyword data to prove the value of your search terms.

Implementation and support. This should include a timeline with an action plan to update your website in key areas like page titles, meta descriptions, URLs, new content to be developed, along with a strategy to share it with an audience hungry for your services.

Finally, training. The last thing you want is to invest in your SEO only to find that you can't manage, update, or add new content to keep things going one the terms are over. Ask for training to be as independent as you want to be so you can have a role in the growth of your SEO go-forward.
How Much Should I Spend On SEO Per Month?
When it comes to the amount of money you should be spending on SEO per month, there is no concrete answer. Most programs offer a flat rate that can be slightly higher if you pay month over month. It's not uncommon to pay between $300 – $500 per month. That number should be thought of as an ongoing expense unless you purchase a package that gets it all done in a shorter timeframe.
We do a 9-month program to help move things along for people faster, but other companies prefer to do ongoing monthly rates for an indeterminant amount of time. Your monthly expenditure for SEO may be based on the SEO package you choose and your budget just to name a few.
While it's difficult to pinpoint a specific number, there is one thing we feel is important to reiterate, and that's the fact that SEO audits are crucial to the health of your business. For that reason, it is incumbent on the small business owner to make room for it in their pocketbook and on their calendar.
Can You Do SEO Yourself?
If you feel comfortable enough tinkering with the inner workings of your website then it is likely that you can do an SEO website audit yourself. Heaven knows there are countless resources available to you all across the internet. The challenge comes in when you have to interpret the data and arrive at a reasonable conclusion.
It is one thing to conduct an SEO audit based on a series of instructions, but it is another thing entirely to do something with the results of that analysis. Anyone can identify a problem, but it takes experience and know-how to actually fix those problems and turn your website around in the rankings. In that case, you may want to call in a professional.
Putting It All Together
Running your own business requires you to wear a lot of hats and now you know that a working knowledge of SEO should be one of them. For starters, you should understand how your efforts can and should be paying off.
When the time comes to dig deeper into your SEO, arm yourself with good information so you make the best decisions. First and foremost, the more you know the less likely you are to be taken advantage of and the less likely you are to waste precious dollars of your marketing budget. When making a big investment into your business such as this you must not be afraid to ask questions and possibly keep searching until you find an SEO company you feel comfortable with.
As you conduct your own research on an SEO audit, here are a few questions clients often ask us regarding deliverables:
Can you describe the typical SEO audit process?

Can you share the results of previous audits from your portfolio?

Where do you tend to focus? (i.e. keywords research, content optimization, technical SEO)

What metrics do you use to measure success?

How long does it take?
What do you need me to do versus what will you do?
As a small business owner, it is up to you to ask the right questions and have realistic expectations. The more you know, the better you'll feel about what's reasonable for your website and your business' growth today and into the future.
One thing is for sure, SEO is not going away. More money is being invested in doing SEO right than ever before. 
According to Impact, here are a few 2019 SEO statistics for what's going on just this year:
Google accounts for over 79% of all global desktop search traffic, followed by Bing at 7.27%, Baidu at 6.55%, and Yahoo at 5.06%
Google receives over 63,000 searches per second on any given day
50% of search queries are four words or longer
More Google searches take place on mobile devices than on computers in 10 countries including the U.S. and Japan
High-quality content and link building are the two most important signals used by Google to rank your website for search
The average first-page result on Google contains 1,890 words
Long-form content of over 1,000 words consistently receives more shares and links than shorter form content
82% report the effectiveness of SEO is on the rise and 42% state effectiveness is increasing significantly
61% of marketers say improving SEO and growing their organic presence is their top inbound marketing priority
Google "near me" searches have increased by two times over the past year
72% of consumers who did a local search visited a store within five miles
30% of mobile searches are related to a location
Updating and republishing old blog posts with new content and images can increase organic traffic by as much as 111%
Links are one of the top Google ranking factors, but Google has said that social media shares don't count as individual links
The average firm is expected to allocate 41% of their marketing budget to online, and this rate is expected to grow to 45% by 2020
If you want to rank highly for the search terms your clients use to find help, services, support, or anything else, you need a strong SEO strategy. Getting the right SEO audit is the beginning. From there, having the right team by your side makes all the difference.
If you're ready to explore why your website needs SEO and what you can do to get your SEO to perform better for your practice, subscribe to our newsletter list (located in the upper right-hand column on this page) or reach out to us directly to schedule a call and see how we can support you with getting your SEO efforts off the ground.