13 Hashtags That Work Incredibly Well On Instagram For Getting You Noticed & Followed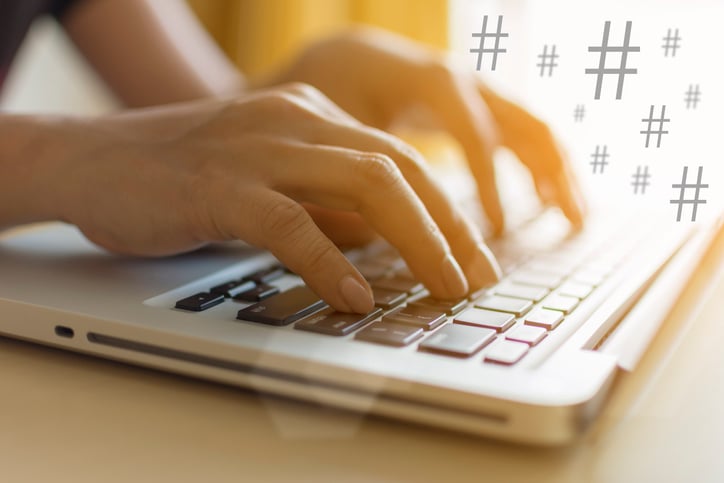 Let's start at the beginning…
If you've dabbled in social media, even just a little bit, there's no doubt you've heard the term hashtag. And if you're not comfortable on social media that term can be a bit baffling. So what are hashtags? Why are they used on multiple platforms? And what's their purpose anyway? Let's take a look.
A Brief History Of The Hashtag
The hashtag itself has been around for quite some time, technically since the 14th century. In the U.S. the hashtag had long been used as the symbol for pounds, thus we know it as the pound sign. Over in the UK, however, it is known as a hash mark. Strangely enough, that's the term that won out and today we know it as a hashtag.
Of course, no one ever gave the pitiful hashtag a second thought until it became a large part of our popular culture, which happened on Twitter. In 2007, Chris Messina used the first social media hashtag on Twitter.

Although hashtags first started with Twitter, they have come to be more commonly associated with Instagram as social media platforms continue to evolve.
As you peruse through many of the social media platforms you will likely find hashtags on all of them. Even platforms that don't even consider themselves as a social media platform are starting to use hashtags. In this case, Pinterest comes to mind.
For our purposes here, we are talking about using hashtags in relation to Instagram.
What Does A Hashtag Look Like?
Simply put a hashtag is a word or string of words with a # sign in front of it. The most important thing to remember is there are no spaces between words.
Here is an example: #hashtagsareeasy
And really that's all there is to know about the format of hashtags. Now that you know what hashtags are and what they look like, let's take a quick look at what they do.
Purpose
Hashtags are a way to put topics into categories. Essentially, hashtags are road signs. Through the use of hashtags, the creator points the user to their content. When a user searches hashtags for a particular topic they are "directed" to all similar content under that topic. Hashtags help users find posts about common topics.
Think of it this way, if you are looking for cereal in the grocery store, you won't look for it in the produce aisle. The same concept applies to hashtags and finding content on social media. If someone is looking for content on mental health they will not search the hashtag #outfitoftheday. At least I hope they don't.
Hashtags are also the best way to reach a target audience. The more research you do regarding the hashtags you use, the more likely you will see an uptick in followers and engagement. Hashtags can help you get noticed and gain more followers but it is important to note that none of this happens without careful thought.
There has to be a method to the madness.
Do Not Use Just Any Hashtag
A quick Google search will return plenty of articles that claim to divulge the best hashtags for gaining followers quickly. However, more often than not this is a fool's errand. Why? Because most of those articles just repeat the information that the 400 other articles before it covered. It's the same information over and over again listing the most saturated hashtags in Instagram.

The end result of that is that your post will never see that light of day.
The most common (albeit wrong) advice that makes its way across the internet is: "find the most popular hashtags and use them.
If we take a look at the topic of love with the hashtag #love. The common misconception is that this hashtag is so popular you should use it. 
But in reality, there 1,563,584,764 posts with that hashtag, it is so saturated that it does you absolutely no good.
The same goes for other "popular" hashtags such as #instagood, #beautiful, #happy.
The Key To More Followers And Engagement
When it comes to hashtags the key to getting noticed, getting more engagement and more followers is keeping your hashtags industry-specific and targeted.
Effective Hashtags Should Be Industry Specific
Using terms that are not related to your industry will garner very few new followers. For example, #smallbusiness is a big one and probably highly recommended. However, as a therapist, coach or healing professional it will do nothing to move the needle for you. It's just too broad, not to mention saturated with over 20M posts.
Ideally, you want your hashtags to be terms that are specific to your industry. Doing this ensures that your posts are placed into the appropriate categories and those who are searching for those topics are more likely to find it.
The bottom line is that you are looking for the people who are interested in the topic you are posting about. Using industry-specific hashtags will ensure that you find each other. This, in turn, increases your chances of getting noticed and picking up new followers.
Hashtags Should Be Targeted
When using hashtags, you should make a conscious effort to find and use hashtags that are targeted and narrow. You will want to steer clear of broad topics. For example, #anxiety is quite broad and saturated with 11M posts. Whereas #anxietyattack is more targeted and has room for growth with only 221K posts.
The thing to keep in the forefront of your mind when deciding on hashtags is your specialization. The broad umbrella of what you do may very well be healing or a healing practitioner. But if you were to look at the hashtag for "#healer" you will find that it has over 1M posts, However, if you narrowed it down to #reikihealer or #energyhealer you will find a more promising opportunity, with 94K and 194k respectively.
Keeping it targeted and keeping it narrow will ensure that the people who are looking for the information you post will find you. The content and presentation of your posts, however, will determine if they follow and engage.
What Are The Best Hashtags To Get You Noticed And Followed On Instagram?
We've put together a list of the best hashtags you can use to get started. Upon closer inspection, you will find that these hashtags are targeted versions of broader topics. Which again is something that you want.
For example, if one were to use  #depression, there is absolutely no way to rise above the noise for that hashtag. With over 18M posts, you'll only be a blip on a newsfeed. However, if you were to use #depressionhelp this categorizes your post as such and anyone looking for help with depression will more likely find you. With only 94K posts, your chances of being found are higher.
Some of the best hashtags are:
#psychotherapy

#therapysession

#counselor

#wellnessthatworks

#innerhealing

#therapist

#mentalhealthsupport

#depressionhelp

#energyhealer

#mentalhealthawareness

#spiritualhealer

#holistichealer

#healersofinstagram
As with anything else you undertake when it comes to running a business, you must do your own due diligence, also known as research. And when it comes to research you have to be selective with the information you choose to use and follow. This is never truer than when it comes to the do's and don'ts of social media.
If we're talking about hashtags, the advice that seems to be rampant on the internet is to find the biggest and best hashtags and use those. But in reality, this advice is counterproductive to what you're trying to accomplish.
What you want is for users to notice your post and subsequently follow your account. But a highly saturated hashtag will only get you lost in the black hole of social media news feeds. The competition is just too great.
Choosing an industry-specific hashtag that is targeted to what you do and who you want to connect is a much more productive option.
For more information on how to use Instagram for your healing business take a look at our post here.
Here are ideas for what to post on Instagram to gain more followers. 
And here's how to grow your Instagram followers organically.
Need help with your social media strategy or wish you had more followers, likes, shares, or subscribers? We can help. Reach out for a free consultation with our team to explore what's working (and what needs a little love) in your content, social, and marketing plan.