How To Pick The Best Blog Images To Enhance Your Writing & Keep Your Readers Engaged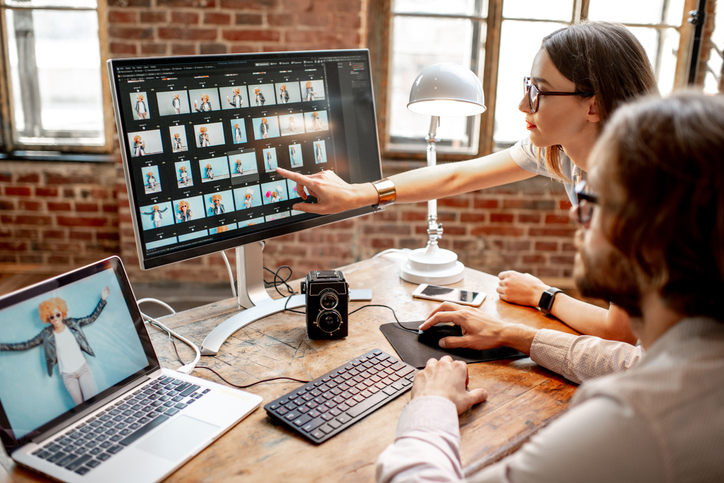 There's a reason that books include images. Whether it's cover illustration, chapter art, world-building maps, or the rare full-page image, rarely do books completely abandon visual art. This art is useful in two ways: it draws and keeps the reader's interest, and it helps for mental visualization of the words on the page. Human beings process visual information much more easily than any other kind of data. 
The same is true for blog articles. In fact, images are even more important online, because the internet is constantly overwhelming users with content. Drawing and keeping the interest of someone who's casually scrolling through a blog or web publication is difficult, but can be assisted with the use of images. 
Once a reader is drawn in, visuals are necessary to help keep the reader's attention. Staring at a great white wall of text on a laptop is not appealing to the average audience.
Where should you begin your search for the best blog images?
If you're writing more of a personal essay, then the safest bet is to always use your own photos or illustrations. After all, you definitely have the right to use any photos you've already taken. However, sometimes you just don't have the high-quality photos regarding the topic of your article on-hand. 
If you're willing to splurge the money, then Getty Images and Shutterstock have the best reputation for editorial images. However, without a regular subscription, the right to use a single one of Getty's photos can cost more than $100, cost going up with the size of the image you use. 
So, if you don't have that kind of cash to throw on images, what can you do? There are a few sites that have databases of free-use images. The best blog images are found on Wikimedia Commons, Pexels, and Unsplash. Most of the images on these sites are free to use, even commercially, but always read the file information to make sure there are no restrictions on image use. 
If there are, follow the rules provided by the photographer who posted the photo in the first place. And always, always, credit the photos you've pulled from outside sources, hyperlinking the site you've pulled them from in your article's photo description.
Photo credit should simply state the owner of the image and link if possible to where you selected the photo. 
For example, Photo by Vanessa Wolosz
How do you choose the best blog images for your article?
Okay, so you know where to get images for your piece, but what kind of photos will provide adequate visuals for your particular article? The answers to this question are very subjective, but there are a few guidelines you'll want to follow to garner the best possible reception. 
First of all, when it comes to images, the best blog images are always of good quality. Unprofessional-looking photos that are grainy, pixelated, or blurry reflect badly on the authority you have as the writer of that article. The quality of your writing will be elevated by a few good-quality photos. 
Now, this next tip may seem like it goes without saying but the photos you include absolutely must pair well with the actual content you've written. Photos help readers remember the written information a lot better, so you want the link between the two to be very strong. 
Additionally, as stressed in this Vocal article, your images should have a clear purpose, and not be too confusing. Choose an image that is singular in what it portrays. Finally, choose interesting images. If the images you use are drab and don't draw any attention, then your article will become just as scroll-over-able.
How should you edit your photos?
After choosing your photos, now you want to make sure they fit well into your article. This is the easy part. You can use Adobe PhotoShop, or online photo editors like Canva, BeFunky, and Pixlr to manipulate the images you've decided on. Crop them to fit in the space you've set for them, or sharpen images that aren't as clear as you'd like them to be. 
If you're more edit-savvy, then feel free to color grade or otherwise change an image's composition to better suit your article. Remember not to go overboard though, as your article should still be text-focused.
How does image placement work?
Depending on how long your article is, you should probably only include two to three images in the main content. And always include a header image in addition to that. Again, your article should be about the words you're trying to get across to people. It is not an image showcase. It's probably safe to include an image every two to three paragraphs, but different writing forms call for different image placement to keep the reader on track. 
For instance, listicles can include far more images than personal essays. Depending on the subject matter, you may even want to include an image for each numbered point. This may also come across as overkill. Defer to your better judgment for these less traditional article types. 
Now that you know where to find the best blog images and how to place them in your piece, what's next?
That's really all there is. The hunt for the right image is as subjective as writing. It can happen quickly or you can fall down the proverbial rabbit hole looking at photo after photo. One trick if this happens to you is to start a file and save good images for later articles. This will save you a ton of time in the future. 
For most people, once you begin adding photos to your articles, it becomes easier, and you get a better eye for doing it. When you figure out your personal style and how you want to present what you write, it can take a quick five minutes to find, edit, and place a photo into your writing. And sometimes, it's even more fun than the process of writing itself.