Have Your Ideas Been Stolen? How To Protect Your Content From Theft & Ensure You Get The Recognition You Deserve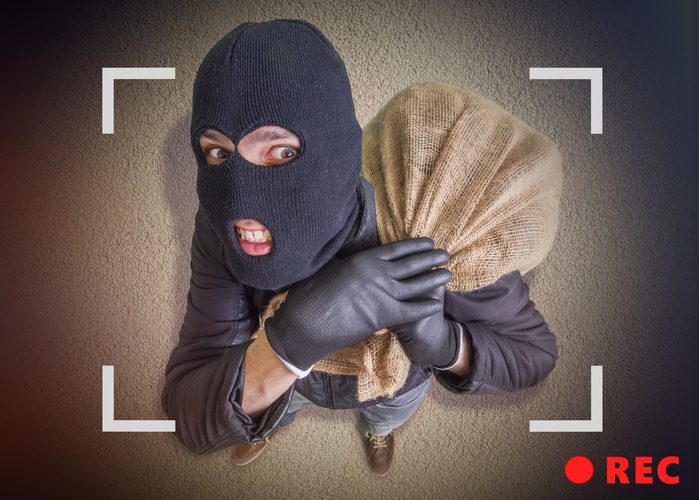 Lots of clients over the years have asked us about protecting their ideas. It's a tricky business bringing a new idea forth. The worry that someone along the way will steal or borrow your ideas without giving you proper attribution is a concern that every content producer should be aware of.
In our world, these concerns often arise in the following ways: clients we help write books and book proposals will share their ideas with us only after we sign a "non-disclosure" statement.
Other clients we help with articles want advice on how to guarantee they retain a byline on an article wherever it publishes.
They also want to know how to find/track their content across the web and if needed, what are the proper channels to report the theft to.
We help clients with all of this and more.
As a writer, whether you're a therapist, coach, healer, guide or a blogger/writer sharing your thoughts with the world, you want to know how to protect yourself.
We are not attorneys (so seek one out in your state if needed), but we have compiled this list of "best practices" to help clients understand their rights and resources should someone pilfer your work.
To monitor if your ideas are stolen, let's review what you should monitor as a matter of self-protection
Everything you publish online, whether it's on your own website, a social media site, a partner site like YourTango.com or a syndication site like Yahoo! is available for a thief's taking. There are no programmatic ways that can ensure your content won't be stolen. Even pfd's can be stolen with the right software. So, it's fruitless to waste time looking for a solution that will guarantee you're not at risk.
Instead, we operate from a mindset of being "aware" and "informed" not perfectly impenetrable. Our tools keep us alert but not hypervigilant so we can stay in the creative process.
With that in mind, please know that anything can be stolen. Creative thieves will copy your content and edit it just enough to look original to new eyes. This kind of work is hard to trace.
The best tool we have found is Google Alerts. This is a free tool from Google that allows you to enter part of your article or landing page and set up an alert (daily or weekly) with Google. When the words you entered into your alert are dinged or noticed by Google, you will be notified on whatever interval you requested.
I have alerts on common topics like my name, with its misspellings, my maiden name, my business name, my areas of expertise and more. You can set up as many alerts as you want and Google will keep you informed.
One note is that this isn't a perfect tool. I have seen times when my articles are stolen and published on a website and I am not notified. As a great secondary check, especially if you suspect something has happened, copy your first paragraph and put it in its entirety into a Google search and see what comes up.
Those results will confirm for you if it's out there in some other form or on some other website.
Like most Google tools, this one works with indexed content and does not pick up things that are on a website but not indexed in search or something that's posted on a social site like Facebook. If someone were to steal your article and post the content as a Facebook post, that wouldn't show up either.
Only content that's indexed in Google's search will show.
If you find that someone has stolen your ideas or content, what can you do?
Get images or screenshots of the content to prove your case.
If you make a formal report of any kind, your word isn't enough to prove your case. You need proof in a format that can be easily replicated by someone investigating your case.
Before you start taking pictures, review the site. Do they have more than one of your articles? Has anything else such as a landing page or sales copy been copied from your website?
Get photos of each page that include the url or web address to help someone replicate your claim. You can take screenshots using your mobile phone or using your computer, just be sure to get screenshots that show the full extent of the theft and not just one paragraph or one sentence. The more fully you can illustrate your case, the better.
If you suspect that this issue has been ongoing for a while, you can use the Wayback Machine to help show how long your content has been on the site in question.
When it comes to reporting that our content was stolen, you have three basic options:
Find and contact the website owner
Find and contact the website's hosting company or
Report it directly to Google and/or Bing
To find the website owner, you can look up the WHOIS using this website: https://whois.icann.org/en
Enter the full website name of the site where your content resides and it will return what's registered online for the owner of the site. In the listing, you're looking for the "registrar email", this is the email address of the person or entity that owns the website.
If the email listed ends in @domainsbyproxy.com this means that the email is private and you have to go to the next step. It's the same case if the email is the hosting company as in how GoDaddy lists the email here for the YourTangoExpert's website.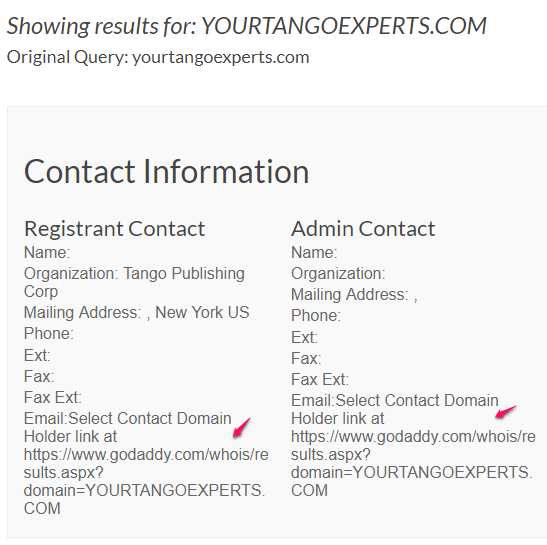 If a valid email is listed, you can email the owner and request that your content is removed from the site. Unfortunately, when emails like this are sent, often the requests are ignored. In that case, go to the next step.
Next, you need to look for the website hosting company. To do this, return to the WHOIS and look for either the "WHOIS Server" or the "NetName". GoDaddy is the host for this website and you can see how the information is stored here.
In the case of GoDaddy, they also offer a direct email and phone number to report the abuse/stolen ideas. Remember if you can, to have your ducks in a row so you can clearly state your claim and give the abuse department all they need to help you reclaim what is yours.
It's always best to have your screenshots and other details organized before making your call, otherwise, you'll have to retrace your steps and that can increase your frustration.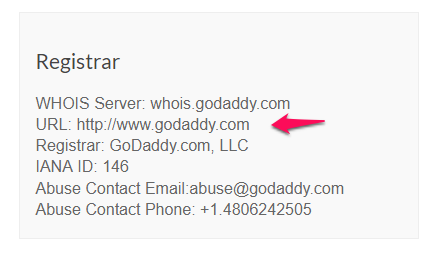 Finally, when all else fails, and sometimes it does, contact Google or Bing directly
There is a set of laws in place that intends to protect copywritten material from plagiarism across the net, called the Digital Millennium Copyright Act (DMCA) or DMCA Takedown.
If your attempts to contact the website owner and host have failed, the next step is to take your case to the search engines directly.
Before submitting your claim, it's wise to read up on your rights, what's covered and best advice for how to proceed. You can find that information here.
To access Google's policies for DMCA, plus step by step reporting procedures, go here.
To access Bing's policies for DMCA and reporting process, go here.
What if you want deeper protection for your content, ideas or brand?
This is where practices like trademark and copyright come into play. Both of these services can serve your business but they are not one in the same. In fact, many people confuse the difference.
To learn more about the differences between trademark and copyright, this video is very helpful (and short- several others are well over 40 minutes long).
The time to hire an attorney and investigate getting a trademark or formal copyright are as unique as your business itself. Some clients want to trademark their design and/or logo immediately to help prevent someone from coming along and stealing your idea. As a branding and marketing company, we would advise you that there is a timing question to consider before throwing your hard earned money to the wind.
Some ideas are in the ether so greatly that they will be picked up eventually by someone. That said, you can't get a trademark on something that's familiar to us all like a cloud. In the same way, you can't copyright something that's part of our common language.
Ideas are precious but in many ways, they are common too.
Finding out what makes your approach, your brand, your point of view or your style unique is an important exercise in business development.
Knowing how you stand out from your competition can make an enormous difference in getting a book offer, landing a new client or differentiating your practice from all the other (insert profession here).
You are special, as are your ideas. The question is are they unique?
Only a good investigation into your competition will tell.
But when it comes to your content and the ideas you have published online, it is critical that you protect yourself from internet theft. Whether it's a hacker out of the country or a website down the street that lifted your story or blog, none of it is legal to do without your permission.
If all you have time to do is set up a few Google Alerts, it will give you peace of mind that someone is watching out for you.
And believe us, you'll be happy that you did especially if one week the result comes back and shows you that some "fake" healer stole your ideas.
Need help with your brand? We have worked on brands that range from Dr. John Gray, author of Men are from Mars, Women are from Venus, to the local therapist down the road. Our reputation is strong and wide. Reach out for a free consultation today.