An Introductory Guide To SEO For Counselors (And Other Healers Who Work In An Office Setting)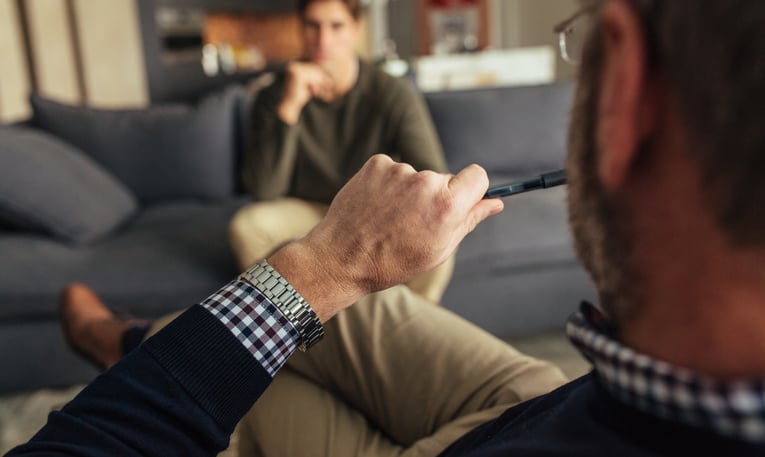 When you decide to embark on promoting your business, your research will invariably lead you to the concept of SEO time and again. SEO or "search engine optimization" is everywhere. Ask anyone what you can do to attract more clients and you will hear that you need to use SEO strategies on your website and throughout your digital marketing. Yet, SEO for counselors is different than if you were selling a widget on Amazon or some other online product.
And truth be told, SEO isn't limited to your landing pages or articles. Not only should your website and blog posts be SEO optimized, but you also need to use SEO strategies on your Facebook and LinkedIn profiles as well as your Amazon and YouTube accounts.
In other words, anything related to building your business should be done with SEO in mind.
The real purpose of SEO is to help you stand out so that clients can find you on the world wide web. It's the process of improving your website in ways that help it rank in search engine results when users search for a specific word or phrase.
Think of your website (and every other website in the world) as dark rooms, SEO turns the light on so that search engines can find you.
In a nutshell, SEO is all of the things you can do to increase visibility for your website or social media. Although the depth and breadth of SEO can seem overwhelming, it is manageable. Once you understand how SEO works and why you need it, you can begin to benefit from the long-range growth and stability that SEO provides your practice.
It's wise to think of a smart SEO strategy as an investment plan.
When done right, it creates an organic pipeline of people visiting your website who need the services you offer. From there, growth, goals, and opportunities abound. Gaining higher prominence for your core landing pages, sales pages, and blog posts is what you're going for.
After all, 75% of all clicks go to results that show on the first page of search.
But, there are no hacks or tricks that can guarantee your pages/articles rank on the first page of search. The only way to get there, and stay there is by being an authority on your topic based on what you publish on your website. So, whatever people tell you, the path to getting higher placement is rooted in doing the work.
And the truth us, you want to do it.
By building your online presence, you prove to the world your authority on topics you're skilled at being an expert on. You do this by sharing insight, tools, and skills with your readers that demonstrate your qualifications.
Essentially, you become a reference for people in need. Those are the same people that when times are hard or they are in pain, reach out for help.
That's why it's an investment plan: you're seeding today the fruit you want to harvest tomorrow.
Without an SEO plan, you're always stuck investing in advertising or marketing to bring in the same people. Often at a higher premium and without the side benefits of brand loyalty and repeat visitors.
So what do you need to know, let's start at the beginning…
Understanding search engines
When we think of searching the internet, there are 3 main search engines that come to mind: Google, Bing, and Yahoo. Your main goal when it comes to marketing your business is to get your website on one of the first few pages of the search results.
Yes, there are millions, even billions, of search results. But in reality, people rarely go beyond the third or fourth page to find them. In order to land yourself on those first few pages, you must understand what these search engines want and how to deliver.
At the end of the day search engines are looking to satisfy the needs of the users. When a user types in a specific search term, the search engine aims to "give the people what they want".
By the time that search term is typed into the query box, the search engine has already done the heavy lifting. It has crawled the internet, indexed the results and ranked those results. All of this is based on a number of factors such as authority, longevity, popularity, and relevance for example.
Those results are then laid out nicely for the end user's consumption.
This is where SEO comes in.
Employing best practices for SEO will ensure that search engines match your website with queries a user typed in. For example, when done right, over time SEO will ensure that your website comes up when someone types in a phrase like "counselor near me" or "counselor Marina del Rey, CA"
But, in order for your website to show for queries like this, you need to plan for that ahead of time. You do this by optimizing the right fields in your website for the search terms/phrases your clients actually use.
This is where good keywords research comes in.
It's not enough to just guess or rely on your hunches. SEO keyword research will actually TELL you what your clients look for, how often, and how many people you're competing with to gain a place on page one.
Your end game is to get your website synonymous with YOUR individual brand and particular keywords or phrases. Search engines then make the connection automatically and your website pops up as the "answer" for someone looking for a particular search phrase.
But it's not all about the words, in 2019, what matters more is UX or user experience
When someone clicks through to your site, your job is to capture their interest; grab their attention and delight them with the words on the page. This metric is demonstrated through the time spent on a particular page + the number of pages people click to as they work on finding the answer to their questions.
In our work, it's not uncommon for one or two great articles to drive the lion's share of traffic to a client's website. The reason is that the article REALLY answers the question being asked. The authority of being an educated professional, in the field for countless years helps too.
Why does your expertise matter? Because, really, clients who go to Google are asking for help. When we give them what they want, without selling or pitching them, but merely answering their questions, we create a great user experience.
Google definitely rewards that.
But how does it drive clients to your counseling practice? That's where local SEO comes in…
Obviously, as a counselor, you provide a service where you and the client must interact. You're not sending a package in the mail, you're showing up, literally. Search engines can determine where the searchers are. Remember there is GPS on all of our phones. Plus, people often search using the city or zip code where they need services.
Local SEO is a combination of on-page SEO (the right keywords, title tags, fresh content) and off-page SEO (link-building, social media marketing). It's the combination of both that causes you to come up in local search results.
As a counselor and the personal nature of your business, you will want to use local SEO to ensure that you show up in local results. Statistically, 46% of all Google searches are local, yet there is still 54% of businesses who haven't claimed their Google My Business listing.
Google My Business is a free tool that allows you to connect your brick and mortar office with an official Google business listing. You can show location, office hours, a link to your website and more.
Ideally, for SEO, it's also tied to any/all social media to help share how busy you are online. That tells Google that you're not a dead site, but one that's thriving.
A good example of a GMB profile is here: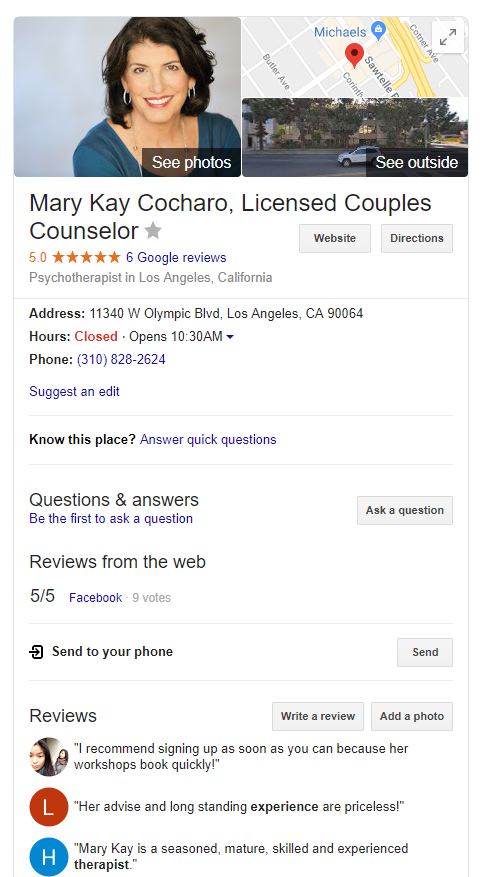 In addition to Google My Business, here are a few other examples of local SEO.
Pay to list yourself on directories (i.e. Yelp, YourTango, Psychology Today etc.)

Using keywords in your website's name

Put your address on the header of your website so it appears on every page of your website

Build specific landing pages for different office locations that include relevant details for attracting local traffic. For example, the office is next to Michaels or it's accessible by the red line, Metro Center stop.
Local SEO looks like many things and when used strategically, you will attract even more business from local searches.
When it comes to building and promoting your business, a fierce SEO game is an essential part of your marketing strategy. SEO is one of the best ways to reach your customers and draw them to you. And, it doesn't cost you anything but time.
SEO is also something you can do to directly impact your business. But just like so many other things in marketing, you only get out of it what you put into it.
If you're ready to explore why your website needs SEO and what you can do to get your SEO to perform better for your practice, subscribe to our newsletter list (located in the upper right-hand column on this page) or reach out to us directly to schedule a call and see how we can support you with getting your SEO efforts off the ground.