Mental Health Hashtags To Help You Easily Connect On Instagram & Twitter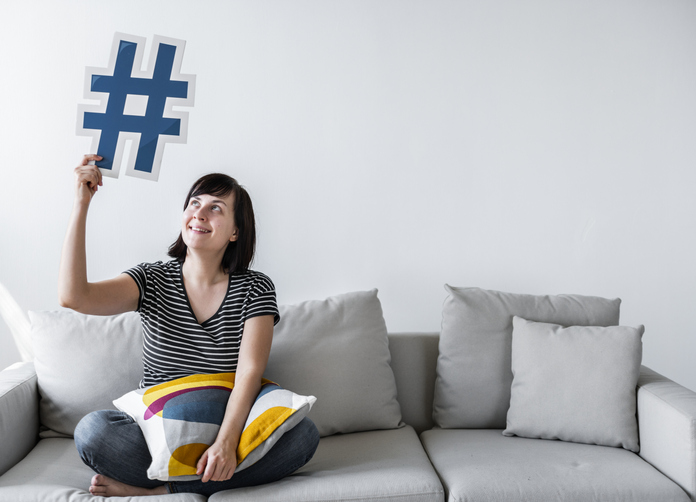 In recent years social media marketing has taken on a life of its own. What started out as platforms that were aimed at — well socializing, platforms like Instagram and Twitter have taken a dramatic turn morphing into marketing giants. Take for example Instagram, when it was first launched in 2010, Instagram started out with a meager 100 million users in its first two months. Fast forward to 2019, Instagram now has 100 billion users, with an estimated 500 million logging in every day. Moreover, 83% of those who use Instagram say they have discovered new products or services through the platform. 
If all of that isn't a pretty convincing argument to get yourself on Twitter or Instagram, I'm not sure what is. The fact is, there's an audience out there, and they're just waiting for you to connect with them.
In A Sea Of Billions Of Users, How Do You Find Your Audience?
Of course, now that you know the astronomical amount of users on these platforms, it begs the question of how do you even find them to make the connection?  When we're talking about both Twitter and Instagram the answer to this question lies in the ever humble and ever so powerful hashtag. But in this case, we have to warn: buyer beware.
A quick internet search of hashtags will return a catalog of potential hashtags. And sure it all looks great on your screen however, it is important to proceed with caution here. The great thing about the internet is that it's a wealth of information, the bad thing is there is very little oversight. So while the information is there for the taking it is up to the individual to do their due diligence. 
One case where a little research into your source can prove to be crucial is when it comes to Instagram and Twitter and the usage of mental health hashtags. While hashtags, on the whole, are crucial to eating the proverbial elephant there are some real things to contend with in order to put them to good use. 
In previous posts, we have discussed how hashtags can help grow your business and hashtags to get you noticed and followed. If you remember, hashtags are simply a way to put your content into a particular category and point the user to your content. They're kind of like street signs on a highway, take this exit for "mental health awareness". 
General Hashtag's Dos And Don'ts
Hashtags can be a viable way to connect you and your potential audience. However, there are rules to this game. Failure to understand the dos and don'ts of hashtags will only make more work for you and in the end, you'll wind up connecting with no one. The needle will never move when you're not using hashtags correctly but your patience will certainly wear thin. 
Hashtag Dos
Keep your hashtags relevant to your topic

Instagram allows the use of 30 hashtags — use them. With Twitter limit yourself to two. 

Save yourself time and create a set of hashtags that are usable for most if not all of your post— copy, paste, and adjust as needed. 
Hashtag Don'ts
Don't use oversaturated hashtags

Do not copy and paste hashtags from your competitors

Don't use industry jargon that readers won't understand, search for, or connect with
Mental Health Hashtags And Censorship
Now that we've addressed the general usage of hashtags, let's take a look at a specific subset of hashtags that are relevant to you and your business.  
Recently, mental health hashtags have come under intense scrutiny, particularly by Instagram. So much so that Instagram has censored certain mental health hashtags. In some cases, they simply made certain hashtags more difficult to find and in other cases, they have removed them from the platform altogether. 
It is their belief that such images — and the hashtags used to promote them are intentionally or even unintentionally triggering users into feeling worse and in some cases promoting certain behaviors. 
It is important to mention this here because, as you hit the internet in search of the "best mental health hashtags" you will find quite a few sources with misinformation. Moreover, as you begin to use these so-called "best hashtags for mental health"  You will see little to no improvement in your social media marketing connection because said hashtags have no power.
We've done some research with quite a few mental health hashtags and found that indeed some have been censored and some have been removed altogether. 
It is important to note that as we discuss the censorship of hashtags, we are doing so in primarily in relation to Instagram.  
Censored Hashtags
While censored hashtags are still available for viewing, it is important to know there will be some interruption in service so to speak. Instagram adds in an additional step to get to those posts. When the reader attempts to access one of the censored hashtags, instead of going directly to the posts, they will see this on their screen: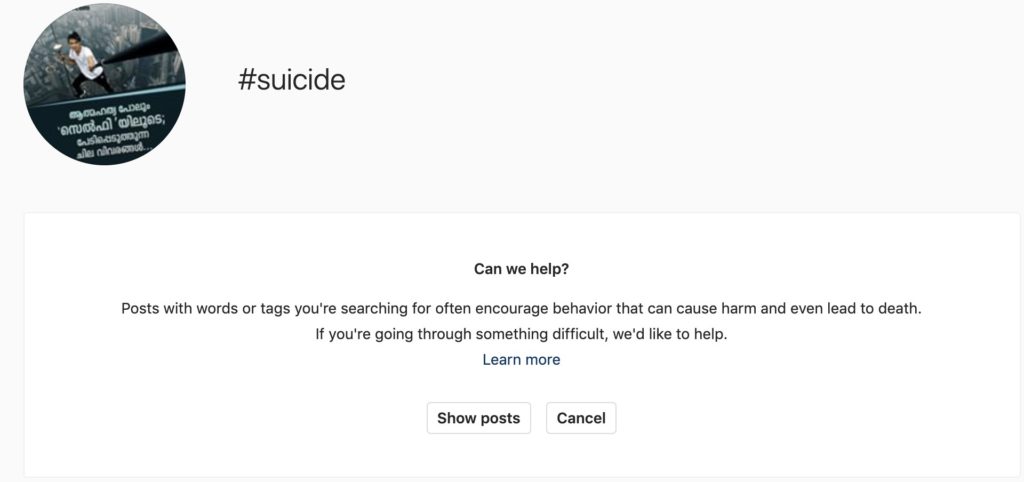 The reader can then click "show posts" and be taken directly to the feed or they can click "learn more" in which case they will see this:
Here are a few of the censored mental health hashtags we found: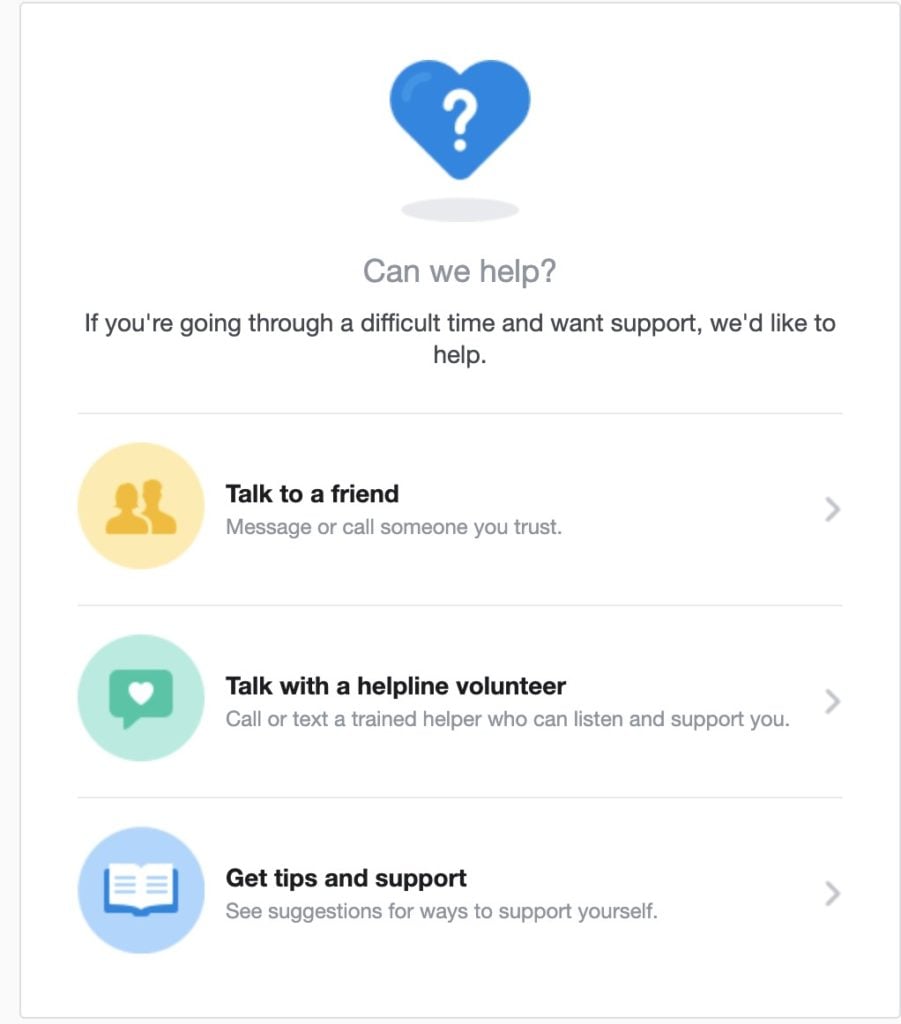 #depression
#suicide 
#anxiety
#anorexia
#eating disorder
#anorexiarecovery
#depressionrecovery
#bulimia
#mentalhealthmemes
#suicideawareness
#recoveryisworthit
To reiterate these hashtags are merely censored and they can be used. However, there may be a significant decrease in interaction with these hashtags because of that extra step. Logically, it's just an extra step but to some users that may be enough of a deterrent not to view them.
Banned Hashtags
In the case of banned hashtags, the user will not be able to search that particular term at all. In one case, this is what we found.
#selfharm 

While censored and banned hashtags might put a little hitch in your social media giddyup. There are quite a few mental health hashtags that will still serve to connect you with your audience just fine. 
Depression Hashtags
Our research has shown the following depression hashtags are both helpful and greenlit on both Twitter and Instagram. And an added bonus of the following hashtags is that they are not oversaturated on Instagram. 
For example ##itsokaynottobeokay only shows 300,774 posts at the time this article was written.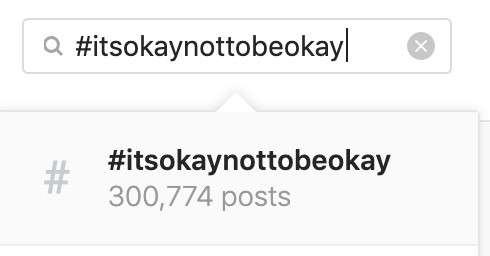 #depressionawareness
#depressionwarrior
#depressionisreal
#itsokaynottobeokay
#yourstoryisnotover
#1in4
#sicknotweak
#endthestigma
#stopthestigma
#wellnesswarrior
#mentalhealthmatters
#mentalhealthsupport
#mentalhealthrecovery
#wellnessadvocate
#mentalhealthsupport
#recoveryispossible
Anxiety Hashtags
The following anxiety hashtags are active and usable as well. 
#anxietyrelief 
#mentalhealth
#OCD
#mentalhealthawareness
#ptsd 
#stress 
#bipolar 
#healing 
#mindfulness
#mentalhealth 
#socialanxiety
Popular Hashtags You Can Connect Your Mental Health Tags To
While we've discussed hashtags that are narrow and specific, there are also hashtags that are a bit broader, but they can serve to connect you and your audience as well. As a mental health practitioner, you are most certainly aware that when someone is stuck in the abyss, there are times when they want to find the light. The need to pull oneself from the darkness is only human. 
So not only are users searching for empathy on social media they will invariably look for hope as well. There's no doubt using the following inspirational (and popular) hashtags will help you connect to those who need it most.  
#loveyourself
#positivity
#support 
#inspiration
#hope
#kindnessmatters
#givingwithgrace
#gratitudeattitude
Having a presence on social media is crucial to the health and wealth of your business. But with the sheer number of users and competition, it can be hard not to feel like small fish in a big pond. The use of hashtags can take something that seems insurmountable and actually make it work to your benefit. The thing to remember with hashtags is that you should use best practices when choosing those hashtags and when you use them in your posts.
As we have seen here in this post, doing your research with hashtags is crucial. Choosing hashtags that are censored or banned will require a significant amount of effort on your part, and truth be told you will see little to no movement in your bottom line. Hashtags are the heartbeat of platforms like Twitter and Instagram and using the right hashtags can make or break your social media marketing experience. 
If you want results from social media but hate the management/content creation part, we can help. Request a free consultation from our team and learn how we manage client's social feeds, grow their followers, and take the pain of social off people's plates. Get the benefits without doing the work yourself.  See how it's done in our Facebook group Starve the Fear, Feed the Hope.