40 Mental Health Quotes To Inspire Your Counseling Practice & Share With Clients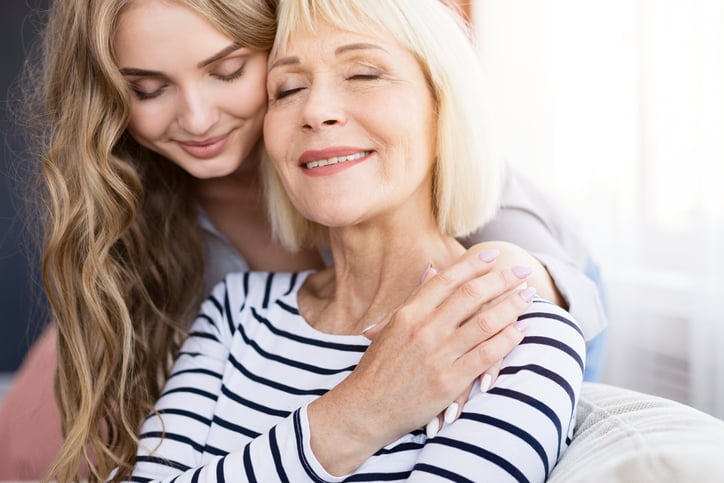 Why is life so hard? This is really a question for the ages. 
The truth is, it just is. We all know that. 
Life is filled with ups and downs, happiness and sorrow, wins and losses cycling through an endless loop. But, it's also the highs and lows that make life so interesting. Those are the things that color our world, and teach us important life lessons. 
Of course, when you're mired in despair it can be hard to find the light. Very often the hardship you're experiencing can feel insurmountable.  
But that's the thing about life, even when you think you can't, somehow you make it through. You have to keep fighting. You have to keep going. And when you are trying to pull yourself from the darkness there are three things you should keep in mind. 
This too shall pass

There's something better on the other side

You are not alone
Here are some inspiring and insightful mental health quotes to show you exactly that.
The following quotes are the bits of wisdom that came from those that at some point or another felt exactly the way you feel right now.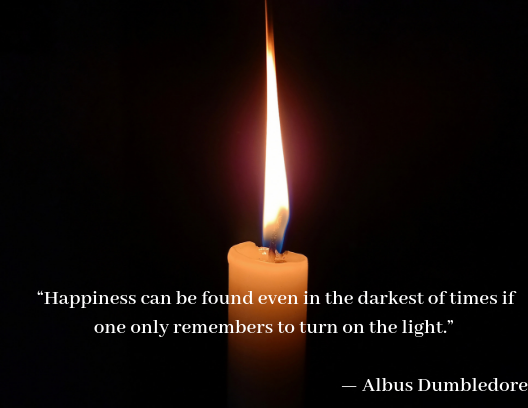 "Happiness can be found even in the darkest of times if one only remembers to turn on the light." — Albus Dumbledore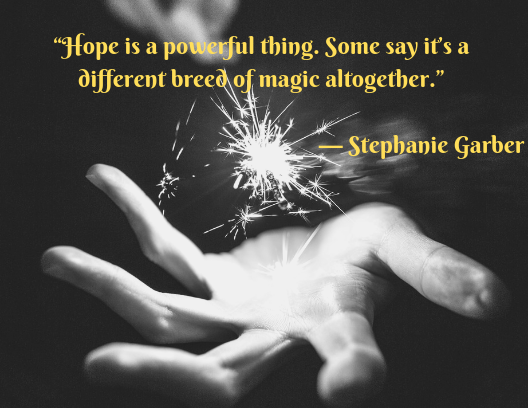 Hope is a powerful thing. Some say it's a different breed of magic altogether."  — Stephanie Garber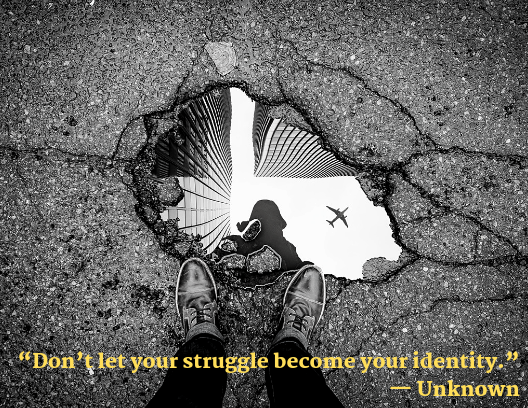 "Don't let your struggle become your identity." — Unknown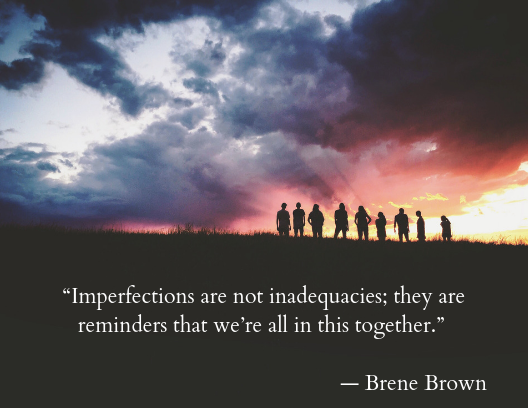 "Imperfections are not inadequacies; they are reminders that we're all in this together."
— Brene Brown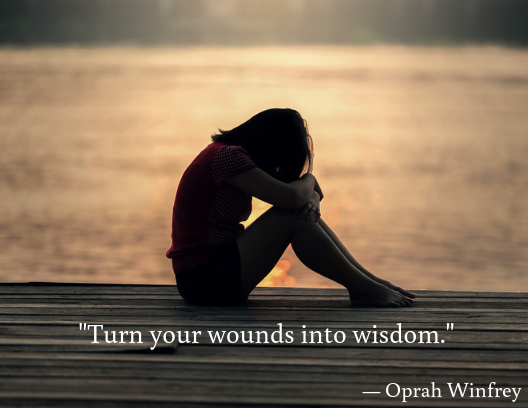 "Turn your wounds into wisdom."  — Oprah Winfrey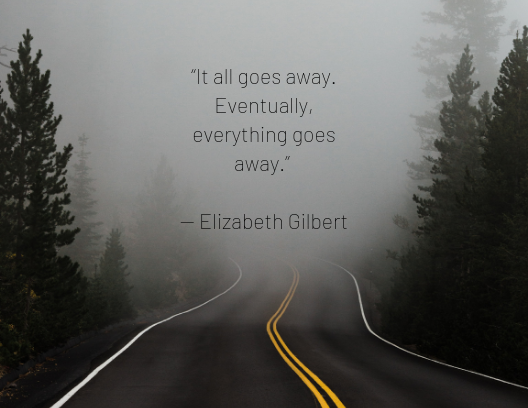 "It all goes away. Eventually, everything goes away." — Elizabeth Gilbert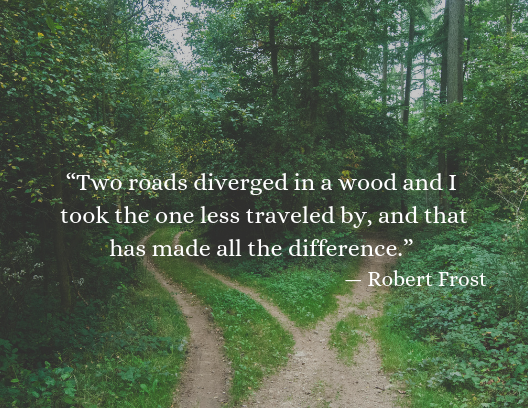 "Two roads diverged in a wood and I  took the one less traveled by, and that has made all the difference." — Robert Frost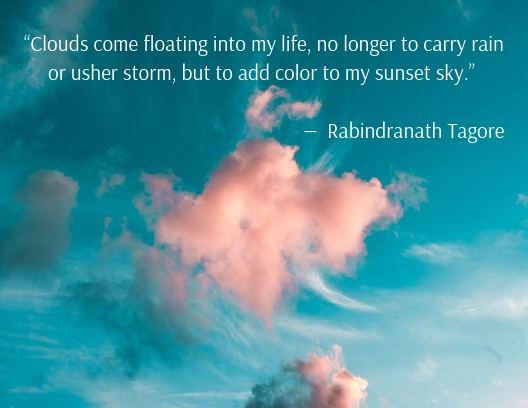 "Clouds come floating into my life, no longer to carry rain or usher storm, but to add color to my sunset sky."  — Rabindranath Tagore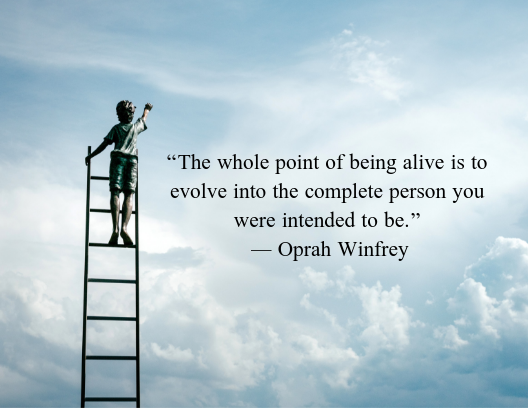 "The whole point of being alive is to evolve into the complete person you were intended to be."
— Oprah Winfrey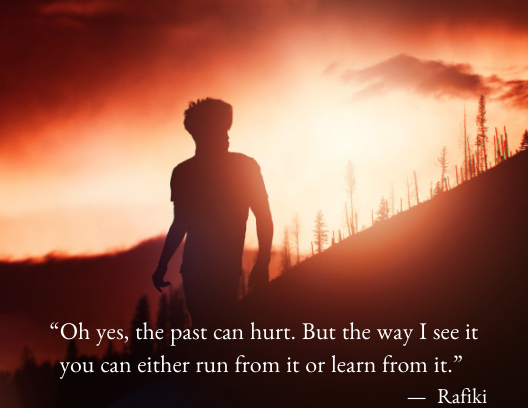 "Oh yes, the past can hurt. But the way I see it you can either run from it or learn from it." —  Rafiki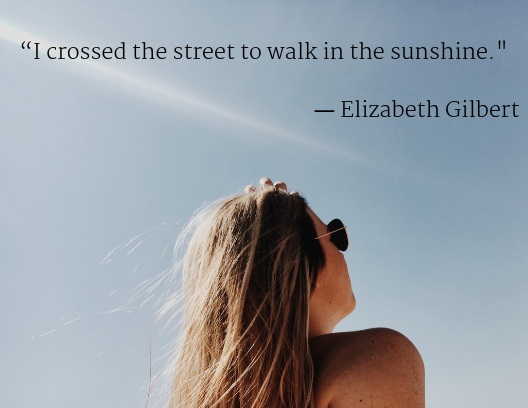 "I crossed the street to walk in the sunshine." ― Elizabeth Gilbert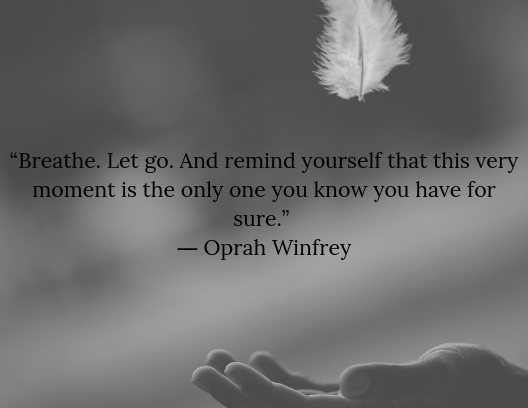 "Breathe. Let go. And remind yourself that this very moment is the only one you know you have for sure."
― Oprah Winfrey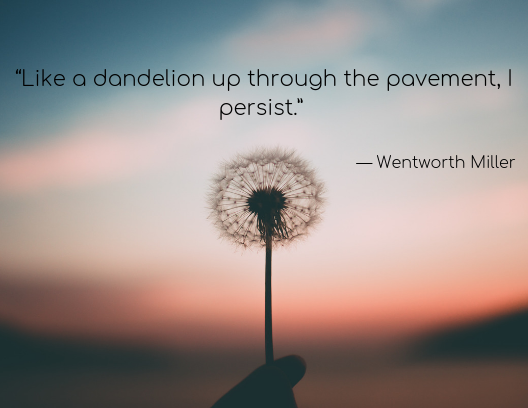 "Like a dandelion up through the pavement, I persist." — Wentworth Miller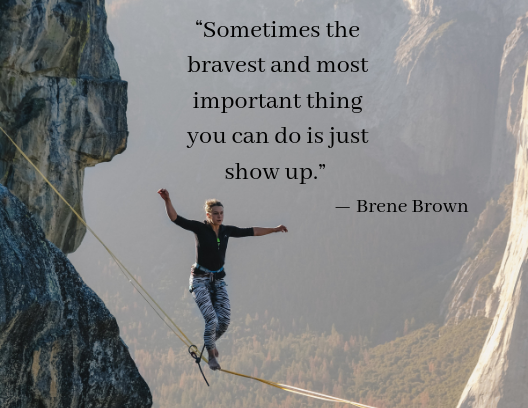 "Sometimes the bravest and most important thing you can do is just show up."
— Brene Brown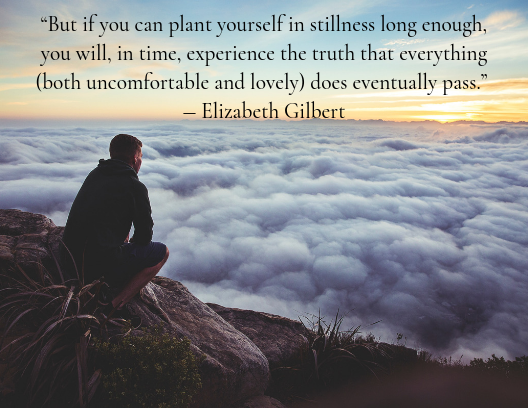 "But if you can plant yourself in stillness long enough, you will, in time, experience the truth that everything (both uncomfortable and lovely) does eventually pass."
― Elizabeth Gilbert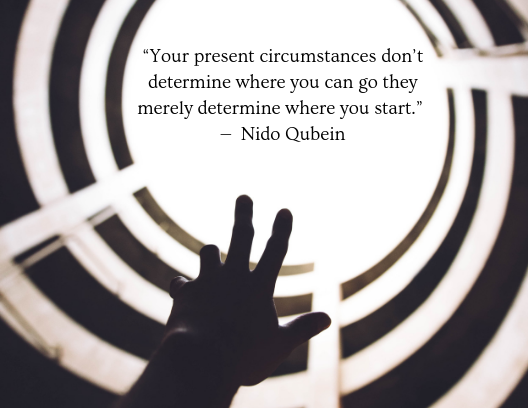 "Your present circumstances don't determine where you can go they merely determine where you start." —  Nido Qubein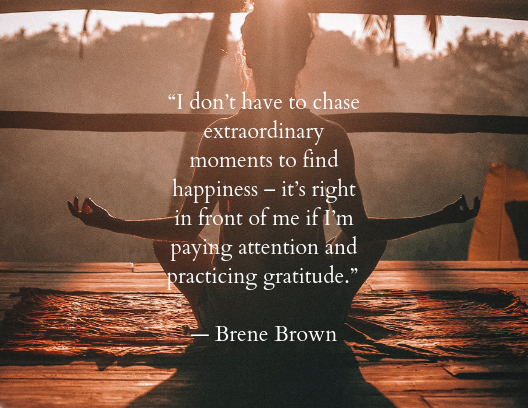 "I don't have to chase extraordinary moments to find happiness – it's right in front of me if I'm paying attention and practicing gratitude." — Brene Brown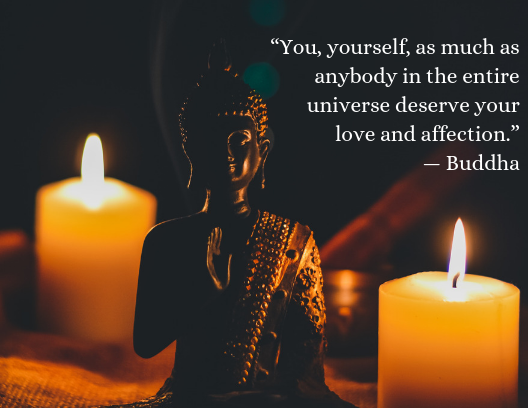 "You, yourself, as much as anybody in the entire universe deserve your love and affection." — Buddha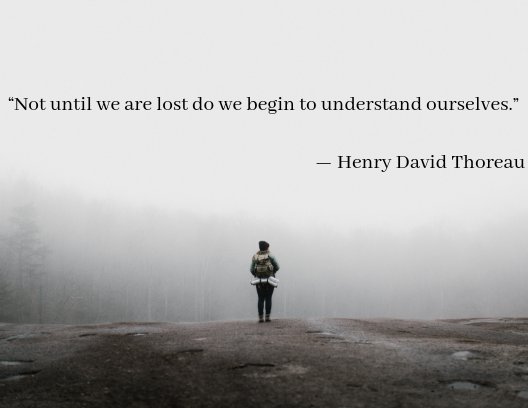 "Not until we are lost do we begin to understand ourselves."  — Henry David Thoreau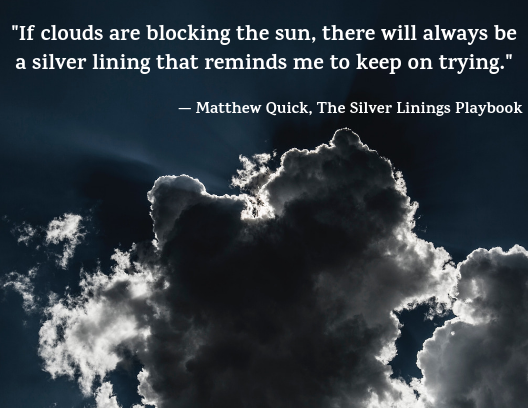 "If clouds are blocking the sun, there will always be a silver lining that reminds me to keep on trying." — Matthew Quick, The Silver Linings Playbook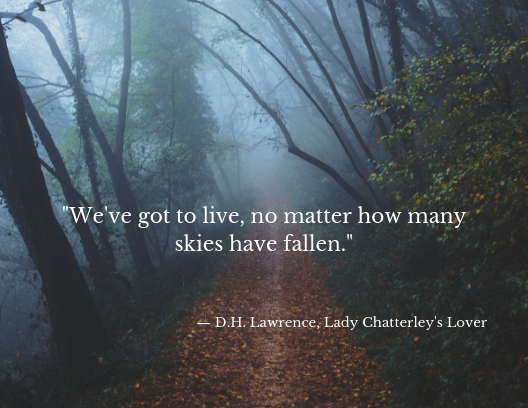 "We've got to live, no matter how many skies have fallen."
— D.H. Lawrence, Lady Chatterley's Lover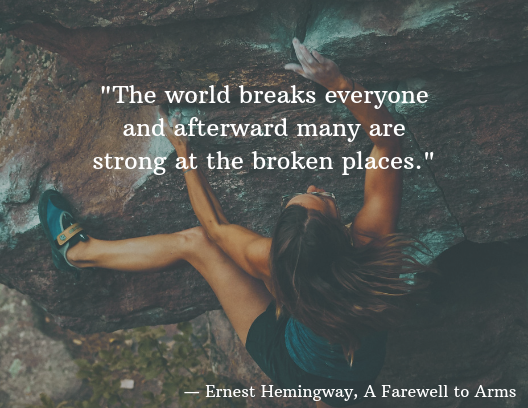 "The world breaks everyone and afterward many are strong at the broken places."
― Ernest Hemingway, A Farewell to Arms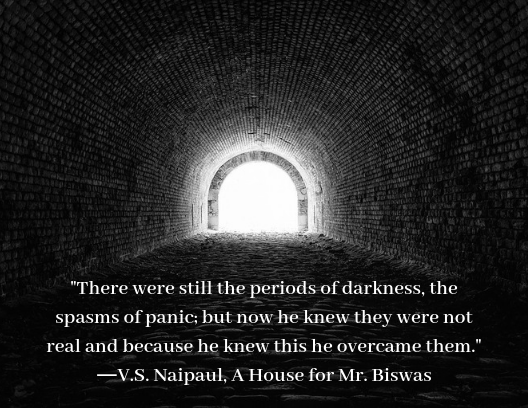 "There were still the periods of darkness, the spasms of panic; but now he knew they were not real and because he knew this he overcame them."
―V.S. Naipaul, A House for Mr. Biswas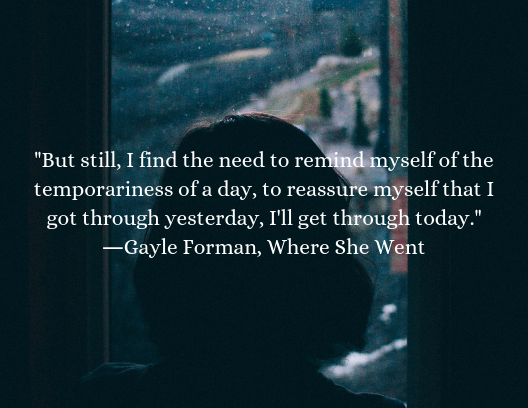 "But still, I find the need to remind myself of the temporariness of a day, to reassure myself that I got through yesterday, I'll get through today."
― Gayle Forman, Where She Went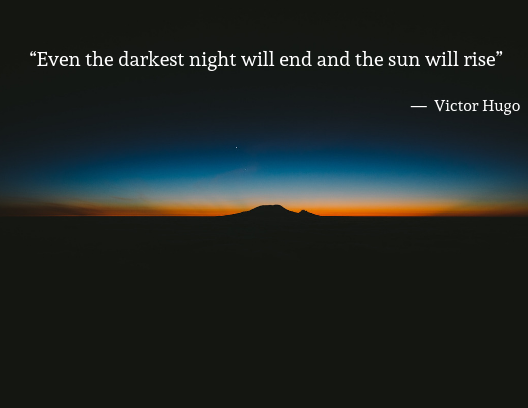 "Even the darkest night will end and the sun will rise" —  Victor Hugo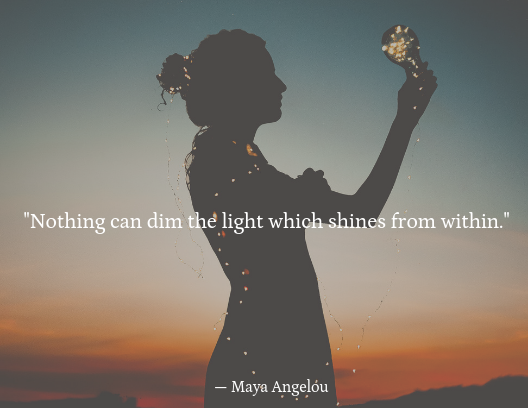 "Nothing can dim the light which shines from within."  — Maya Angelou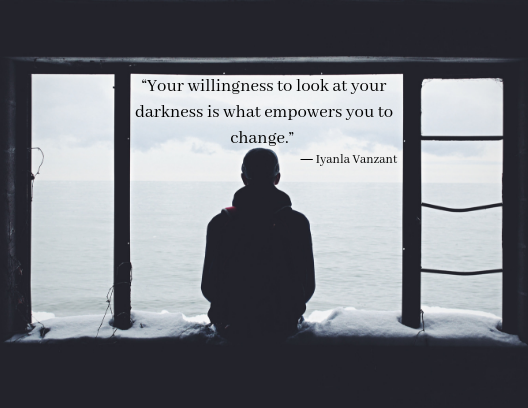 "Your willingness to look at your darkness is what empowers you to change." 
― Iyanla Vanzant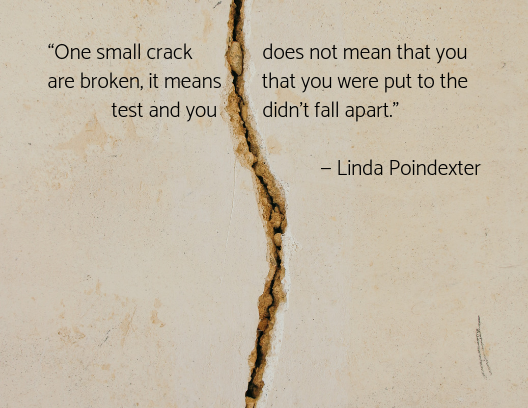 "One small crack does not mean that you are broken, it means that you were put to the test and you didn't fall apart."
— Linda Poindexter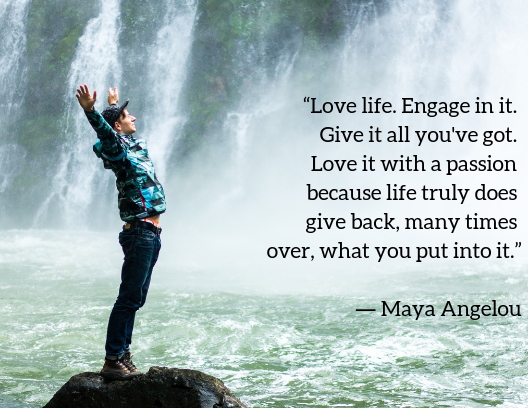 "Love life. Engage in it. Give it all you've got. Love it with a passion because life truly does give back, many times over, what you put into it."― Maya Angelou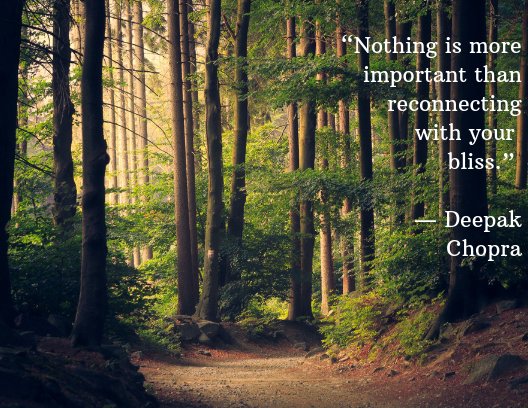 "Nothing is more important than reconnecting with your bliss." — Deepak Chopra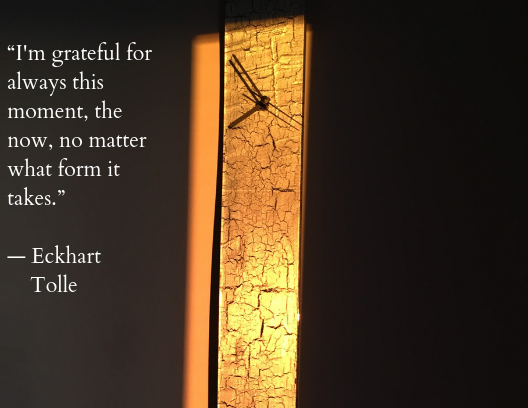 "I'm grateful for always this moment, the now, no matter what form it takes."
— Eckhart Tolle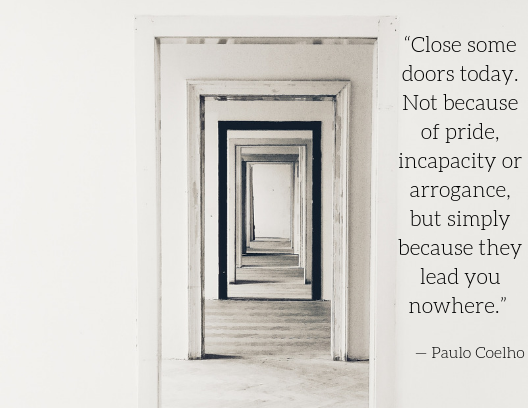 "Close some doors today. Not because of pride, incapacity or arrogance, but simply because they lead you nowhere."
— Paulo Coelho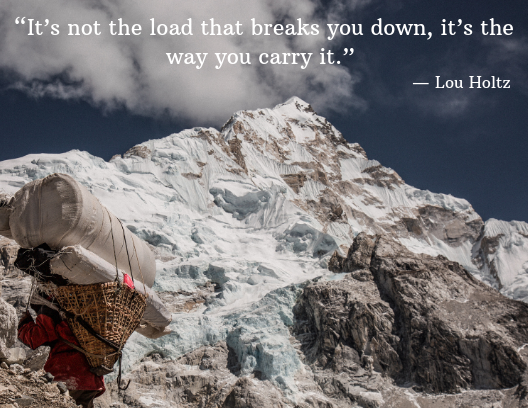 "It's not the load that breaks you down, it's the way you carry it." — Lou Holtz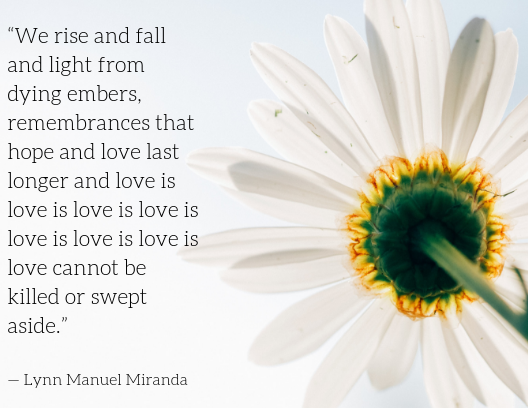 "We rise and fall and light from dying embers, remembrances that hope and love last longer
And love is love is love is love is love is love is love is love cannot be killed or swept aside." — Lynn Manuel Miranda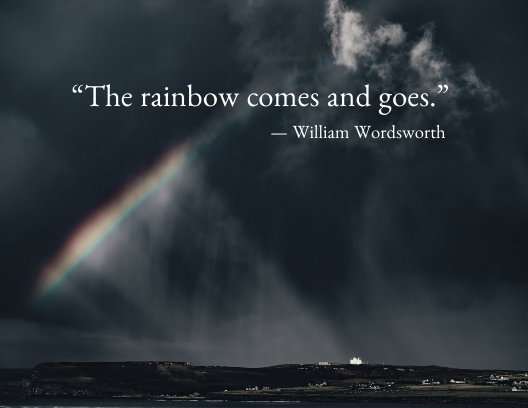 "The rainbow comes and goes." — William Wordsworth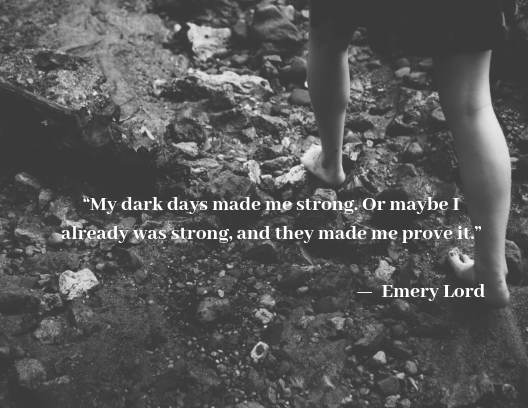 "My dark days made me strong. Or maybe I already was strong, and they made me prove it." —  Emery Lord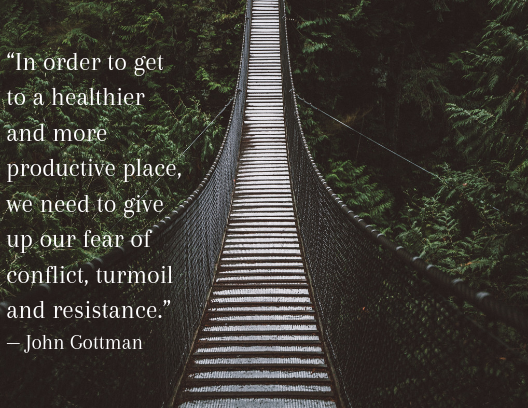 "In order to get to a healthier and more productive place, we need to give up our fear of conflict, turmoil and resistance."
— John Gottman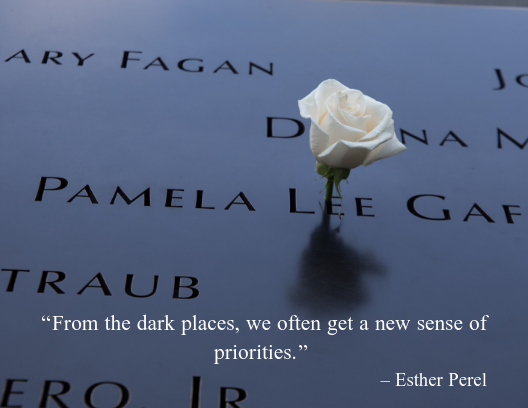 "From the dark places, we often get a new sense of priorities." – Esther Perel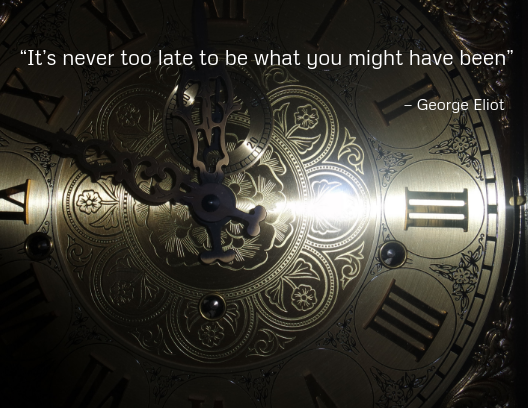 "It's never too late to be what you might have been" — George Eliot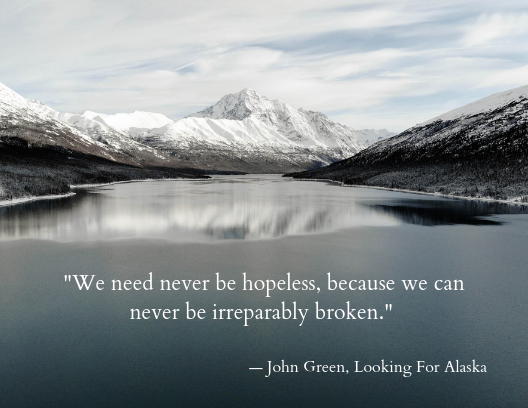 "We need never be hopeless because we can never be irreparably broken." — John Green, Looking For Alaska
Just remember, if you need a pick-me-up, that it's always darkest before the dawn. Have faith, courage, and tenacity to keep going. And if you need help, please reach out to people who care. If it's a crisis, go to the ER (emergency room), and if it's a lesser inner darkness but one that's equally as troubling, you can find therapists, coaches, and healers at YourTango.com.