5 Videos You Need When Starting A YouTube Channel From Scratch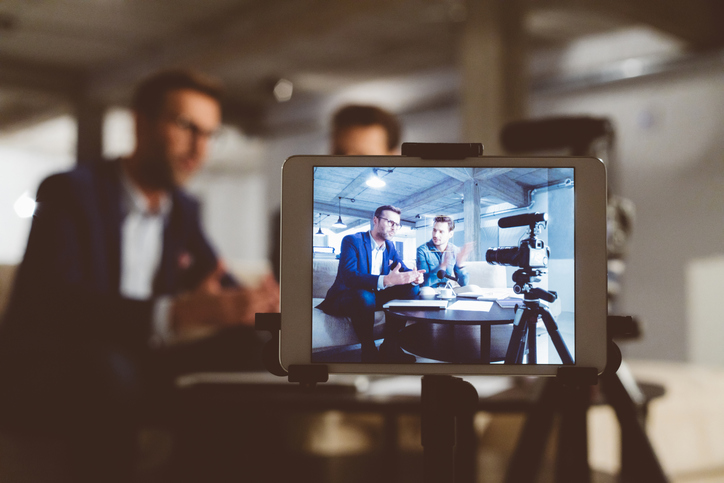 When it comes to healing businesses and therapy practices one of the most underutilized mediums for connecting with potential clients may be video, specifically YouTube. In this post, we tackle the concept of starting a YouTube channel for your therapy practice. In particular, we will examine the types of videos you should have ready to rock 'n' roll when you start your channel.
Where most social platforms are completely saturated by every type of business imaginable, most people who have a therapy practice tend to exclude themselves from video production. Based on feedback from clients, most likely this is because they think that the nature of their business isn't conducive to video content. While it most certainly isn't conducive to the type of content that tends to go viral, such as challenge videos or "make you laugh" videos.
But video can (and does) have its place in your social media strategy.  
While certain types of video content won't work for a therapy practice, there are other types that can work well from a marketing perspective.
Since its creation in 2005, YouTube has built a pretty robust platform that works for both small and large businesses. Looks like everyone was invited to the party. Research has shown that YouTube is the world's second largest search engine. Research also shows that 68% of users watched a video on the platform that subsequently influenced their buying decision.
Loosely translated these statistics mean that people are turning to YouTube for information and the information they find directly affects their decision making. Through YouTube, small business owners have ample opportunity to reach a wider audience.
The caveat here is the small business owner should completely understand the platform prior to engaging with it.
So if you're ready to dive into starting a YouTube channel, here's what you need to know:
What YouTube Is
Much like the reasons behind blogging your YouTube channel will serve as a resource for your viewers. Through a series of videos, your goal is to share information and show who you are. The value of your channel lies solely in the information you share and how you present it. Ideally, your viewers should walk away from your videos with a better understanding of your practice and your personality.
What YouTube Is Not
Before we begin, let's take a quick minute to discuss what your YouTube channel is not. Your YouTube channel is not a series of infomercials where you attempt to sell your therapy or counseling services. Viewers do not turn to YouTube videos for sales pitches. They can get that from cable TV. As we started before viewers use YouTube as a visual search engine to find information.
Getting Started On YouTube (equipment, personal appearance, etc.)
In a previous post, we discussed the fundamentals of getting started on YouTube. That post discussed video equipment, video length even how you look and what to wear. So while we won't rehash that information, we will talk about the 5 videos you need when starting your YouTube channel. The purpose of these five videos is to lay the foundation for your channel so to speak. These videos also play an important role in gaining traction and subscribers.
Starting a channel on YouTube requires the following 5 videos to launch with the greatest success:
1. A Channel Trailer Video
One of the very first videos you should consider for your YouTube channel is a channel trailer. A channel trailer is essentially the same concept as a movie trailer. With a channel trailer, you give potential viewers a preview of your channel. Just as a movie trailer gets you to say "I've got to see that!" Your goal here is to get them to investigate further and get them to subscribe.
Unlike movie trailers that are 1-2 minutes long (they can afford to be), your channel trailer should be limited to approximately 30 seconds. You must grab the viewers attention and draw them in quickly.
The content should offer an overall look at what you expect to share on your channel over time. This is a high-level branding video that speaks to the core areas you're going to cover across all of your videos. Before you film this video, it's worth doing some branding work to understand the greater scope of your practice and the content you want to cover (over time).
Google offers this insight into their best practices for a channel trailer.
Here are a few examples to help you see what a channel video should look like and do for you:
2. An Introductory Video AKA "What To Expect On The Channel" Video
Your first "full-length" YouTube video should be your introductory video. Keep in mind that when we say "full-length" we don't mean 1.5 hours. For YouTube, a full-length introductory video should be perhaps no longer than 5 minutes.
When it comes to filming your introductory video here are a few things to remember:
You should have a script ready. Don't use filler words (umm, so, you know, ahhh)

Don't bore the viewer

Let them know how often they can expect new content, and what day of the week that content will be available. Be specific.
Just as a channel trailer is important to getting subscriptions, so is a good introductory video. If you do the things mentioned in the list above you run the risk of losing potential viewers before you even get started. It's a great big world out there in YouTube-verse, the chances of getting them back are slim to none.
3. Your Personal Story Or Your Mission/Vision For Your Business
When starting your YouTube channel you want to share your personal story but for the love of Pete please don't go all the way back to birth. Think of your personal story video as something akin to a mission statement on your blog or your "about me" page on your website. In this video, you may want to share your professional back story. Some of the things you may want to consider addressing are:
Why did you decide to go into a healing business in the first place?

Where did you go to school?/What are your credentials

Share your professional beliefs
If it's not abundantly clear the purpose of your personal story video is to tell viewers what you can bring to the table and give them a reason to trust you.
4. Core Concept Video(s) That Teach Skills & Insight You Share With Clients Again And Again
Just as with blogging you cannot, and should not, assume that the people who are reading – or in this case viewing have the same level of knowledge that you do. It may seem that some things may be considered common knowledge. But that is presumptuous and it can backfire on you. When it comes to the internet, assume nothing. It's better to err on the side of caution and start from the beginning. In this case, think of these videos as foundational videos or therapy or counseling 101. Essentially you will be explaining basic therapy concepts to your viewers.
Videos like these present a great opportunity for you to create teachable moments that benefit from a visual add-on. For example, imagine you were a therapist and you wanted to teach a client about the lifecycle of a panic attack. You can obviously speak this advice, but imagine if you also had a visual (chalkboard or whiteboard) where you drew out the peak of a panic attack and how a client de-escalates once the peak is reached.
Or imagine you're a parenting expert, trying to teach portion control for your kids – a visual of a plate could be super helpful for making your points.
What if you were a business coach and you were trying to explain time management, showing a visual of a calendar with events highlighted could be very helpful as well.
For core concept videos, ask yourself what topics you can imagine educating clients on again and again, those could make for great videos, because whether you're using the video as-is on YouTube or you embed the video in an article like this one, if you have it in a video, you can eliminate the need to type it all out, and simply show the video for great impact to your readers.
5. Consider Creating A Video Series To Really Dive Deeply Into A Topic
Some core ideas can't be covered well in one video unless they're super long. If that's the case, and your talking points really require more thorough discussion, consider breaking the topic into parts. 
If your topic was understanding what depression is, you could break the topic into 5 short videos to get the most number of people to watch and subscribe. For example…
Video #1- What Is Depression
Video #2 – What Is Required For Someone To Be Diagnosed As Depressed
Video #3 – What's The Difference Between Being Sad/Blue And Clinically Depressed
Video #4 – What You Can Do If You Are Depressed
Video #5 – What You Can Do If A Loved One Is Depressed
By breaking up the material in this way, viewers can watch only the videos they're motivated by and not be bothered with the rest. You also have 5 new assets to list on your YouTube Channel, giving people more reasons to subscribe. It also gives a hint into what you bring to the online discussion and allow viewers to get a better glimpse of your personality and style.
This is a great way to showcase more of you as the creator of the content and tout your expertise at a deeper level.  So while you could combine all of these topics into one video, you get more opportunity to connect with viewers when you have more videos to share.
Wrapping It Up
Again, just as in blogging, having a YouTube channel requires the same type of effort to curate ideas and transform them into the final product. Videos are great because like you see above, they can be embedded into print articles and they are very easy to share and circulate around the Internet.
Once your initial video production is completed, you should regularly add videos to your channel. Your videos should stay focused and on topic. Regular viewers tune in for a particular reason and you want to meet their expectations so the come back for more.
Overall, your success on the platform depends on the connection you build with your viewers. Encourage your viewers to like, comment and engage with your channel. By reviewing the comments, not only will this help your channel, but it will give you insight into what your viewers want next. 
And that is the start of a fruitful relationship between your business and YouTube, one that should bring you new visitors and traffic to your website in an ongoing way.
Not sure where to start? We can help. Please reach out for a consultation to explore how we can support your branding and video production as you move ahead in your practice.