The 3 Best Strategies To Attract New Therapy Clients Without Leaving The Comfort Of Your Office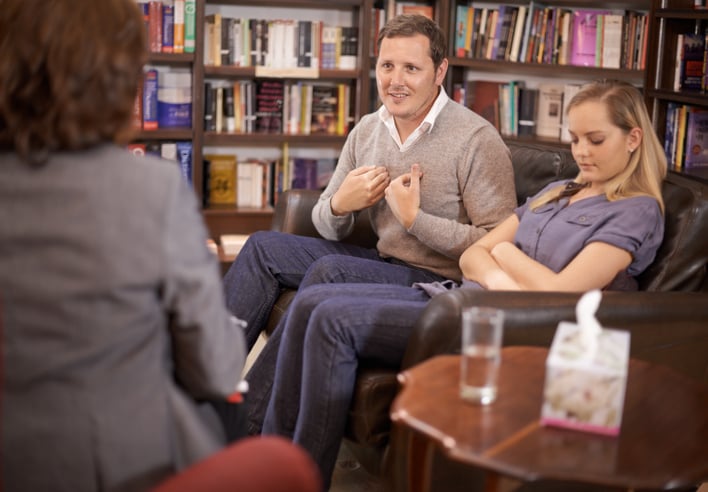 Lots of marketing professionals claim to have the "key" or the "trick" to helping you attract new clients to your practice. The challenge for most is that those strategies or fixes don't always work in this industry. Therapists are governed by a set of ethics rules that often do not allow for some of the more traditional marketing strategies.
Take testimonials for example. Most therapists are reluctant to put "success stories" on their website, let alone ask clients to share their stories. Yet research shows that between 50 to 90% of adults read reviews before purchasing something.
This one very common marketing strategy is off limits to most therapists because of the sensitive nature of your work. Let's be honest, could you ever imagine asking a client to share his or her personal story on your website as a testament to your efforts as a therapist? Probably not.
And this is just one example.
Online marketing to attract new clients requires alternative strategies for therapists. Below you'll find the best suggestions for your counseling business. As you read through the list, you will notice that these ideas take into consideration your unique boundaries around personal disclosure, giving advice, and the journey therapy clients make as they explore getting help for their challenges.
Take what feels good, and leave the rest. No one should tell you how to market your business. But, if you want to attract new therapy clients, you do need to market your practice. Otherwise, who will find you and hire you for help? On many levels, it really is that simple.
With that in mind, here are our 3 best strategies to attract new clients to your practice:
One, begin by taking a look at your current client roster and review your notes.
What led those clients to your door? Do you know who referred them in, or how they found you? A marketing plan worth its salt will target activities that help you easily connect with clients in their moment of need and when they are motivated.
Jot down a list of the reasons the client came in and what (if any) details you know about how they found your practice. Try to not get lost in the details. A few notes are enough. It should include the main reason they entered therapy, some basic demographic details (age, marital status, gender etc.), and anything else of note that can help shed some light on who is attracted to your business.
If your list is fewer than 10 people, go back and add in older clients so you have a comprehensive list. Ideally, you want your samples size to be large enough to illustrate patterns.
Your overall list should look something like this:
Client #1: female, age 43, married, 4 kids, fighting with husband about intimacy issues and sharing of family responsibilities that led to an affair.
Client #2: also female, age 56, recently divorced, husband had affair, dealing with empty nest issues and depression around kids leaving the home and end of marriage.
Compile that kind of information about your clients without getting into too many specifics. Small details that are only relevant to one client will be less helpful. Stick to the broad details so you can find patterns.
Once you have your complete list together, look for common reasons, challenges or painful issues that led clients through the door. Start a separate list with common threads so you can begin identifying patterns. For example, 7 out of 20 had affairs, 16 out of 20 were women, 14 out of 20 were married etc.
As you develop your awareness of who is currently hiring you (or has in the past), you're creating what marketing professionals call your avatar. Avatar simply means your client profile or a fleshed out understanding of who you want your marketing to connect to. In other words, this is the profile of the clients you want to attract to your business.
Two, ask yourself if this avatar is the "right" one for your future growth?
The big issue to explore here is if the clients coming to your practice are the ones who will actually help you reach your marketing goals? Sometimes, when we do this exercise with clients we find that a niche has been developed or expertise on a particular topic is attributed to your name that doesn't actually serve your business.
For example, perhaps you have offered EAP services in the past because it created a funnel or pipeline of clients. As you have matured in your business, you may not want to offer discounted services; that may be a segment of your current avatar that you no longer want to serve.
By knowing the impact EAP clients are having on your bottom line, you can address that in your future marketing plans. It may not stop a referral network that's ongoing, but you can work to minimize your ongoing efforts to attract those clients to your practice.
So now that you know what's included in your avatar, and potentially what segments of your current client roster that you want less of, ask yourself what you want MORE of.
Who is missing?
What demographics, personality traits, issues/challenges and/or diagnostic profile is missing from your current roster?
When you think about these questions, think into the future. Who do you want your business to serve in the next 1-5 years?
By knowing the direction you want to go in, you can start a plan to get there.
Three, with your future avatar / ideal client in mind, ask yourself what would be required to hire you.
In our business, we have learned that clients choose to hire a therapist (or other healing professional) when the following formula is in place:
Need + Motivation + Trust = Sales
Think about that for a moment.
Your services become important in the world when clients have a need. Often this stems from some personal or relational challenge. When the pain gets bad enough and the decision is made to seek out help (and to end their suffering), motivation appears.
Pain + motivation leads them to the Internet, where they begin searching for answers.
For many clients, the time to hire a therapist occurs only when they hit rock bottom or enter a crisis. This "point of no return" is a place they cannot manage themselves. It requires help that's bigger than what they can find online, gain from their friends and family or other resources like books or magazines.
Clients get to this place in their own time. You can't push them there, nor would you want to. Truthfully, there's very little you can do to push that client ahead. All you can do is be there to catch them when they call. That is if they are brave enough to call. AND if you have done the work to be visible online when they search for help.
If need and motivation are driven by your clients, what impact can you have other than a passive one? Truthfully a very big one. When you are a trusted resource available when they are ready for help, you fill a vital need in your client's life.
You already know how this works, consider referrals for a second…
For many therapists, a bounty of referrals come from past clients. Past clients are incredibly helpful because they offer a personal testimonial to their friend or family by living a healthier life after working with you. In the case of a referral, the trust in you is created out of your past client's results.
In other words, if you were to see a dear friend go from a stressful life to a happier one, it might just cause you to wonder what happened to bring about the change. If you were to ask your friend and they shared, "I spent some time working with a great therapist", that instills trust in the therapist.
The same is true for you with every referral you receive.
It's a priceless gift to have a client call and say, "I know you worked with my friend, I'm hoping you can help me too."
That kind of trust can't be bought, it's earned. And in this case, the proof is evident.
What other ways can you build trust?
The most obvious way is by being seen in places your clients hang out when they are looking for help. In this case, the Internet is the biggest resource. In fact, 80% of Internet users have searched for health-related topics online. Therefore, what's incredibly helpful for building trust is being visible when someone searches for help on the topic they are in pain about.
How do you become visible?
By building a website and adding blogs.
If you want to attract new clients to your practice, the bottom line is that you must be found when their mix of pain and motivation connect. Otherwise, they will find someone else.
Think about that. When someone has pain but no motivation, they are inactive. They suffer until something fires off inside of them that says, "I can't live like this" or "I want something to change" or some version of those things.
When the client decides they are motivated to do something about their pain, life changes.
All you have to do to be found by that motivated person is to have content (articles, web pages, videos etc.) online that discuss the topics your clients are in pain over and want to change, and a connection to you and your services is possible.
Without it, you are left using things like directories which are both competitive and less trustworthy.
Why is that? In most directories, your page is found within a sea of other pages. The client has to dig to find out more about you instead of being presented with content written by you that teaches how trustworthy you are.
Consider how clients actually search the Internet for help:
Client goes to Google.
Searches for a therapist in their city and finds the following results: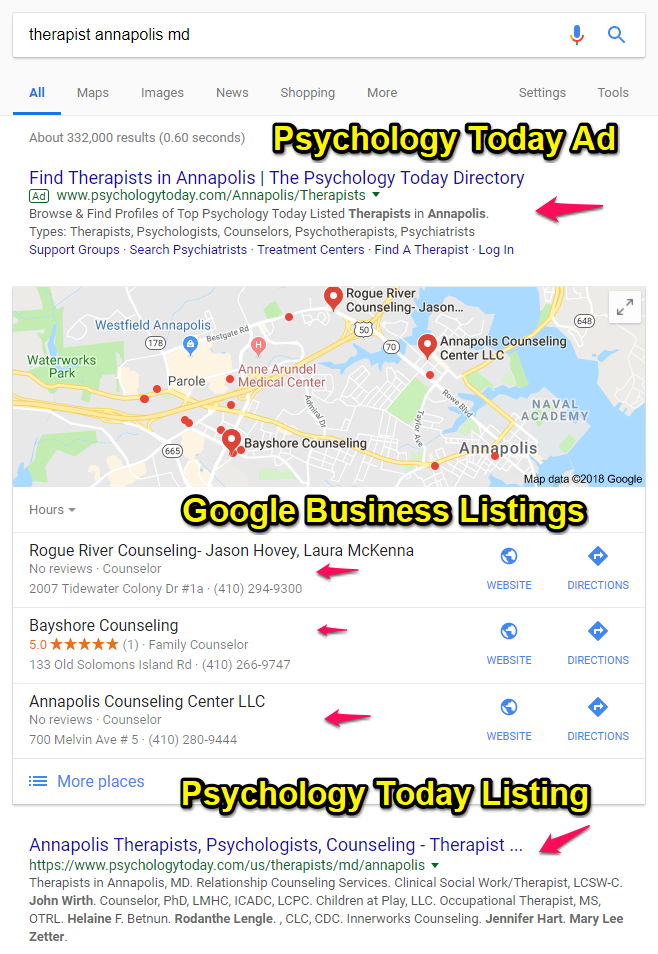 This search, done 4.11.18, shows two results for Psychology Today and three businesses listed with Google Business. If you were in your client's shoes, which one would you click?
If you clicked on Psychology Today because it was the one you "trusted the most", here's what you would see: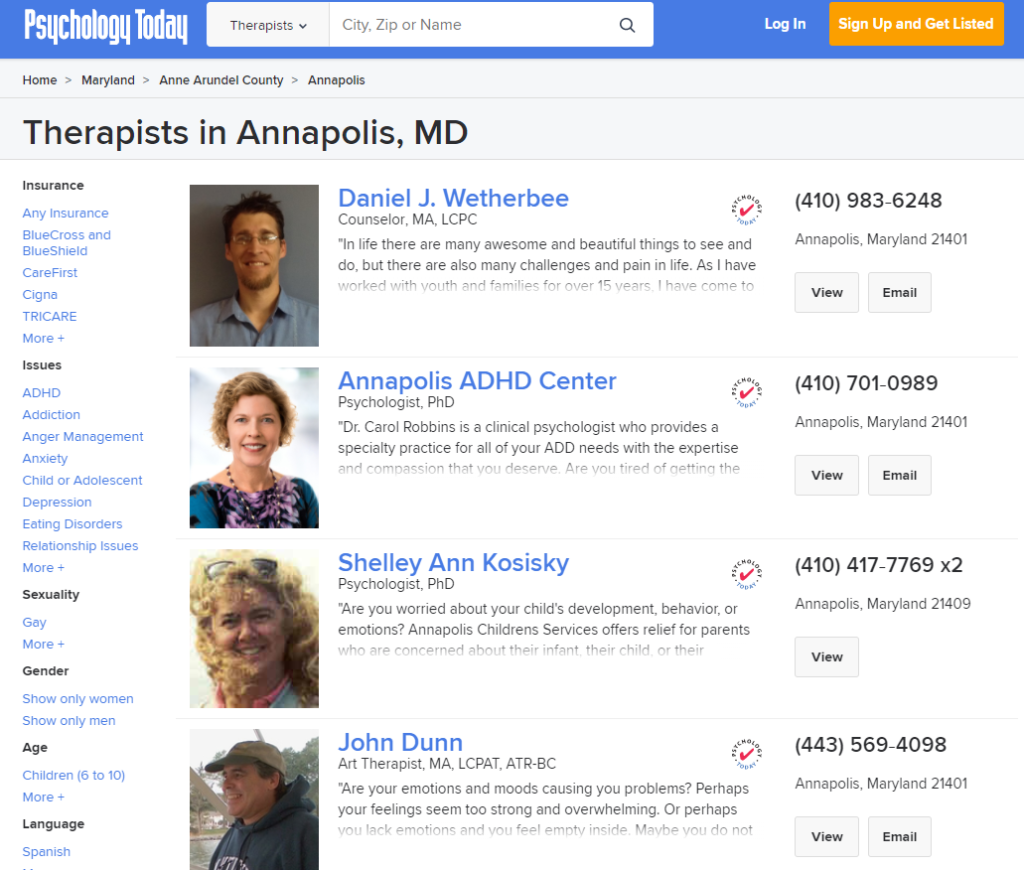 In total, there are 20 results per page. All of them are "verified", so how can you tell who is right for you? You can pick a few whose photos you like. Or maybe whose credentials feel right, but how would you really know?
The other way clients look for help is to lead with their symptoms. In this case, you have a great chance of getting pages on your website to show higher in search (and therefore building the trust in YOU).
This query is for the phrase "how to stop a panic attack now" and you'll see that the first result (out of 725K) is a personal website for a therapist in the DC metropolitan area.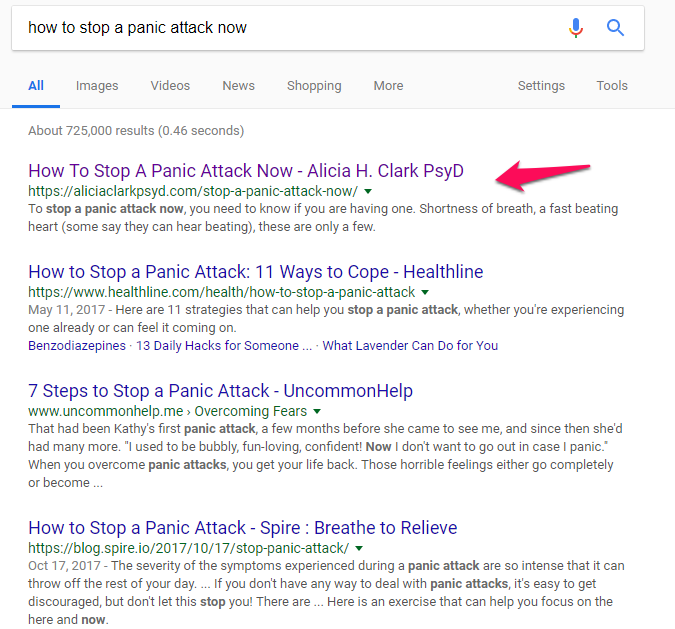 In this case, she's at the very top.
For a client dealing with panic attacks and looking for results, this is the right mix of good advice to deal with the pain they're in.
The article also serves as an example of the kind of support Dr. Clarke offers clients. In terms of trust-building, she's well on her way.
If a client reads the piece and feels relief, empathy, and understanding, trust is on its way to being established. Whether the client calls for help now or has to dance a little longer with her issues before calling, the seed of trust is well established. For most clients, this experience is far more personalized than simply reading through a sea of names to try and understand who is a good fit.
For the therapist, this article is a gift that keeps on giving. It's clearly in the lane of issues that her avatar faces on a regular basis.
(Curious how this has worked for other clients of ours, here's a detailed case study you can review.)
The more clients search for support on the issue around panic attacks, the more Dr. Clarke's information is found, thus establishing her as someone who is a genuine authority on the topic. Furthermore, if you look at her website, it feels like she's truly an expert in her field. Anxiety and anxiety related issues are her specialty, it doesn't take more than a minute to see that on her site.
Attracting new clients doesn't have to be a hard job, but it's something you need to consider as you plan out your life. Clients definitely appear out of the woodwork, and sometimes therapists have pipelines of referrals/clients that are fruitful, but not necessarily traceable.
If you want to change this so you're not in a panic yourself, the answer is to get ahead of your marketing by planning out how you want to attract business.
This new paradigm is one that all therapists have to face sooner or later.
Remember, the model is pain + motivation + trust = hiring you. The same is true for creating change in your practice. If you want a different experience attracting clients, consider how a plan to build trust in future clients could serve your higher goals.
If you're ready to make this all a whole lot easier, let's schedule a private call to explore your business challenges. Our team can review with you how we teach SEO basics + content marketing to therapists and helping professionals.