Best Work-Life Balance Tips For Working From Home During COVID-19 (Because You Need A Weekend)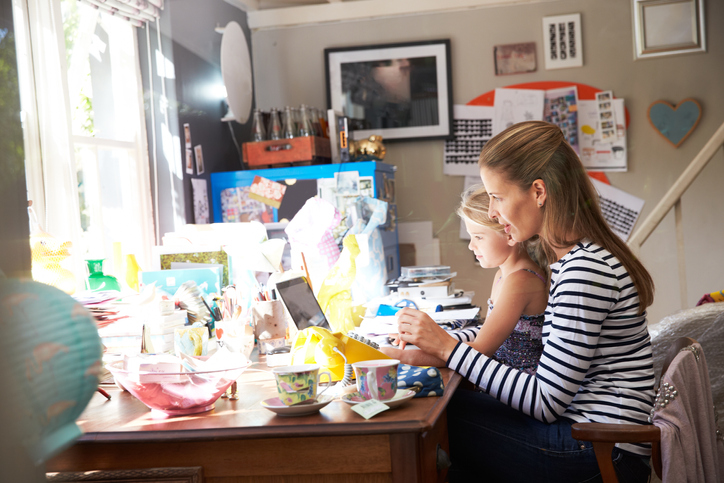 In theory, working from home sounds ideal to many people. However, trying to get your work done inside of your house while there's a crisis going on can be quite challenging. Toughing out a week from the confines of your house deserves a bit of a reward: a stress-free weekend.
How can you achieve this kind of respite from within the same space that's now your workspace? These tips come straight from our leadership team who have done this as a way of life for more than 20 years.  It's certainly counterintuitive and strange in many ways. But with a few extra insights, you really can create a strong work-life balance that allows you to have both elements in your life.
The most important takeaway right now is that you need a plan. Separating work time, from family time or relaxation requires a concentrated effort. Our suggestion is to read this thoroughly and take notes or print this out. You will find that some things you do intuitively and others are completely new to your thinking.
With that, work-life balance begins with a mindful separation of your two roles…
#1 Create A Work Mode & An NON-Work Mode
Start your day with the same mindset you used to go to the office. Instead of rolling out of bed, checking emails from your pjs, and then going to work, do the extra few steps to put yourself in "work mode".  To know what this means to you specifically, think about your previous work routine and whatever it takes to put you in a "working" frame of mind.
This includes: taking a shower, putting on makeup/shaving, fixing your hair, brushing your teeth, and even, putting on shoes. Of course, it's fine to lessen the formality of it all, but the uniform of work matters. When you're dressed for work, you reactive those receptors in your brain and things feel more normalized.
Once you're dressed, sit at a table or desk. Try to avoid a regular habit of working from bed or from your couch.  Posture and body language also play a role in reactivating your sense of "going to work" which is critical so you can also create a time when you're "off the clock".  
The key is to follow a routine that you're used to and one that sets you up for a productive day.
Eat breakfast and read the paper before you start your work. Work out or meditate before going to the "office". Get into your working mindset so there is a clear transition out of your personal time and into your professional time.
Try to start your day earlier than your work time begins. This will allow you to create a routine that works. You also want to have specific working hours, along with a designated lunch break. Honoring these time restraints can help you be more productive and keep you feeling on top of things. 
When you're done for the day, leave your workspace as you would in a traditional office. Close the door or clean off the table you worked at for the day so that work is put away until it's time to begin again. By doing this, you eliminate the feeling of "never being done" or "never being off the clock".  It will help you transition into the next part of your day and create a designated time in the day to relax and recharge. 
Work-life balance is achieved when your job doesn't bleed into your personal life.  Having some time when you're working 24/7 is fine, but if you do too much of this, you will start to feel exhausted and overwhelmed.  
#2 Remember To Actually Take Breaks During Your Work Day
When working out your office hours, don't forget to schedule your lunch break, even if it is just a half-hour. While eating lunch, do so away from wherever you've set up shop, even if it's only on the other side of the same table. Now that it's springtime, try to spend some time outside even if it's just walking around in your backyard 
And, now that you're working from home, you have a full kitchen at your disposal. You don't have to just microwave some leftovers.  If you have the means and the time, it may be a nice change to actually cook something for lunch, even if it is just something quick. When you make your weekly grocery run, make sure to grab a few things just for yourself. Add to your list a few things that will make your meals pleasant and satiating so you don't spend the rest of the day eating out of boredom.  
The same goes for your coffee breaks. Being at home means that you can make and drink things that you actually like, not just what keeps you awake. You have the opportunity to make a latte, or to experiment with that Dalgona coffee that's all over the internet. Walking away from your computer for ten minutes to actually make a nice drink, and then to sip it while standing outside or petting the dog can really be a moment of peace.
These moments help you keep going when you are in work mode.
#3 Make A To-Do List Every Day
We all know that there's no such thing as being "finished" with our work, even when the work-day ends. However, it's also unhealthy to constantly have work on your mind. And when your workspace is a room away, the pull of a "forgotten item" certainly doesn't aid work-life balance. Start to keep track of what you have to do. To-do lists, even on a scratch sheet of paper, will let you download your ideas so that when it's time to return to work, you have a great place to start. 
"This is especially important on Friday afternoons when you want to have a weekend," SVP from YourTango Experts Melanie Gorman recently said on Facebook.  "If you make a list of things to do at the end of every day, you can walk away from work without the worry you're forgetting things. If you need to add to it throughout the evening or the weekend will give you a moment of work instead of going back to it for the whole evening. Then when it's time, you can pick up where you left off knowing you've got your ducks in a row."
Instead of focusing on what you still have to get done, create a to-do list at the end of your workday so you know where to begin the next day. You don't have to prioritize tasks in your head; you simply have to write them down and you can pick up the task of organizing when you have time. This action will save you tons of time and effort because you never get your eye off the ball.
#4 Re-evaluate Your Business Tools & Software To Make Sure You Have What You Need
If this is your first time regularly working from home, then it may take a moment to figure out what kinds of tools provide you with the best working experience.  It's easy to take for granted the office supplies and tools your company provides (or you have already in place). But, in your new "home office" you want to consider some of the details that tend to slow people down.
Make sure the things you write with and write on not only work but that they meet your needs.  Pens from the last conference you attended won't do for long.

Does reading from the computer hurt your eyes? Make sure you have a working printer so you have the options you need.

Does your built-in webcam only create grainy videos? If so, you will need to find a better quality one if you want to see clients for live sessions.
Finally, if the storage on your computer is low and causing an issue, then get yourself an external hard drive. This will help to speed things up to get you through this crazy time.
Though it may be difficult to actually go to a store right now for these kinds of products, many companies are still shipping products through their online stores.
You also want to understand what kinds of software and computer tools can help you do your work more efficiently and with better results. If the files and programs you need are on your work computer while you're stuck at home, see if you can get a VPN that allows you access to it. The kind of word-processor, editing programs, and even the internet browser you use impact your workflow.  
Once you've figured out what you need, then get rid of what you don't. Remove anything from your workspace that is extraneous or unhelpful.  Once you've decluttered, keep your space (and your desktop) neat and orderly. By doing this, you are physically helping to keep that space smaller, not a messy, overflowing reminder of work left to do. This is especially important on Friday when you want to leave work for the weekend.
By decluttering your desk and organizing your notes, your reentry on Monday morning will be smoother.
Feeling good in your workspace is imperative to feeling good in general, especially when so much of your day is spent in it. To that end, making your space personalized helps too. If you have a candle scent you particularly like, then light one. Or if you have a few photos of family and friends that make you smile at a glance, then frame them there.  Part of being organized and orderly is creating a space that makes you feel content.
#5 Keep A Calendar
The simple fact is that when you work from home, it's more difficult to keep track of dates and times. You have your work schedule, the schedule of anyone else living in the home, your client schedule and all of the other tasks you must do to run your life. When you are responsible for budgeting all of your time, keeping your time organized and transparent to everyone around you is critical to achieving work-life balance. Because really, there is a ton to do. You must cook, clean, work, sleep, play and live in this new space. And all of the tasks you must do have to happen even if you fail to schedule them.
But when you do keep a calendar it plays directly into this idea of a healthy, balanced routine.  Just remember that the time you take to clean and organize your office space shouldn't come exclusively from your personal time. See where you've got a minute in your work schedule and put a note in your calendar for the things you must get done in order to be an effective worker. This feeds your mental health and your sense of value for the time spent doing all the tasks required to run your business and your life.
At the end of the day, you want there to be an end of the day. Yes, it's important to actually get work done and earn your paycheck. Doing so should not come at the cost of your comfort or of your social and family life. Times are hard enough without the added pressure of trying to transform your work schedule.
Following these work-life balance tips will help ensure that you have some precious time off and get the R&R you need to get back to the grind on Monday.
Looking for motivation to keep your #smallbusinessstrong? We can help. Follow us on Facebook or reach out for a consultation today.