8 Reasons Why Blogging Is Important To Your Service-Based Business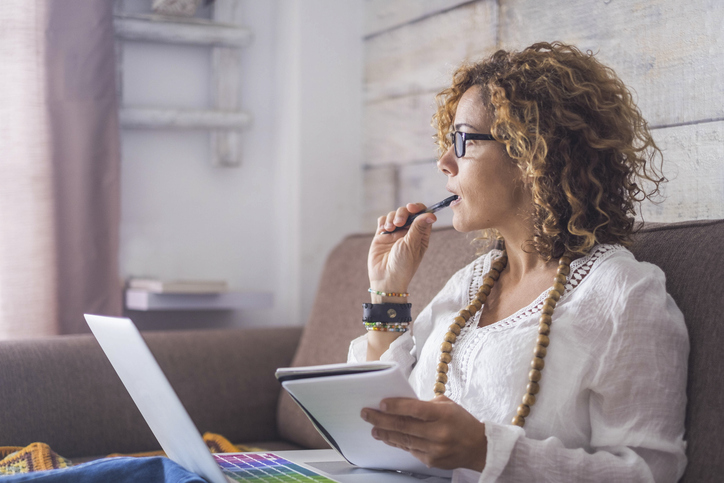 By now you should be well aware that having your own website is crucial to growing your therapy or healing business. After all, if someone is looking for help the first place they'll hit up for information is the internet. Ideally, you want to have a presence on the internet. Moreover, you want to get noticed by search engines so that your website pops up as the answer for someone who is in need. Overall, the goal of your website is to market your services, educate your clients, show your expertise and give them a way to contact you.
If you just want a way for clients to contact you then a website with a static landing page would suffice. However, if you're trying to build your business and grow your practice you need a little more than just an attractive website. The internet has become a huge part of our daily lives and given the sheer number of people using the world wide web, competition to gain the attention and curate an audience can be fierce. In order to build a business, you must find a way to stand out from the crowd.
If you want to reach more people, attract more clients and grow your business you should be blogging. The truth is the blogosphere can be a pretty powerful marketing tool. So how does blogging really work to help you build your business?
It Boosts Your Ranking In Search Engines
An interesting fact about blogging is that websites with a blog tend to have 434% more indexed pages with Google. So that's a really high number but what does it really mean? When you type in a search phrase in Google and you see the results on your screen, did you ever wonder how a website gets there in the first place?
Websites can find themselves landing on a Google search via two processes: crawling and indexing. In layman's terms crawling is where Google searches your website in order to track what is on your site and indexing is the process of adding those web pages to the Google search.
So what does this have to do with you blogging your website?
Turns out, a lot.
Remember that "crawling" is the process of searching for content and consistent blogging is how you add content to your site. By blogging frequently you are providing Google with something new to add to their search results.
The bottom line is if you don't have content on your site (i.e. blog posts) you don't stand a chance of Google finding you.
And if Google can't find you then you don't exist.
But, it doesn't work for any content. You need quality content if you really want to benefit from publishing blogs.
So while having a blog is a good start, the real work to grow your website comes when the content you publish is of interest and value to your readers. In other words, does your core audience care about what you're writing on? Does it connect with a pain point or concern that might lead them to become a client? Or does it provide value as the reader is investigating answers or looking for information?
All of those are great reasons to have certain topics of content on your site.
And yes, frequency does matter. Fresh content is one of the factors Google considers when adding websites and pages to their search results. But it's the marriage between the quality of your articles and the topics you publish that really build the trust and value of your website. And it's here that keywords and SEO really matter.
Keywords/SEO
We have talked about SEO often in our blog because really, that's the heart of making the connection between a reader's search and your content. Curious?  Go here and here for our latest posts.
At the heart of a great blogging strategy is a strong set of keywords. Ideally, those words or phrases are the ones your clients use to find you online. To figure this out, think about the topics or issues clients present in a first session- not the 10th session- as any good healer knows, life is VERY different 10 sessions in.
The big takeaway here is to make sure the topics you choose to blog about match positively to the queries clients do before they pick up the phone or shooting off an email asking to work together. When you have this list of topics, you're all set with topics to blog about.
Increase traffic to your website
Even in a pay-to-play market, you can grab some free traffic to your website when you blog on a regular basis. One major bonus to your business when you start blogging is the increase you experience in your site traffic. Remember that when you blog consistently, you are giving Google 'inventory' to stock the shelves with so to speak.
The more Google can find of your content, the greater the opportunity to share your work with others. When your website is well constructed AND you write to the best topics for your brand (that are not too competitive), over time, you should see an increase in traffic.
If you're blogging now and this isn't happening, contact us and we'll figure out why for you.
Build Trust With Potential Clients
When we're talking about using the internet to find a therapist or life coach, it goes without saying that trust is the cornerstone of your business. People want to work with someone they know and trust. That's a no-brainer. When you consider what blogging is, it is easy to see how it can be the means to an end.
So, let's go back to what blogging is for a second. Blogging is the writer (you) talking to the reader.
That's it.
Blogging is just you sharing your knowledge and expertise with someone who visits your site.
POV (Point Of View)
It is important to note that to be successful with blogging you must do two things when sharing that information: be real and show your personality. The truth is, your blog is the best opportunity you have to show your reader who you really are. This is not the time to be uptight, canned and unrelatable.
Your writing style, your sense of humor (or lack thereof) the tone of your writing and the photos you choose for your blog posts all work together to give the reader a glimpse of your personality.
It's also important to remember your audience.
When it comes to blogging, you should write for your audience, not for yourself or your peers.
The internet has given new meaning to the phrase "lost in translation". As much as you feel that your website is simply promoting your business, you must remember that you are basically promoting yourself or your programs as a means to help solve a client's problems. The key to building trust is speaking to your audience in the language that they understand and showing them how to fix their problems.
Your natural conversation skills can help you here. Therapist and other healers have more going for them in the world of authentic blogging than you may realize. Here are a few ways to tap into your professional communication skills to make them work for your writing as well.
As you continue to blog and share relevant content with your readers, you should very well see an increase in site traffic and perhaps even an increase in your email subscriptions.
Positions You As An Expert
Blogging is an ideal way to show your expertise in your field. Ideally, your blog posts will contain relevant, timely and useful information for your reader. Remember that you have a valuable skill set and although it may seem like old news and intuitive to you, remember that your readers don't have the training that you have and they don't know what you know.
Consistently adding great information to your website, by blogging will quickly separate you from others in your field. Potential clients always do their research on the Internet. In fact, research has shown that by the year 2020, customers are expected to handle 85% of their relationships without ever talking to a human being. What that means is that potential clients will do their own research on a company or service provider prior to initiating contact.
Your role in marketing your business is to carefully create and shape the information you present on your website. Blogging about common themes and new trends, sharing your perspective and your knowledge will serve to quickly establish your credibility. People do not know who you are and they have no reason to initially trust you, it is your job to give them one.
Serves As A Motivation To Stay Connected To What's Going On For Your Brand In The World
When weighing your options for blogging there may be one consideration that not many people think of. When you decide to write a blog post, the first thing you need is a topic. Initially, you may want to sit down and make a list of blog post ideas. But what happens when that list is exhausted and your idea bank is depleted? You will have to search for more material.
An added benefit to you professionally and subsequently an added benefit to your reader is that you stay abreast of the latest and greatest in your field. The need for more blog post ideas serves as an impetus to continue learning and exploring.
Builds Confidence
Blogging is essential to building your business, there's really no two ways about it. And putting it off is just avoiding the inevitability. What you will find though is something that all writers find.
Stephen King said it best when he said:
"The scariest moment is just before you start. After that things can only get easier".
As a writer, I can tell you this is so true. Staring at a blank screen and a blinking cursor can be unsettling. But really all you need to do is pick a topic and write what know. The trick is not to think of all the blog posts you will have to write. Just take it one blog post at a time; gradually you will find that it gets easier.
As you continue writing your confidence in blogging will only grow. Before long you will find that you can write a blog post quickly and efficiently. Scouts honor.
Builds Content For Social Media Sharing
Recently, we talked about tackling social media to build your therapy or healing business.  Whichever platform you choose, the common denominator for all of them is content. And here is where blogging can help you again. Your blog posts can be repurposed and shared for any and all social media content.
Social media is deeply ingrained in our lives and people will frequently use social media to find the answers they are looking for. By sharing your blog posts on social media you can play a pivotal role in someone's solution.
You also need to build a following on whichever social media platforms you choose. In order to do that you must provide content for people to read, like and share. Consistent blogging can help you achieve that end.
Blogging is really not as bad as you think it is. It is not complicated at all when you remember that it is you talking to an audience about things that you are already an expert in. All you have to do is start.
The benefits of having a blog on your website far outweigh having a static landing page. If you want to grow your business and build a community around that business, blogging can help you do that.
Need help tackling your first blog post? Here's how to write a blog post or if in-person help is better, we offer a 5-part comprehensive writing class you can register for. Reach out to us directly for class information or to schedule a free consultation for more personalized support.