The Complete Guide To Blogging For Counselors, Healers & Health Care Practitioners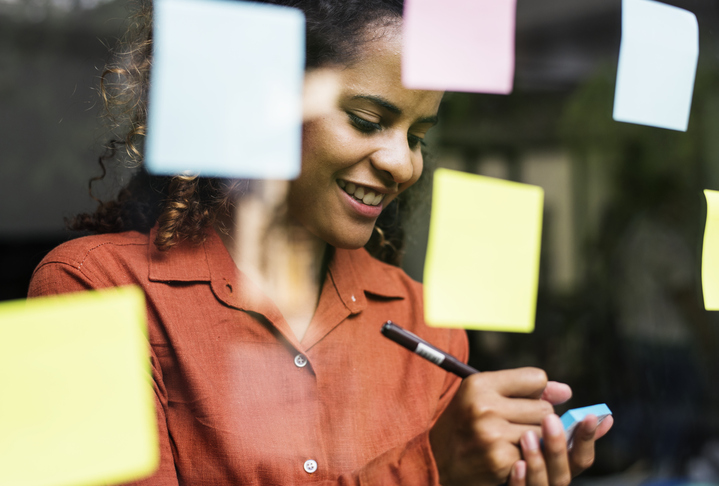 When you run a healing business or any type of business for that matter, the only way to achieve any kind of success is to set yourself apart from the crowd. The internet is chock full of millions of websites where the proprietor is trying to make a buck or make a living. The net effect of this is that we end up with a throng of websites that offer the same information, sell the same product, or push the same services.
What really matters is the end-user needs a reason to choose one over the other. And when we talk about a service-based business the "why" and "how" become considerably more important.
The fact is, when it comes to a healing business, reaching more people, turning casual readers into clients and growing your business always requires you to gain their trust and it almost always requires your efforts in blogging. Developing a robust blog on your website is how you connect with your readers and ultimately, it can be one of the greatest marketing tools you have at your disposal.
Consistent blogging serves a myriad of purposes, it can:
Boost your sites rank in search engine results

Increase your website traffic

Build trust and confidence in your readership

Position you as an expert

Build content for social sharing
We can't say this often enough, blogging is crucial to the growth of your business. For that reason, The YourTango Expert team has created this comprehensive guide to help you get started with your blogging efforts. So whether you're new to blogging or have been blogging for years, the topics below are the core areas writers need to focus on to make the most of their efforts.
Very often, clients do some of these activities but leave others out. The discussion is broken into focus areas. You can click the list below to read just the parts you need, or start at the top and make your way down.
This comprehensive guide to blogging covers the following topics:
But before we dig into the details, let's talk for a moment about one of the most important concepts you should keep in mind as you head into the blogosphere.
Your Blogging Efforts Must Provide Value
When it comes to blogging one of the most important concepts to consistently keep in the forefront of your mind is the concept of value. It's no secret that the internet brings information to us in epic proportions. As of 2018, there are upwards of 400 million blogs on the internet. So clearly there has to be a tremendous amount of overlap and redundancy. But what makes website/product A more of value over website/product B? Or C? Or D? You get the picture.
Is Apple better than Samsung? Is Coca Cola better than Pepsi? Are your blog posts better than your competitors?
The answer to those questions lies in value or perceived value. And when you embark on blogging, the question that you must continuously ask yourself is this:
"Am I providing value to my readers?"
If the answer is yes, then, by all means, carry on, go forth, and help the masses. If the answer is no, then you might as well be blogging into the ether. Blogging without value is a waste of your time and not worth the reader's effort to even find you.
The blogging equation for poor value looks something like this.
No Value = No Readers
No Readers = No Clients
No Clients = No Business Growth
I just made that up, but you can see my point. When your blog posts have no inherent value, you cannot possibly see any business growth.
Today's consumer is discerning, to say the least. And if you're not in it to win it, every blog post, every time, your readers will know. When we're talking about providing information and building a business, you have to want to provide value to your readers. Here are a few questions you may want to ask yourself when you're blogging:
Am I doing something that no one else is doing?

Am I helping people solve their problems in a unique way?

Am I setting myself apart from others in my field?

Does my passion for this topic show through?
1. Pick Your Blog Topics By Understanding Your Audience
When taking on the challenge of blogging, most people have the added burden of deciding what to blog about. They embark on copious amounts of research hoping to figure out which topics are profitable, which ones will drive traffic, and perhaps most importantly, which topic they can write a considerable amount of content on.
For healers, the topic matter is easy: whatever your clients bring to you in their intake call or consultation are the core topics you need to write about. Those topics are important to cover because they are top-of-mind for anyone looking to hire you. And while there may be many people covering core topics (for a therapist think about anxiety, trauma or depression or for a life coach think about decision making, burnout or empowerment) where you want your business to grow is also an area of importance.
It's not enough to simply write a handful of pieces.
Good blogs cover your core topics from beginning to end and do so in a useful and trend-based way. That means over time you write about the basic topics and also touch on topics that may be holiday or news related. You may choose to put your personal spin on things or take your own opinions out for a test drive. All of that is okay provided it's authentic to your brand and is a topic your audience is interested in.
The good news for you is that you know what you will be blogging about. Your topic and content ideas are built right into your business. You won't have to look far for ideas regarding content, but you will have to pay attention to what you are writing and who you are writing it for, and that's covered under your audience.
Who Are You Writing To?
When you're in the trenches of blogging it is easy to fall into the trap of blogging about anything that comes to your mind. After all, it's your blog right? You're driving this bus.
Well, yes and no.
What you need to understand about blogging is that while it is your website and your business, failing to provide content that appeals to your readers will never pay off. No matter how you look at it.  
Knowing what your audience needs is a key driver towards what topics to write about.
Remember that one of the purposes of your blogging efforts is to market your healing business. And when it comes to marketing, the rule of thumb is that you can't be all things to all people.  The key to blogging successfully is knowing what people are searching for and effectively giving the people what they want.
2. Select Your Niche
Once you understand what your audience is looking for, It behooves you to familiarize yourself with the questions they are specifically asking. Once you understand this, you can proceed to write content that answers those questions.
This is known as picking a niche and when it comes to blogging, choosing a niche from the jump can pay dividends down the line to both you and your readers. Let's take a look.
Keyword research will be easier
Keeping in mind that Google is continually looking for new pages to index and add to search engine results, SEO and keyword research are critical for your business. When you niche down, you take the guesswork out of keyword research and incidentally you save yourself a lot of time and aggravation. Doing keyword research on a particular niche ensures that your content remains focused and it ensures that you don't waste your time on research that does nothing for your bottom line.
It positions you as an expert
Picking a niche will most certainly ensure that you are seen as an expert in your field. When it comes to blogging, choosing a niche ensures that you remain abreast of the latest and greatest in your field. Narrowing your focus allows you to dig deeper into topics where others simply scratch the surface. Moreover, picking a niche adds focus to your writing and your message. With the depth of information you provide, your readers will come to recognize you as the reliable, go-to source for the information they want or need.
It shows that you have the end-user in mind
In a recent study conducted by Pew Internet & American Life Project, as much as 80% of internet users have researched a health topic online. Participants indicated that they have used the internet to research specific diseases, alternative treatments and a variety of mental health topics.
The point here is that people are actively seeking information on the internet and your job is to provide that information.
A reader will most likely visit your website because chances are something turned up in the search engine results that guided them to your page. And they clicked on that result because they felt it was quite possibly the answer they were looking for.
So think about this, do you want the reader to read one article on your blog and click out of your site? The answer is no. You want the reader to stick around and click around, and the only way to accomplish that is to have a wealth of information on the same topic at the ready for them.
It's a time saver — for your reader
The internet is an amazing amalgam of information. So much to see and so little time. And when it comes to the readers, it's more like so much to see, so many choices and so little time. So knowing that the end user has a myriad of choices, the next step is to be the resource that answers their questions and addresses their concerns, every time, without fail.
Being the resource that always "brings it" is the best way to ensure user loyalty.
At the end of the day, no one wants to sift through copious amounts of information just to pull out the one paragraph that applies to them. Readers will consistently return to the resources that take their needs and their time into consideration. To that end providing the best information in an easily digestible form is crucial when it comes to blogging.
3. Types Of Content
When we look at the blogosphere we can see that every blogger has their own style. Aesthetics aside, every blogger has their preferred method of distribution so to speak. One blogger may consistently rely on lengthy blog posts to make their point, whereas another blogger may choose list based posts to disseminate their information. And that's ok, to each their own.
You can communicate to your readers however you see fit. The point is, you have choices. Let's examine a few of those styles.
Long form content / Essays
Long-form content, you may know then better as essays, can be important for a healing business when it comes to sharing information. It goes a long way towards providing value to your readers. And just like picking a niche, long-form content can also serve to position you as an expert in your field.
A common misconception is that readers consuming information on the web have increasingly short attention spans. It would seem though that the opposite is true. More and more, users turn to the internet to find information and dig deep into the topics they want to research. And if you've ever researched anything on the internet, you know easy it is to go down the rabbit hole.
That said, long-form content is far from passé.
In fact, recently, Buzzsumo conducted a study where they analyzed 100 million articles. That study showed that long-form content received more social shares than short form content. (See the infographic below). Digging a little deeper into the research Buzzsumo also found that there was significantly more content to be found across the internet in the short form, 16 times more.
So when we look at content creation in the blogosphere, It looks like more often than not, people are simply unwilling or incapable of putting in the work that long-form requires.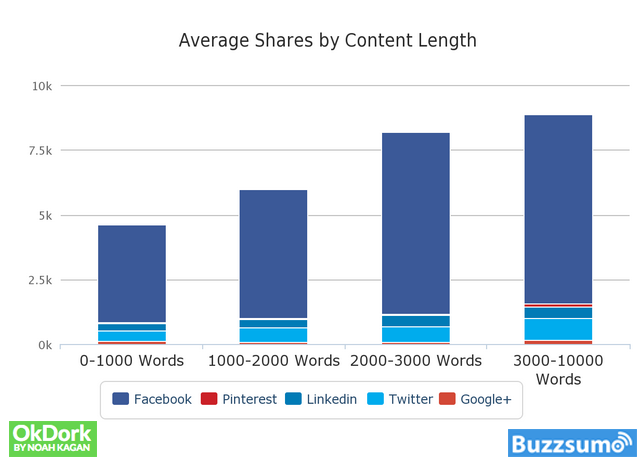 The takeaway here is that there is plenty of room at the top. Consumers and readers are now more shrewd than ever, they don't want the fluff that can be found anywhere. They want the information they went in search of initially and ideally they want to find it in one place. Long-form content can help you provide that to your reader and solidify your spot as a great resource.
Moreover, when used as a marketing tool, long-form content is the key to achieving high website traffic, social sharing and website authority.
An important note about blog posts and length.
When people begin blogging, one of the first questions that inevitably comes up is "how long should a blog post be?" And while we look at the latest research and share our recommendations about things like long-form content and the value it can bring to your site. The thing to remember is that word count aside, you are writing your blog post to satisfy a need and answer a specific question for your reader.
So when the question comes up regarding how long should a blog post be the answer is:  as long as it needs to be to be to say what you have to say or as long as it needs to be to answer the question.
So yes, long-form content generates more social sharing and most blog posts live in the <1000 word range, as we discussed earlier in the post. But at the end of the day If it takes 4000 words to sufficiently dive into a topic and provides value to the reader then it takes 4000 words. However, if you can still deliver the answers and the value with 1000 words then, by all means, go for it.
Case Studies  
The nature of your healing business presents you with opportunities for content and information that other blogs do not have, for example, case studies. Case studies are a great way for you, as a healer, to examine the nuances of a given topic with potential readers. Due to their up close and personal nature, case studies can also be powerful blogging tools. Moreover, they can provide exceptional value to your readers.
The most important thing to understand about case studies is that they go beyond providing answers, they detail processes. When it comes to information, more is more. Case studies allow you to share the small details which can otherwise get lost in the shuffle.
It's one thing to know the end result. But it's an entirely different ball game to "see" the process unfold from beginning to end.

Now by the title alone, we know that Dr. Karen Finn grew her website traffic and her sales. So we know that she saw some great results.
But what do we really know?
How did Dr. Finn go from 162 website visitors per month to 1,000 visitors every day?
Enter the case study.
The case study really digs deep into the details. It shows where Dr. Finn's website was when she first started with the YourTango Experts Program, where she ended, and it provides an in-depth look at how that end was achieved.
Reading through the article we now know that Dr. Finn
Began writing more content

Rebranded her site

Worked with the team to improve her SEO
With case studies the reader walks away with a full understanding of the process, there are no surprises.
As a therapist or counselor, no one knows better than you that the complete comprehension of a process goes a long way toward alleviating any fear or anxiety. For that reason case studies can also be the make or break factor for potential clients to take action and contact you. The more information you provide, the more comfortable they will feel, the more likely they are to take that first step.
Remember that there are certain things you aim to accomplish with your blogging efforts. You want to keep the focus on your audience and answer their questions, you want to provide in-depth analysis of a particular topic and finally, you want to position yourself as an expert.
Case studies provide the exact content you need to check off all of these boxes.
Listicles
Over the years and all across the blogosphere listicles (list type posts) have become quite popular. In fact, the listicle has been called the "new face of content marketing". There a quite a few reasons for this.
Who doesn't love a good list?

Writing a blog post in listicle form makes that post scannable.

Research has shown that 79% of readers scan what they are looking at, and about 16% actually read word for word.

Reader's want quick and concise information. Writing your blog posts in listicle form allows your readers to scan the posts quickly to find the information they are looking for. They don't require the reader to work hard to find the information.

Finally, creating listicles helps with the aesthetics of your blog. It forces you to separate those items and therefore creates the highly recommended white space. Ultimately, listicles can help you avoid the unsightly walls of text.
Listicles are increasingly becoming the preferred method of delivering content to the masses from the writing perspective as well. When it comes to creating listicles you don't necessarily need to worry about your writing ability or lack thereof because well, it's a list. Essentially, you are writing in bullet point form. You don't need to worry about flow and eloquence. Because the information is presented in bullet point form, you (and subsequently your readers) are focused squarely on the content and the points you are making. Neither party is hung up on the literary merits of the piece.
A quick tip about listicles.
When it comes to listicles readers love numbers. Numbers attract attention and studies have shown that odd numbers are more effective than even numbers when it comes to headlines. So a post with the title "7 Ways To Stop An Anxiety Attack" will likely get more clicks than a post titled "How To Stop An Anxiety Attack".
4. Write Good Headlines
When we hear the word headlines we tend to associate it with daily newspapers and their 2-3 word "gotchas". Day to day, newspapers rely on those sensationalized, short headlines to sell their paper.
Digital media is no different in a sense that they must rely on great headlines too and instead of sales we are talking about clicks. The difference between print headlines and digital media headlines lies in the nuances involved in creating those headlines.
More than anything your headlines must do two things provide value and pique the curiosity of potential readers.
Provide Value
The main concept that you should keep in the forefront of your mind when creating headlines is WIIFM. Remember that WIIFM is the acronym for "What's In It For Me". And at the end of the day, that's what your audience wants to know. Your headlines should be written in a way that quickly shows the reader what's in it for them and why should they click on your article.
Take this headline for example:
"How To Stop A Panic Attack: 7 Ways To Cope"
At first glance, the reader clearly knows what information is in the article and how it will benefit them. They know by reading the headline alone that they will find 7 coping mechanisms for their panic attacks.
That said when you promise something in an article headline you must deliver. If your headline states that there are 7 coping mechanisms for panic attacks in that article, then there should be 7 coping mechanisms for panic attacks in that article. One, if you don't deliver what you promised in the headline, then you're guilty of writing clickbait. Two, falling into the trap of clickbait will ruin your credibility and do nothing for your practice or your business or your reputation.
Great headlines deliver on their promise. End of story.
Find the emotional connection
When you write to people in the hopes of connecting with a pain point in their life, you need to attach emotions to your headline. This shows the reader you have a sense of what they're going through and perhaps, more importantly, it connects you to the deeper pain inside that motivates them to read your piece.
Dry, flat headlines that don't speak of the feelings underlying the topic of the article fail to reach the reader and often are skipped over or abandoned quickly.
It's the difference between this headline:
5 Ways To Quit Your Job
And this one:
5 Ways To Leave Your Soul-Sucking Job & Move On With Your Life
Be truthful, which one would you click?
Now that leads to the next point about headlines…
Be Honest
Headlines must, absolutely MUST, be honest about what's included in the article. Failure to be honest will get your content labeled as "clickbait" and that means it will be demoted on sites you wish to share it on. Facebook and other social media platforms work to have a very limited tolerance of headlines that are overly inflated, too inflammatory, or outright attempt to trick people into reading them.
Headlines like 10 Things You Absolutely Must Do To Prevent Your Husband From Cheating or If You Don't Do This One Thing You'll Never Get Another Promotion are viewed as dishonest by reviewers because they overly promise a result you actually can't control. It's better to soften your language and move away from "absolutes" or guarantees and stick to the truth.
Pique the curiosity of a potential reader
The other important thing your headline should do is pique the curiosity of the reader. Piquing the reader's curiosity is really the best way to ensure click-throughs. Now when it comes to writing great headlines here are few pointers to keep in mind.
Don't ask questions that can be answered with a "no".

Don't answer the question within the headline itself.

Don't be boring
5. Tips For Writing Great Blog Posts
Keeping in mind that the goal of blogging on your site, is to build a community of followers, a logical conclusion is that choosing the best content is one of the best ways to do that. While choosing the best content is crucial, creating a valuable blog post goes far beyond simple content. In lieu of repeating ourselves here, for our most comprehensive tips on how to write a valuable blog post, read this piece. 
If you want to skip it, just know that writing in a conversational style, limiting jargon and adding a healthy dose of personality can go a long way towards making that connection with readers.
It is important to note that writing is not the only way to create value in your blog posts. Using visual elements such as infographics, charts and of course photos can greatly improve the user's experience. That's next…
6. How To Make Your Blog Visually Attractive
Photos/Media
Although blogging is primarily about sharing information in text format, a picture is still worth a thousand words.
With smartphones at the height of their popularity, it's easy to see why the use of visuals is so important in blogging. Apps like Instagram and Pinterest are capitalizing on this; one is a visual news feed and the other is a visual search engine respectively. The fact is people like pictures and articles that use visuals get 94% more views than those without visuals.
So now that we've established that you need visuals, let's take a closer look at where to find them and how to use them effectively.
The great thing about the internet in 2019 is that you don't need to be a photographer to have beautiful pictures on your website. In fact, it couldn't be easier. You just have to know where to look.
A quick but important note about using images from the web:
Contrary to the belief of some, just because something is on the internet, that doesn't mean that it falls into the public domain. Truth be told there are strict rules regarding what falls under the public domain and copyright laws are put in place for a reason. You can read more about copyright laws and public domain here.
The good news, however, is that you do not necessarily have to add figuring out copyright laws to your neverending to-do list. It has all been done for you.
Visual Media Resources
There are quite a few visual media resources available for photo curation. These websites take the leg work and guesswork out of finding photos for your website. Photo curation sites couldn't be easier. You simply navigate to the site, type a search term into the search bar and voila! Choose a photo. It really is that simple. Some of the best photo curation sites are:
While choosing an actual photo is not that difficult, understanding the nuances of image curation can be a bit more tricky.
Advice for choosing appropriate visuals
For companies that sell a specific product, the images they use for their websites, social media etc. are a bit of a no brainer. They use images of the product they are selling. But when you are a service-based business how do you choose images? Which images should you pick?
The answer for service-based businesses is that you must choose photos or images that represent what you do or the service you provide.
You are selling a lifestyle and you are selling answers.
First and foremost, your images should evoke emotion from the viewer. This is especially important for a healing business. You also want to choose photos or images that most closely resemble your target market. For example, if the nature of your practice is to help people navigate the choppy waters of a divorce, you will not want to include photos of smiling babies and happy couples holding hands. You should choose a photo that more closely reflects the mood and mindset of your audience
At the end of the day, you want the reader to see themselves in the reflection of your website.
Image optimization
When it comes to photos, search engines do not see images the way we see images. We see images as a picture on a screen, whereas search engines "see" images in terms of the alt text that is assigned to it.
Alt-text are the words (ideally keywords) that are used to describe the photo and they are "attached" to a particular photo by the user. The thing to keep in mind with alt-text is the driving force behind it. Its purpose is to describe a photo in detail. So when you're writing alt-text think about how the image in the photo would be read to a blind person.
How to edit alt-text for a photo.
In order to change the alt-text for a photo within an existing post. Simply navigate to the post in your dashboard and click on the photo, the editor will pop up.
Click on the pencil icon to edit, a dialog box will pop up and from there you can enter or edit the alt-text.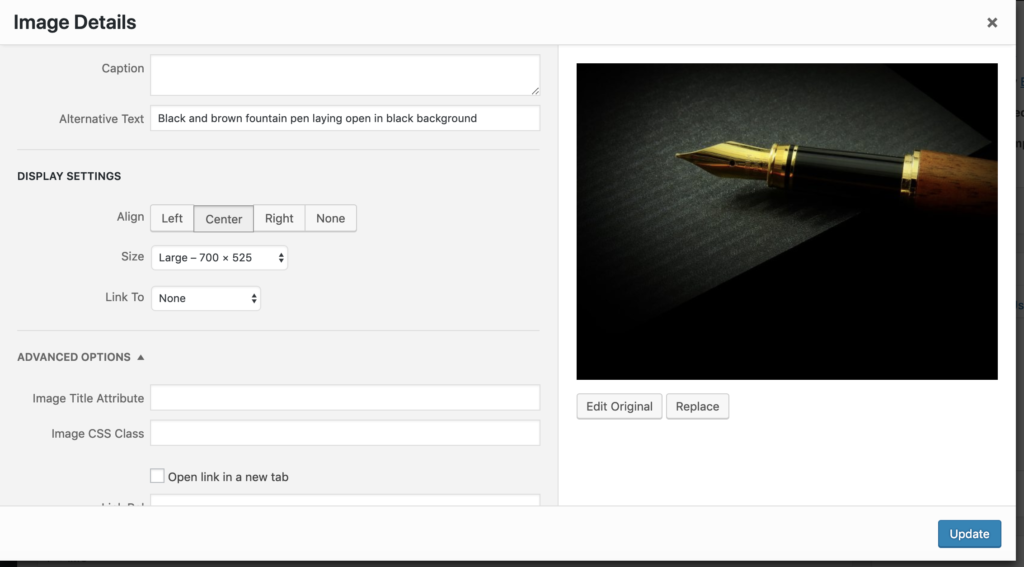 Most blogging platforms are quite intuitive and user-friendly and adding alt-text to your photos is one small tweak you can do to improve the SEO for your website.
Cropping images
Ask any blogger about what bugs them the most about publishing a blog post and chances are they will say it's cropping photos and getting it right. When you first start blogging, this process may be a little tough to get your hands around, but after the first few times, you will get the hang of it.
First, let's take a moment to understand why we need to crop our photos because that is an important point. When you use any from the photo curation sites we talked about earlier those sites provide photos in varying dimensions; this allows all users to have choices. However, more often than not they are available for download in very large sizes. The problem here is, If you were to just take that photo and add it your blog post without cropping, it could significantly impact the loading speed of your website.
What ends up happening is that a user will try to visit your site, but the photo is so large that now your site is slow to load. And guess what? Yes, that's right, the user will click out and find a site with the same information that is quicker to load.
So how do you crop an image? Let's take a look at how it works in WordPress.
From your dashboard:
Click Media

Choose the library option

Select the photo you wish to crop

Click the "Edit" button, found under the photo

Enter the dimensions you want in the "New Dimensions" field

Click "Scale"
Here's a screenshot to help you along.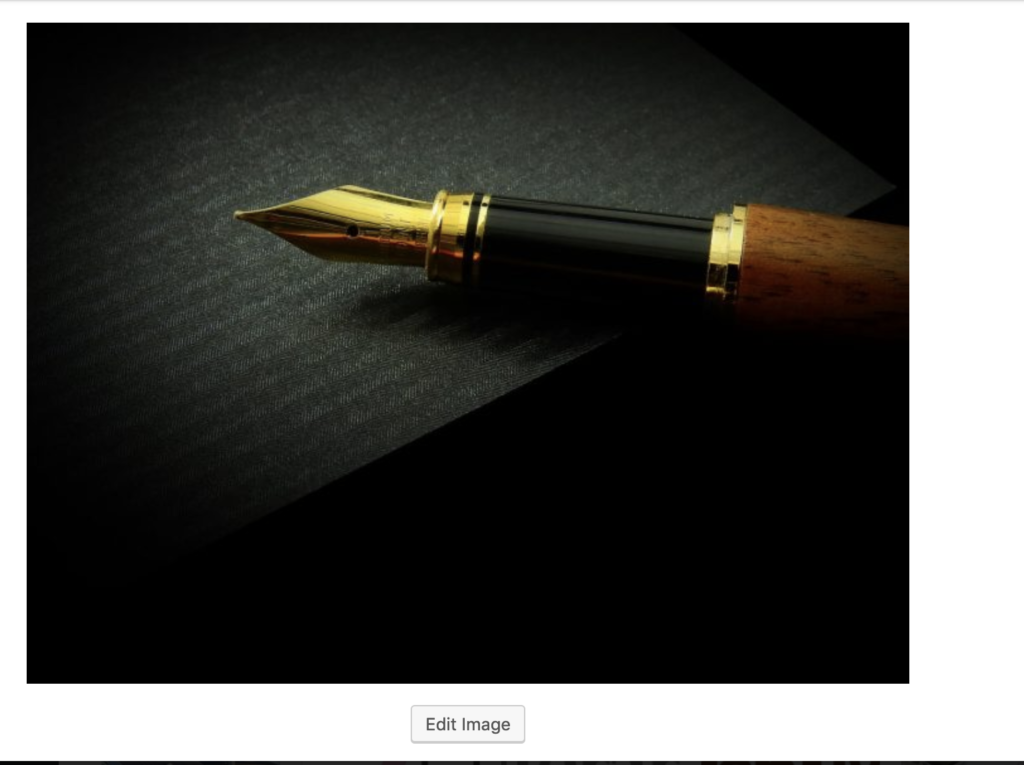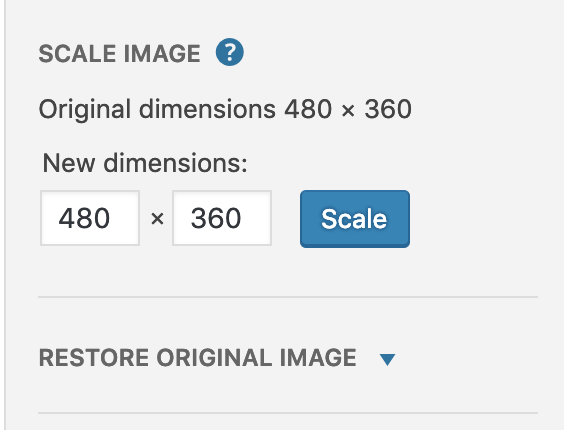 Again, this is your view from WordPress, other blogging platforms obviously look different. The takeaway here is that cropping your photos is not terribly difficult. With a little practice, you'll be an expert in no time.
7. How To Sell On Your Blog In 5 Simple Steps
When most people start blogging, they tend to approach it in steps. The sequence of events usually goes something like this:
Pick a topic

Start a blog

Create Content

Gain followers/readers

Grow a mailing list

Work on a sales funnel

Sell product or service
Did you see what happened there? The sequence of events that most bloggers take, puts selling way down at the bottom of the list. I would venture to guess that It's one of the last things that every blogger tackles.
In reality, this list should be flipped upside down, well…sort of.
The reason why you're blogging in the first place is to sell your services and grow your business. In order to do that, your approach will need a little tweaking from the standard sequence of events. Instead of creating content and then building a sales funnel and selling. You should be thinking about your sales from the inception of your blogging efforts. And your content should be created with your endgame in mind.
Although the talk of sales funnels and email campaigns may sound intimidating, it's really not terribly difficult. Here are 5 steps you can take, to set yourself up for success.
Know What You're Selling
When you understand what you are offering and what you want people to "buy", it will become clear how you can help them get to that decision.
Create The Best Content To Help Your Audience
The end result you're looking for is to turn the current reader into a future client. As a means to that end, your content creation should be focused on helping the readers with his/her problems. Your content should accomplish two things:
Provide answers and solutions to the reader/provide value

Showcase what you have to offer.
When you are in the process of creating this content, however, you must not accidentally fall into the "trap'. The trap I'm referring to is being salesy. You do not want to whomp your audience on the head with a sales pitch disguised (cleverly or not) in every blog post.
Your blog posts need to provide value to the reader in and of itself. The value you provide through your content is really what drives the reader to "buy" your services.
Create A Free Resource
Again, many bloggers procrastinate when it comes to completing the sales oriented tasks for their blogs or websites. Truth be told, sales pieces, such as a free resource, should be at the forefront of your mind from the get-go.
When you offer a free resource to your readers, you will quickly find that people will happily give you their email address in exchange for something they deem valuable. In the case of a healing business, a free resource would most likely be an ebook.
The best way to figure out what your ebook should be about is to do a little research. Just as you would do with your blog posts, you want to figure out what people are researching in your area of expertise. Once you, identify your reader's burning questions, you then proceed to write a short ebook where you provide an in-depth answer to that question
Generally, ebooks will be longer than most blog posts and they may also be longer than your usual long-form content. An ebook can run the gamut from 2000-10000 words which is a respectable length considering that your goal here is to provide more information than what is normally available on your blog and to provide more valuable information than your competitors.
The thing to remember when creating your free resource is that if you promise something to your reader you must deliver on that promise. Because, as easily as your readers subscribed to your email list in order to get that free resource, they can just as easily unsubscribe. Your chances of winning them back after that are slim to none
Include a call-to-action
Now that you have created a free resource, what do you do with it? How do you get it into the hands of your readers?
Well, the answer is simple — you just ask.
You must let the reader know that this resource is available to them with the click of a button (and in exchange for their email address). It's that easy — and that difficult.
Your copy (or the words you use to "get the click"makes it or breaks it. The text on or around your call to action (CTA) should answer the question "why should I click this?"
The copy used in your call-to-action introduces who you are, it shares your expertise and finally, it delivers the ask, or in the case of blogging requests the click.
When implementing a call to action it is highly advisable to take precautions to reduce the clutter around your call to action. Reducing the clutter around your call to action will reduce the confusion for your reader as well. There should be no questions as to where they need to "click".
Your call-to-action must stand out to be useful. To that end consider using an actual button for your CTA as opposed to a clickable link text. In a study conducted by Copyblogger, researchers found that making CTA's look like buttons increased their click-through rate by 45%. Just some food for thought as you consider adding a call to action on your blog.
8. Self-editing & Blog Tools To Ensure Your Articles Look Professional
More often than not you will find that in creating, writing and publishing a blog post it's a one man or one woman show. I'm guessing that many of us don't have beta readers or proofreaders on speed dial. Is speed dial even a thing anymore?
So anyway, when it comes to blogging, you will have to wear a few different hats: writer, editor, and proofreader are just a few that come to mind. But once you get into the thick of it, you will begin to see that self-editing can be a bit tricky.
To help you with your self-editing here are some pointers and a few links to some great resources that can help you along the way.
Take a break
If there is one piece of advice I would give anyone about self-editing, it would be to walk away and take a break.
When it comes to writing, the one hard and fast rule I have found to be true is that more often than not you need a little space. After hours of researching and writing, your brain knows that information and it will subconsciously fill in the gaps to make sense when you think you're proofreading.
Take this passage for example:
"Y0UR M1ND 15 R34D1NG 7H15 4U70M471C4LLY W17H0U7 3V3N 7H1NK1NG 4B0U7 17."
See what happened there?
This is a perfect little exercise to show you what happens when you attempt to edit your own work. Either your brain has been there before or it just understands the context and it will fill in the gaps. Your brain will make sense of it even when your eyes are not seeing it. The bottom line is you won't realize it, and your readers will be reading a blog post that's riddled with mistakes.
One of the best ways to avoid this is to walk away and take a break. It's almost a guarantee that you will come back to the page with a fresh perspective, ready to catch your errors.
Read it out loud
Another tried and true method for self-editing to read it out loud. Reading out loud is so powerful because it presents the information to your brain in a new way — audibly. When you look at your blog posts, you may think that they look fine. However, reading it out loud and hearing them will reveal your sentences to be odd, repetitive, or murky. Hearing your words out loud can also help to identify issues with tone, flow, order, and omissions.
Speech to text.
An added boon to hearing your blog posts out loud is that you get a better sense of your reader's experience. Most word processing platforms offer a speech to text option for hearing your words read back to you. Microsoft Word and Google docs both offer this handy self-editing tool.
Using this option on both platforms is also quite user-friendly.
In Google docs, for example, you simply highlight the text you would like to hear, click accessibility, speak and finally choose speak selection.
The text to speech option will then read your words back to you.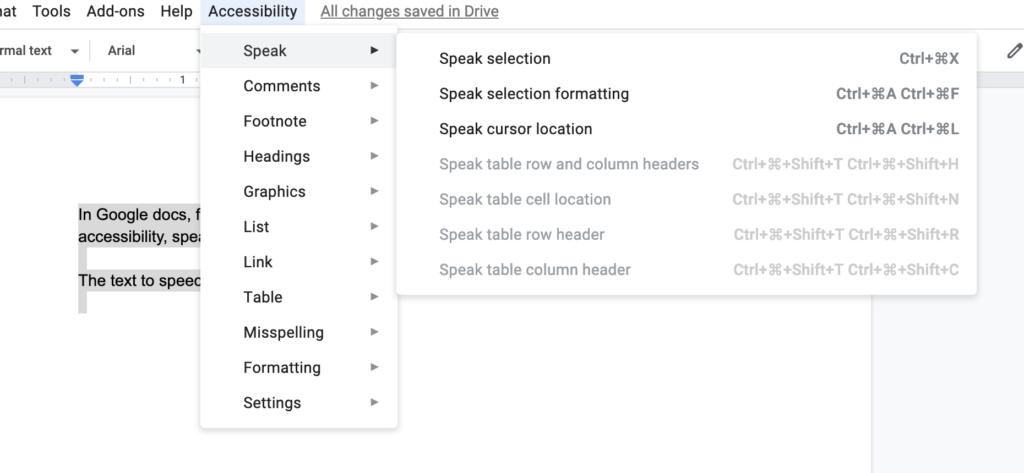 Clearly, text to speech can be a helpful tool in your editing process, but there are quite a few other tools available to help with your writing and blogging efforts. Two of the most popular ones are Grammarly and the Hemingway Editor.
Grammarly
Grammarly is by far one of the best blogging tools available to you. It's a free extension for your web browser that will alert you of any mistakes in your writing. Grammarly can alert you to spelling errors, missing or incorrect punctuation, and grammatical errors. It also provides suggestions for improvement and it can give you a word count on your document.
Grammarly is available via the Chrome extensions and when it's installed on your Chrome browser, it will offer you editing support on all content you edit on Chrome. That includes blogs, emails, Facebook posts and more.

Hemingway Editor
Just like Grammarly, the Hemingway Editor can alert you to spelling and grammatical errors and it provides a word count.
Unlike Grammarly, the Hemingway Editor uses a color-coded system to really dig in and show you where to make improvements in your writing. The Hemingway Editor tells you when you are using too many adverbs, or when you are overusing the passive voice; it also lets you know if when your sentences are difficult to read.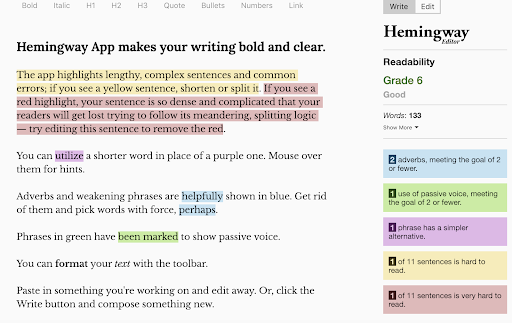 Self- Editing Checklist 
Take a break

Read it out loud

Edit your post in a new format (audibly, printed)

Remove jargon or industry language that clients won't understand

Remove repetitive words or phrases.
9. Repurpose Old Articles/Blogs
The thing about blogging is that it requires constant attention and effort. You want to grow your business through content marketing. So you start blogging to create that content. But none of that matters if search engines don't know you exist. One blog post is not enough. You must continually create, create, create, write, write, write.
A few months of consistent blogging can make you feel like you're a hamster on a wheel.
What if there was a content hack so to speak? One that allows you to throttle back on new content creation but still reap all the benefits of having ample material for marketing purposes?
What exactly is repurposing?
A common misconception when it comes to repurposing content is that you're simply freshening up or revamping old blog posts. This is not repurposed content. It's taking an old blog post and freshening it up or revamping it.
Repurposing content is taking an old blog post and turning it into a podcast, or taking an old post and creating an infographic that you subsequently post to your Facebook page. The overarching theme here is taking old content and changing the format and/or the target audience. A repurposed blog post should not look like a blog post at all.
Time is a precious resource and you may find that repurposing content can be quite beneficial.
Redeem Poor Content
The unfortunate truth about blogging is that every post can't be a winner. Sometimes the content just falls short or misses the mark, and this could be for any number of reasons. The good news is that a dud blog post does not necessarily have to sit in an eternal time out. You could dust off that blog post and repurpose it into a new format and give it a second chance. For example, you could repurpose an old blog post into a newsletter. The caveat here is to be sure that you make helpful and appropriate changes to knock it out of the park.
Expands Reach/New Audience
Consider this: there are 5 new Facebook profiles created every minute. Simple math will show that's 7,200 new Facebook users every day. So the blog post you published 2 years ago, can reach a brand new audience today.
Diversify Content
A hallmark of content marketing — well good content marketing — is the ability to relay the same message across different mediums.
Blog posts themselves are important to your content marketing strategy, but you really can't be a one trick pony. As you can imagine that can get a bit boring after a while. Moreover, every platform has its nuances. Where a link to a blog post might perform well on Facebook, an infographic would perform significantly better on a visual platform like Instagram or Pinterest.
Saves Time
We all know that time is a precious resource and when we talk about repurposing old articles the old adage, "work smarter not harder" comes to mind. When you're dusting off an old blog post, remember that you've already done the research and sourced the information; everything you need is already there just waiting for another chance to shine.
Expands Your Online Presence
Remember that repurposing content means that you are taking older content into new mediums, like social media for example. In that case, it's clear to see how repurposing content will get your content in front of an entirely different set of eyes.
Giving your best performers an encore
Your search for content to repurpose should start with your blog archives and there are a few types of blogging content that you should be looking for.
Every blogger has a handful of articles that outperform others for one reason or another. As you continue blogging, it is important to know what those articles are. The truth is those articles do not have to remain in your archives, basking in their former glory. You can pull those articles out, dust them off and breathe new life into them.  
Returning to your best performers is also a good idea because those top performers have already shown that they have value. It has already worked in one medium, so it's sure to work across others.
10. Market Your Content- Social Media & Newsletters
Once you start writing and publishing content, the next evolution in your blogging efforts is to market your content. You created a great blog post about a topic you are passionate about but you can't just let it sit there and hope for the best. You must actively market your content and get it in front of as many people as you can.
Social Sharing
Social media is one powerful aspect of content marketing that cannot be ignored. In many cases, social sharing is the difference between, high website traffic and no visitors at all. Once you start blogging and consistently publishing content on your website it behooves you to get yourself on one or more social media platforms.
When it comes to social media, you have a few options and to be clear, you do not need to spread yourself thin and promote your content on all of them. In many cases, that could be counterproductive. When it comes to content marketing more is not more. And the only thing you will have to show for it is burnout. Ideally, you want to pick one or two platforms and become fluent in marketing your content on each.
It's important to note that when it comes to social sharing it should not be a one size fits all approach. You must understand the medium you are working in and it's requirements and limitations.
For example, the tone of your message would be quite different on Facebook, than it would be on LinkedIn. Your audience on Facebook would be friends and family, so the tone would be a bit more intimate than LinkedIn where most of your connections are strictly professional.
Not only are there differences in tone, but the success of your marketing efforts also lies in your understanding of the platform itself. Take Twitter for example, in this case, you only have 140 characters to get your message across. Whereas if you look at Instagram or Pinterest, both of which are heavily visual, your choice of image sends the message and the text is secondary.
A good understanding of how each platform works goes a long way toward a successful and stress-free content marketing strategy.
Newsletters
Newsletters are important tools for marketing your business for quite a few reasons. First and foremost, newsletters are your best means of communication with users who have already visited your page. Ideally, once they have had a chance to read your offerings, they will gladly give up those email address in order to receive more. The other upside to this is that you are now collecting and building an email list of subscribers.
One of the prerequisites of marketing is that you establish your target market. The lovely thing about newsletters is that they help you to quickly identify that market. And, they're not hard to do. The article linked in the paragraph above goes into lots of detail about sending a newsletter and how to make the best use of the content you have already published when you do. Take a look at that piece for a more comprehensive discussion on newsletters and how to get started.
With all of this said, what we know today is that blogging is here to stay and it doesn't look like it's going away anytime soon. Consider that internet users spend 3x more time reading blogs than they do reading emails. And 71% of bloggers who maintain a blog for their business have reported higher visibility within their industries.
Getting your hands (and your mind) around blogging can be a little daunting to say the least. Remember that your goal with your blog is to share information and connect with your customers in a form of media where the competition can be fierce.
With that in mind, your efforts should be focused on blogging frequently, consistently and publishing exceptional content that sets you apart.
However, publishing exceptional content is not the beginning, nor is it the end. Perhaps the best approach to blogging is a spherical one. Great headlines and wise use of visual elements can work together to capture the reader's attention. Once you have their attention it is incumbent on you to provide value with great content. These are the only things that will turn casual users into loyal readers.
Hopefully, this comprehensive guide gave you a lot to think about for your blog and direction to take. If you're not sure where to start, let us help you. As our case studies show, the work we do for clients helps them demystify the world of content marketing and SEO so they can get back to working with clients and helping the world. Let us show you how it can work best for your business. Send us a confidential email to Melanie@yourtango.com or use our contact form, both reach us directly.