6 Content Marketing Tips For Small Businesses Who Need More Clients Stat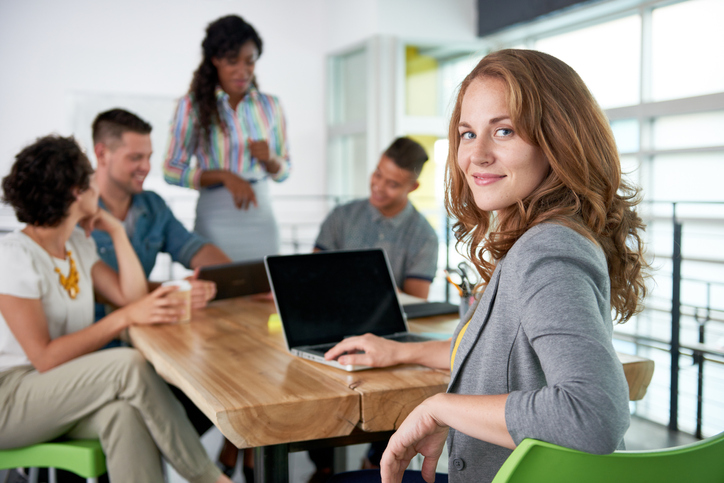 As a small business owner, you probably hear the phrase "content marketing" thrown around a time or two. In reality, it has almost turned into a buzzword that all the cool kids use. But what exactly is content marketing and why is it so important for small businesses? You may be surprised to know that if you have social media presence (for your business) then you are already engaged in content marketing.
Simply put content marketing is all of the content you post online for your readers (and hopefully potential clients) to interact with. Content marketing includes blog posts, social media posts, photos, videos, etc. The purpose of content marketing is to capture the attention of your audience. Your goal is to get them interested and then get them engaged.
When all is said and done (correctly) content marketing is the driving force behind sales, appointments and ideally the eventual growth of your business.
Why Would You Choose Content Marketing Over Traditional Marketing?
Small businesses have one major reason to choose content marketing above all else and that reason is a budget (or lack thereof).
Larger, more established companies tend to have robust budgets that allow them to use traditional marketing methods. Obviously, small businesses do not. So as a small business owner it's really up to you to do the "composting" in order to see an increase in sales. The composting we are talking about here is content marketing. And generally speaking, the cost of content marketing comes in terms of time, effort and creativity, not dollars and cents.
Now that you are clear on what content marketing is, you may be wondering exactly how you can use it to attract more clients and grow your business. To help you out, we've put together a list of the best content marketing tips for small businesses that you can use when you need more clients fast.
1. Understand Your Audience
The first and perhaps one of the most important content marketing tips for small businesses is to be sure that you understand your audience. Before you get into the nitty-gritty of content marketing, you should take the time to do some research on your audience or target market.
Failure to do so from the outset will only result in wasted time and endless frustration. As we pointed out earlier, content marketing requires a substantial investment of your time and effort. As the hours, days and even weeks tick by, any sane person would expect to see the fruits of their labor. But failure to understand your target market will bear no such fruit from your content marketing efforts.
Understanding your audience will essentially provide a road map for the type of content you will need to create and use in your content marketing strategy. Knowing who you're talking to and discerning the best way to capture their attention is half the battle.
2. Blogging
Blogging is perhaps one of the best ways to sell without being "salesy". When you create blog posts you do so with the end user in mind. ideally, your blog is used to tell the story behind your business, provide answers for your reader's problems and subsequently win their trust.
The main idea behind blogging is education, not promotion. blog posts should be well written, engaging, and provide an impetus for your readers to return and/or engage. And at the end of the day, the only way to do this is to provide value. If you want to learn more about blogging, take a look at our complete guide to blogging or our post on how to write valuable blog posts for your therapy or healing practice.
3. Post On Social Media
Posting on social media is another great content marketing tip for small businesses. When you're looking to attract more clients quickly, holding up a virtual flashing neon sign will most certainly help. In today's content marketing landscape that neon sign is a post on social media.
While the main idea behind blogging is to provide value and information. The main idea behind posting on social media is to create awareness. In this case, you want to shamelessly shine a light on your product or service. That's what it's there for.
Keep in mind that with social media posts you want to capture attention and create clickable and engaging content. The thing to always remember is that most if not all social media platforms are presented as scrolling feeds. So generally speaking, you will want to visually grab the reader's attention. You must post things that make them stop the scroll and click. To that end, photos, videos, and infographics work best.
For more information on using Facebook for social media marketing take a look at our previous blog post. We've also written a post about using Instagram for social media marketing, which you can find here.
4. User-generated content
User-generated content may be a subcategory of posting on social media. Truth be told it is more so a little insider content marketing tip.
It's one thing to post on social media but anyone who's been doing it for a while will tell you that consistently creating content is another story. However, gathering and posting user-generated content could be the best answer. User-generated content can provide the extra content you need to expand your reach without the pressure of creating it yourself.
The most important thing to remember with user-generated content is that you want to take it from the top down. In other words, you want to share content from established reputable sources. You should only share high-quality content, no compromising.
5. Email Marketing
Email marketing and newsletters are two more content marketing tools you can use to reach your readers and turn them into clients. The good news with email marketing and disseminating newsletters is that really when you think about it, you're halfway there. By that, I mean that a reader has already found your content and information good enough to give up their email address. We all have email addresses and we all know that giving up that email address is a giant leap of faith.
The loose translation of this is that a reader is now on his/her way to becoming a potential client. Now it's up to you to drive it home and close the deal.
The thing to keep in mind for closing is not to be overtly "salesy" in your emails. Closing is a delicate process, you don't want to spook a potential client and risk losing them forever. Keep your emails in line with your blogging efforts. Provide value to the reader and let them come to you. High-quality email marketing campaigns will always ensure high open rates and follow through.
If you are thinking about starting a newsletter for your business, be sure to check out YourTango's blog post on newsletters.
6. Engaging with visitors
Our last content marketing tip for small businesses could very well be one of the most powerful on this list and that is engaging with readers.
A good content marketing strategy isn't only about creating content, pushing it out to the best marketing channels and hoping for the best. The one thing that most often gets lost in the translation of content marketing and social media is engagement.
Sure the first part of your content marketing is to create the content but the second part is using that content to engage with your audience. Engaging with your audience and showing the human side of your business is crucial to completing the connection.
This is especially important when we are talking about a service based business such as a therapy or healing practice. These types of businesses should understand the importance of human connection more than most.
Final Thoughts
The takeaway here is that content marketing puts you, the small business owner, in the driver's seat. Once you understand your endgame and your audience, you can tailor your content marketing strategy to reach both.
Content marketing is simply a series of actionable steps you can take to connect with your audience, many even in real time. When done correctly and consistently, the end results are increasing "sales" and business growth. It is important to note that there many, many tools available to help you accomplish your content marketing goals and save you some time in the process. You can take a look at some of those tools here.
That said when it comes to content marketing you want to be sure to keep an eye on your ROI, or your return on investment. There are so many ways to approach content marketing, and so many platforms to choose from you must be sure to expend your efforts wisely.
It is advisable to consistently take the temperature of your content marketing efforts. Keep on keeping on with what works and tweak the things that don't. Balancing an ROI is important — for any business.
If you're ready to kick your content marketing into high gear, we are here to help. The hardest part of writing articles is nailing the perfect title, topic, and audience. On that end, we have you covered. Reach out today for a private consultation on how to attract more valuable clients to your business.