Finding Clients Online… Here's How It's Done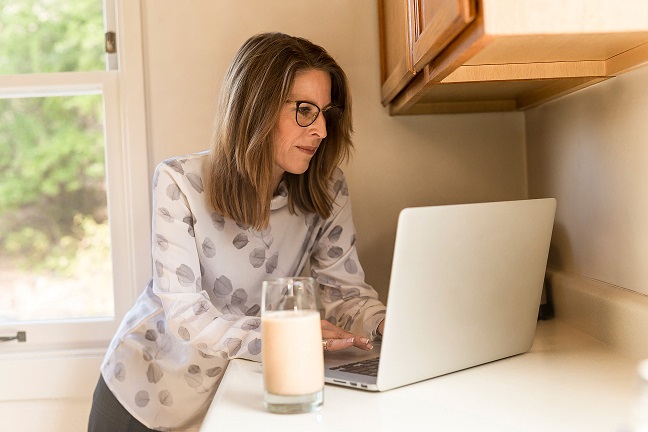 Finding clients online begins by telling the story of your business to search engines. But, it is only partially complete with your basic website. Who you are, what you do, the clients you serve… this is the tip of the iceberg when it comes to what Google needs to credit you with the authority you deserve.
Think of it like graduate school…
When you started you had a background in the main subjects, but it wasn't until you grew in your understanding (coursework, thesis, internships, etc.) that you became a true authority on your topic.
Your website needs the same level of discussion and visibility to show that you're an expert in your field. It's not enough to say it, you have to prove it. And the way search engines understand this is through content.
Lots and lots of content.
The big secret to finding clients online surrounds what you choose to talk about in your content. If I were to poll my clients, the one question that seems to give everyone the greatest heartburn is what to write about. Here the world is your oyster, BUT you need to target your content to the top of your funnel or else you're putting the close before the sale. (Need clients now? Here are our top 6 ideas for finding clients stat!)
In other words, you need to write content that targets what clients feel BEFORE they hire you. Curious about writing best practices? You can find those here.
Great content addresses issues your clients have that YOU are the solution to. If you think of it in that way, you'll understand your role in the relationship. You'll also have a better understanding of the timing for when to offer information versus when to ask if the client wants to formally work with you.
All relationships have timing and rhythm to them. If you ask for something too soon, you run the risk of turning a client off or confusing the situation. Timing is everything. And in the world of writing to build up your brand and attract business, you have to understand that content is meant to delight your readers and encourage them to want to know more about you.
As you dig into your ideas about what to write about, ask yourself this question: what do people feel or experience before they call and ask for help?
Leading researchers tell us that a lot happens before getting to the point of asking for help. People read articles, books, websites, they talk to friends, co-workers, loved ones, they cry, try, beg, fight and plead… and somehow when all of this doesn't work, they say, "OK, today I'll ask for help."
You have to remember the journey to help isn't linear. It's messy and full of starts and stops.  You have a precious opportunity to be in your reader's consciousness before they hit their bottom, so when they reach up, they find you.
That's your job as a content marketer: to be there for your people when they're ready to ask for help.
If you offer too much too soon, it will fall on deaf ears because your reader isn't ready for it. They haven't yet reached their bottom or enough pain to say enough is enough.
So what kind of content should you produce to meet your client's needs?
On some level, the best approach is a varied one. A mix of what is below works best since there's a reward for a multi-media experience on your website. BUT, don't feel pressured to do it all. Start someplace and build from there.
When you're working on finding clients online, it all adds up over time!
Articles/blogs– articles or blogs are effectively the same things online. They are typically written to tell some kind of story, teach a lesson or offer inspiration. This article you're reading is a blog post. Analyze it and think about how you can offer content like this about your topic. Blogs are the work-horse of the most successful websites. The reason this works because this kind of content is your most common form of communication between your website and search. The more you publish, the more you reinforce to search engines that you are an authority on your topic. In this case, the more the better.
Videos – videos are typically 1-10 minutes in length and are often shared on YouTube and then embedded on your website. Short videos tend to perform the best, but some longer videos that offer detailed information can work very well too. It all depends on your topic and your audience. You can embed YouTube videos in articles to give readers a multimedia experience that sites seem to love so much today.
Slideshows – this is a series of pictures that are often part of one single collection. Not all website templates offer this, but if yours does, it can be a great way to tell a story. Just be sure to purchase, or have permission to use, all of the images you add so you're not at risk for a penalty.
Ebooks – ebooks are longer articles that are often image and content-heavy. Ebooks are great to help give your readers something to "take with them" as they deepen their exploration of the topic you're teaching on.
The kind of content you produce does matter as you consider the various ways people want information. Some of you love Facebook, others not so much. Some of you want to write long essays that teach a topic completely from beginning to end. Others want to write list posts or short blogs that give away tips but encourage the reader to visit your website to learn more.
All of it is good IF it's in service to your readers and to your larger business goals.
Need help finding clients online? We can help you grow your business and make this all a whole-lot-easier. Reach out for a free consultation or learn more about becoming a YourTango Expert.