How To Get Your Online Store Noticed Above Your Competition This Holiday Season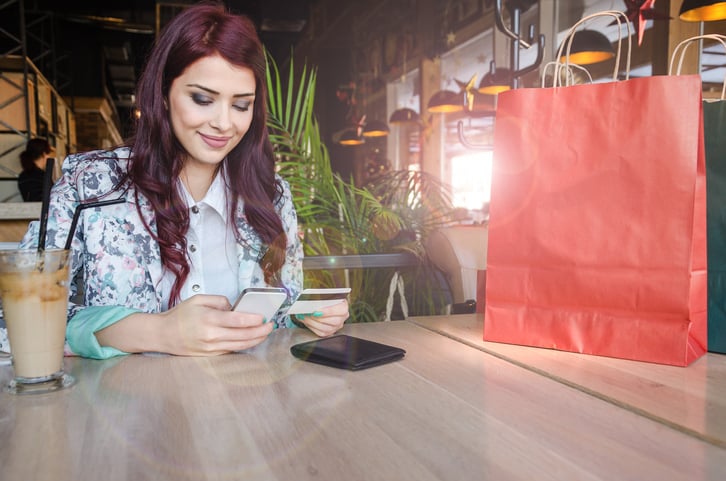 With the holiday season approaching, it's important to prepare for the major influx of consumers shopping online for gifts and holiday sales. This is also the perfect time for your online store to reach your annual revenue goals (if you're not yet there).
Before digging into how to improve your sales, the three key elements to remember about online marketing during the holiday season are convenience, relevance, and price. These areas are the ones that either make it or break it for online retailers.
Convenience
Black Friday has taught us that consumers don't usually respond well to hectic crowds and waiting in line for hours. The internet has made online holiday commerce easier for not only consumers but online businesses as well.  We are all guilty of surfing the Internet looking for that "perfect" something for a hard to shop for relative or friend. Just remember, that you need to offer consumers a streamlined, easy-to-use, fast experience if you want to gain their loyalty and get the sales. Website crashes, payment security breaches, and out-of-stock products can steer customers away just as fast as a long line at a brick and mortar store. Think of problems like this before they happen to ensure your customers will be able to shop safely and easily as possible.
Relevance
When looking for the perfect gift for a loved one, consumers want something appropriate and in-demand. They will be on search engines for hours looking at "Top Gifts for Teenage Girls" or "Most Popular Christmas Gifts for Moms". These searches will help them find what is popular and trendy so they make the best decision. Keep this in mind when marketing your products as holiday gifts.
Price
The last element the consumer is left with once they are looking at a product is price. During the holiday season, consumers are bombarded by so many businesses, so it's important to make your business stand out. Be creative with your sales and limited offers to ensure your consumer will have no choice but to choose your product.
When you price your goods, remember to keep it ethical. When you offer a sale, have a solid end date. Then, if your sale performed badly or didn't net the results you hoped for, be sincere about extending it. When a business develops a model of telling consumers "it's discounted", oh and "now it's discounted again" and "now it's really the lowest price…" when all three times it's the same price consumers begin to trust two things: there's always a deal to be had so never buy full price AND the end date is never really the end date.
Price and sales are critical elements in the holiday model so you need one that works for you. To get to the best rates, work it backward. What is your lowest offer? That's your "end of the line" price.  Your full rate and your percentage discount should be higher than those prices and run on the website for a good period of time to establish those prices. Then, your discounts make sense.
Now that you know the three elements, here's five ideas for your online store to ensure a successful holiday season:
Advertise popular gifts
Consumers will conduct millions of online searches this season for specific gifts, so make sure to do your research on what items or products are trending this holiday season. Items can vary depending on what industry you're in, so to make it easier, try remarketing your most popular item on social media and use relevant keywords to gain visibility in Google searches.  When in doubt, search what your competition is doing. How have they priced the same goods? What is Amazon selling it for? Or Target or Walmart? This will give you some clues about sales and marketing language as well as price so you can get a leg up on the competition.
Also, consider small ads on places like Facebook or Instagram for those specific products. Use high-quality images and great marketing copy to entice readers to click and buy. Doing a micro-ad campaign will allow you to test out your theories on what gifts people are the most interested in and find where your consumers are hanging out this holiday. From there the next 4 tips take on even greater meaning.
Use personalized holiday content
Make sure to use holiday-themed content on all your social media accounts to gain attention from consumers. Decorate your website with seasonal photos and artwork to entice consumers looking for gift ideas. Also, use important phrases and words on your content to increase your click-through rate.  "Christmas Gifts for Mom" or "Most Popular Gifts for Teenage Boys" are great titles to catch customer's eyes on social media and search engines.
Offer sales and limited offers
Offer sales on products to entice purchases. Another great way to attract consumers is to offer limited-time-only sales to incentivize them to choose you over your competitors. Since they will be looking at so many new products, a great way to get noticed is to market products you know they already like. For example, taking your most popular item and offering a discount or limited offer for it gives you an advantage over other competitors. This is especially true if you know what the competition's prices are. You can even mention in your copy that your rates are better or will match your competitors. This allows someone who is brand conscious but also price-savvy to buy from you instead of the "big box store" online. Finally, consider site wide-discounts along with or alongside specific item discounts. You can do both or limit it to just one.
Improve site speed
Site speed is extremely important for an online business during the holiday season. Really, all the time, but during the holidays when people are super busy and making impulsive decisions, a slow site will not only rank lower on Google search results but frustrate consumers and hurt your brand trust and consumer loyalty. According to crazyegg.com, 40% will abandon a page that takes three or more seconds. There are many ways to work on improving site speed, a few include minify your files and CSS and optimizing images on the landing page and articles. If you work with an SEO team, they can definitely help with these tasks (and really should minimally advise you on your options).
Use gift packaging
Create "gift sets" or holiday-themed products to increase sales for holiday shopping. One site that does this very well is Harry and David. The same fruit baskets or cookie trays can be ordered in July, but in December, they come delivered with red and green paper, with bells, bows and more. By doing this, you save the consumer some time on wrapping and make it super convenient for them to buy your goods as gifts to share. A well-placed logo also helps you with branding and recognition.
One other trick is to include in your packaging a few little extras. Lots of companies do this to entice consumers to learn more about their "other" products. Lucky Bloke offers free samples with almost (if not every) sale and their loyal customers look forward to that "little something extra" inside every delivery. Just remember that creative packaging when done right is a great way to improve how memorable your company is and to increase the likelihood that your customers will shop with you again.
Implementing strategies you might not be familiar with can be stressful, especially during the already busy holiday season. We know you have a lot on your plate and we want to make the holidays as easy for you as possible. With these tips, shopping from your online store will not only get easier for your customers, but it will increase brand loyalty and interest in shopping with you again and again.
If your site is struggling to improve sales and find loyal customers, we can help. Request a free consultation with our team and we'll discover what's holding you back so next year's sales are even better.