How To Grow Instagram Followers Organically For Your Business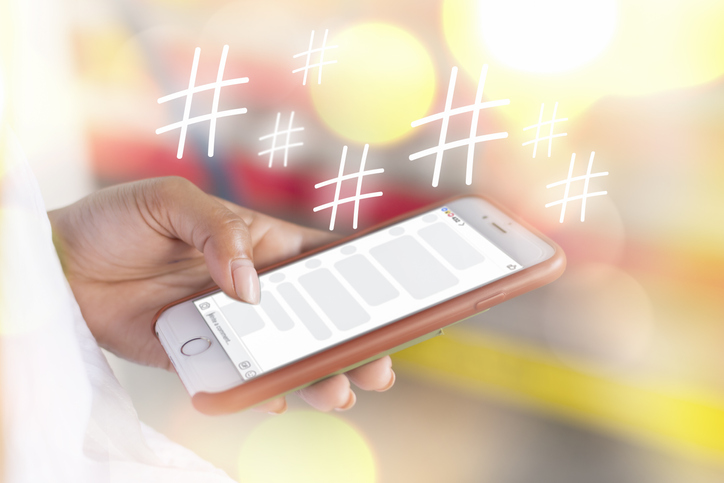 What started out as a kids photo app has now turned into a marketing powerhouse and a legitimate avenue for brands to grow their business. In fact, if you have a business it's almost expected that you should have an Instagram account
If you're new to Instagram you may be wondering how it all works. And just like any social media platform, there's a lot to learn. When you're getting started on Instagram, the most important thing you need to know is how to grow Instagram followers organically. And the most important thing you need to know about that is that takes time and effort. While there are existing shortcuts, these "solutions" tend to focus on vanity metrics and they will do nothing for your bottom line. When you are looking to grow your business, you want real followers and real engagement.
How Do You Grow Your Audience On Instagram?
If you spoke to ten people and posed the question "How do you grow your audience on Instagram" you may get ten different answers. The fact is every business and every individual has their own recipe, so to speak. What works for one may not work for the other. That said there are a few things that seem to make everyone's list for how to grow Instagram followers organically.
Let's take a look.
Post consistently
Just like any other social media platform the key to growing Instagram followers is posting and engaging consistently. In a recent study conducted by Tailwind, it looks like the number one driver for gaining followers is posting consistently, (and by consistently we mean daily).  The Tailwind study showed that daily posts increased the number of likes and subsequently increased the number of followers.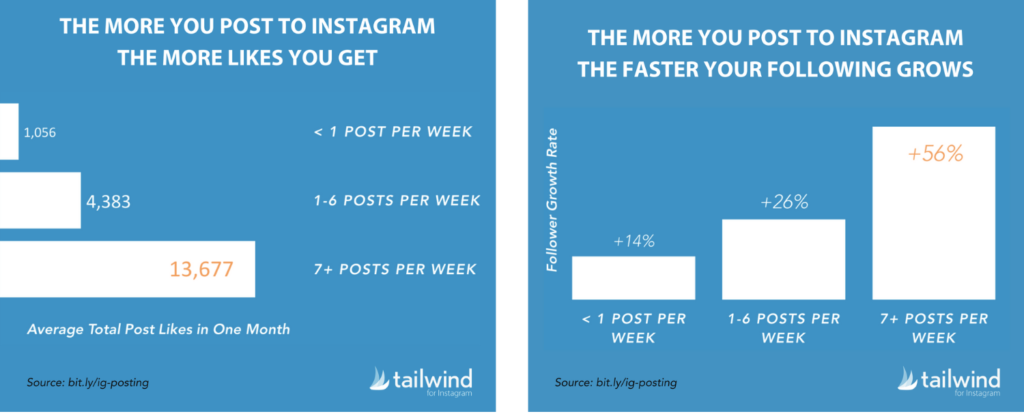 https://buffer.com/library/instagram-growth
If we think about that for a moment, it really just stands to logic. If you are posting daily, you are putting more content out for users to interact with. Putting more content out provides the opportunity for users to hit "like" and share. While we don't know what the Instagram algorithm is, we can speculate that as your posts get more likes and shares, the more likely your future content is to be pushed to the top of your followers feeds. When it comes to growing your Instagram followers, increased visibility is what you want.
Use Diversified Content
At face value, Instagram can look like just a series of curated photos. But as the platform has grown from its humble beginnings as a photo app there are now more options for sharing your content and engaging your followers, such as videos, live videos, and stories. All of which are viewed quite favorably by the Instagram algorithm and therefore should be incorporated into your strategy.
Choose the right hashtags
Although hashtags are used on other platforms, Instagram is the one where they matter the most. If you remember in a previous post we discussed hashtags and their purpose, that is to group the content on Instagram into categories. Hashtags help users find posts that are grouped under the same topic. It behooves you to do some research on hashtags and use those that are suitable for your business, doing so can get your small business in front of a much larger audience. The importance of hashtags cannot be underestimated, you have zero chance to grow Instagram followers without them.
Engage, Engage, Engage
The key to success on any platform is engagement. When it comes to social media there are levels of engagement. It's one thing to have likes on your posts, but the Instagram algorithm likes to see comments and more often than not the algorithms weigh the latter more heavily. The fact is when it comes to establishing relationships and credibility with users engagement is key.
Share UG (user-generated) content
Sharing user-generated content is another helpful way to grow Instagram followers. This is also one that is particularly helpful for new accounts. When you're first starting out you may not have exceptional content and you can use the content of others to boost your account, with permission, of course. Rest assured that sharing user-generated content is a recognized, legitimate way to get yourself out there and be seen without the burden of creating it yourself.
How To Grow Instagram Followers For Business
In the previous section, we discussed how to grow Instagram followers organically. And when it comes to growing Instagram followers it would be wise to use those best practices. However, when it comes to your business there are two additional methods you can use to grow Instagram followers.
Use Geotags
Geotags function in much the same way as hashtags. Once a post is geotagged it's placed in the category for that location and anyone searching that location can see that post. So when it comes to your business, you should tag your location in your posts and stories. The location tag allows your post to be discoverable to anyone searching that location.
For example, if your practice is based out of Prescott, AZ, your Instagram post should be geotagged with #prescottarizona. So again, your posts will show up when anyone searches #prescottarizona.
Seek Out Your Competitors Followers
While this may seem a little underhanded, rest assured it is above board. All this boils down to is seeking out a group of users who have already expressed interest in the product or service you offer. Once this group is identified you can engage with them, effectively raising your hand and letting them know there is another option.
Do Instagram Stories Help Get Followers?
We briefly mentioned Instagram Stories earlier as a way to grow Instagram followers. And you may be wondering if creating stories is really worth your time and effort. The short answer is yes. Stories are just one of the tools provided by Instagram itself, so it stands to reason that it would factor into the Instagram algorithm and be heavily weighted at that. The fact is, the Instagram algorithm favors Stories and pushes them to the front of the feed.
If you're still not convinced, here are some things to consider.
So the answer is yes, overall Instagram stories get more views and more engagement, both of which lead to more followers and it is well worth your time and effort.
How Do You Get More Real Followers On Instagram (Not Bots)?
As you get more familiar with Instagram you may start to see a pesky little problem arise. That problem Bots. Bots are programs that people use to help themselves gain some traction on Instagram. Bots essentially perform the task of social media management, such as liking posts and commenting on them. However, the thing to remember here is these are programs, not real people.  
When you're trying to figure out how to grow Instagram followers organically, there are no shortcuts. One, Instagram does not like the use of bots. Using them could get your account suspended or even banned. Two, this is not genuine engagement and there is nothing to be gained from it.
Real followers result from real engagement and hard work on your part using the methods we discussed earlier in this post.
What Is The Best App To Get Free Instagram Followers?
The best answer we have here is that there is no best app to give you a legitimate position on Instagram overnight. Instagram has had a meteoric rise to fame. And in recent years it has given rise to third-party apps and companies who claim that they can speed up the process — exponentially. The truth is these apps and companies cannot deliver on such promises without compromise. At the end of the day, it is your fledgling business that will pay the price.
Growing your Instagram account and gaining any kind of traction requires a lot of work and composting. It is something that you must be vigilant about or you will never see the kind of results you want. If you find that the amount of work required to grow Instagram followers is just too overwhelming, you may want to consider using social media management tools or hiring a social media coach to help you get your hands around it.
The bottom line is that there is no easy way to gain free followers, you must do the work.
How Many Followers Do You Need To Get Paid?
When it comes to making money on Instagram, there is no magic number of followers needed. Instagram does not specify that if you get X number of followers it then opens you up for paid posts. And while we don't have a specific benchmark we do know the number is high and it varies from account to account. When brands are looking for influencers to promote their they initially start their search by looking at the number of followers you have but that's not where their decision making ends and it is not a guarantee of anything.
For example, you may have 500,000 followers which is great by most standards. However, if the content you post is controversial, polarizing or otherwise not politically correct, that could significantly decrease your chances for working with any brand. Remember at the end of the day, brands are vigilant about the perception of their companies. They do not want any bad press, no matter how great your Instagram account may be.
How To Increase Your Instagram Followers Now That You're On Your Way
Now that you understand how to grow Instagram followers organically, here are a few ideas for some next steps you can take to increase your followers.
Create an Instagram story introducing yourself to your followers.

Do some research on Hashtags for future use.

Use those hashtags to find your competitors and see what they are doing on Instagram

Reach out to their followers and

engage
While any social media platform can seem daunting, once you spend some time on them, you will come to understand how to use them effectively. The thing to understand from the outset is that there are no shortcuts. No matter what that app promises. Digital marketing is well on its way to surpassing the effectiveness of standard avenues of advertising. With 1 billion active monthly users and 500M of those logging in every day, your audience is waiting for you, you just have to put the work in to find them.
Need help with your social media strategy or wish you had more followers, likes, shares, or subscribers? We can help. Reach out for a free consultation with our team to explore what's working (and what needs a little love) in your content, social, and marketing plan.