How To Make A Gmail Account In Less Than 20 Minutes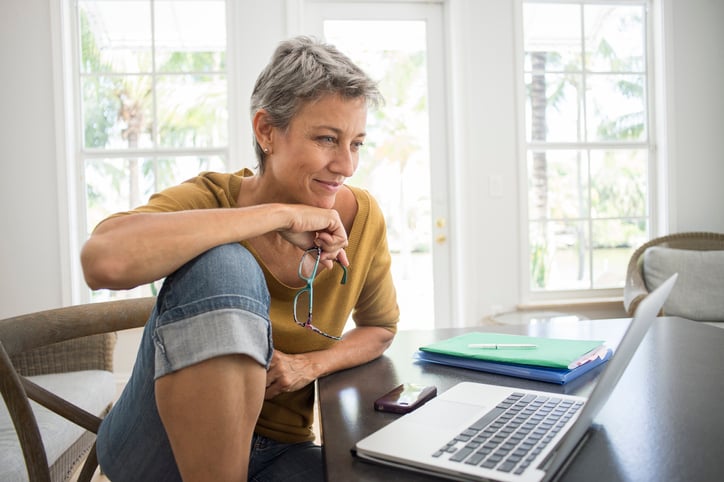 If there's any chance that you're still working with a Yahoo account or heaven forbid AOL, it may be time to give your email an upgrade. All judgment aside, outdated email providers while they are familiar, they are also out of step with all that you can get from a more modernized email account.
We've put together a handy guide that shows you how to make a Gmail account in 4 easy steps. But, before you do, if you're unsure of what Gmail is and what it can do for your small business, here are some of the great features it offers.
Maybe Free Lunches Do Exist
Gmail is part of Google's free web-based suite. And when it comes to running an online business, using all of those tools in concert can make your life much easier.
Some of the benefits of using Gmail are:
Superior spam filters

Google won't sell your email address

15GB of free mail storage (more than the average person uses)

Ability to access email on any device (phone, tablet, and computer- so at home and on the go)

Ability to view attachments without downloading

A plethora of organizational tools including Google's free version of Word and Excel (called docs and sheets on Google's vernacular)
Out of all of the benefits listed above, there are two that are worthy of further discussion.
Google Does Not Sell Your Email Address & They Have Superior Spam Filters
If you've had any experience with previous iterations of web-based mail you may have found that over time spam email tended to have a snowball effect. Initially only a few would make its way into your inbox. The spam filters seemed to work effectively. But, over time, spam emails inundate your inbox. It almost begs the question "why does that happen?"
Gmail had surpassed other web-based mail platforms with superior spam filters. Your email is curated over time so Google also learns what you mark as spam and starts to filter those from your view. 
And to manage pesky issues like privacy, Google is also committed to not selling the email addresses of its users. The end result of this is a significant decrease in the amount of spam that makes it you in the first place. Kudos to Google.
Digging a little deeper, Gmail provides a host of other options that are quite beneficial to its email users. Let's take a quick look.
Gmail gives you the ability to create multiple folders for easy organization. It also allows you to sort and label your incoming mail. For example, if you receive notifications from Facebook or Instagram, you can label it as such and have it filter directly to your Social media folder. Keeping things separate from the outset keeps you consistently organized.  
Another great feature is that you can manage multiple mailboxes from one device. For example, if you have a personal email address and a business email address you can view and manage both accounts from one device. You can also easily sign into multiple devices. There's no need to constantly sign in and out because a simple click allows you to toggle between accounts.
You can make it personal. If you find yourself repeatedly typing out the same sign off on your outgoing emails, you may be pleased to know that Gmail allows you to personalize your email signature. You can add to your signature line your normal sign off,  websites URL, phone number, social media links or any other information you find yourself repeatedly typing.
The view can't be beaten. With Gmail, you can toggle between your "unread" emails and your mixed view which separates out "primary", "social", and "promotional" giving you lots of flexibility to keep emails in their proper place until you're ready to read them. One note about this feature, it's not perfect but becomes more so over time and with use. Gmail is trainable and while some things are simple, like emails from Facebook belong in the social tab, others are less so and can be moved around to your liking. Gmail will note these moves and send those emails to their proper folder in the future.
Finally, Gmail has your back. The next feature really can't be beaten. Anyone who has ever sent an email to the wrong person or committed some other email faux pas can empathize. Ever hit send by accident and subsequently realize that you emailed the wrong person or sent a message you wish you could take back? Gmail has you covered here too with its undo feature. After you hit "send" Gmail will give you a grace period before actually sending the email. You can select either 10, 20 or 30 seconds as a grace period to click "undo" and stop the email from sending. This tool is one of many that protect you from making an email snafoo and embarrassing yourself with a poorly written or typo-laden email. The grace period is adjustable in settings and available to everyone.
It may be important to note that the free version of Gmail is supported by ads. What that means to you is that you will see ads on your screen but rest assured it's not nearly as obnoxious as you might think. The extent of it will be ads that appear on the right side of your screen. Google has managed to keep this pretty low profile.
If you are adamant about not seeing ads, you can opt for a paid business Gmail account. In addition to the benefits mentioned above the paid Gmail version comes with a few extras. Such as more storage, the ability to personalize your email address and of course no ads.
So If You're Ready To Get Started, Here Is How To Make A Gmail Account:
Enter the information on all fields of the sign-up form. Note that this is the point where you are creating your Username. Your Gmail address will be your username followed by "@gmail.com". So if you choose "blueapple" as your username your email address will be blueapple@gmail.com.
This is also the point where you choose a password so be sure to make note of it.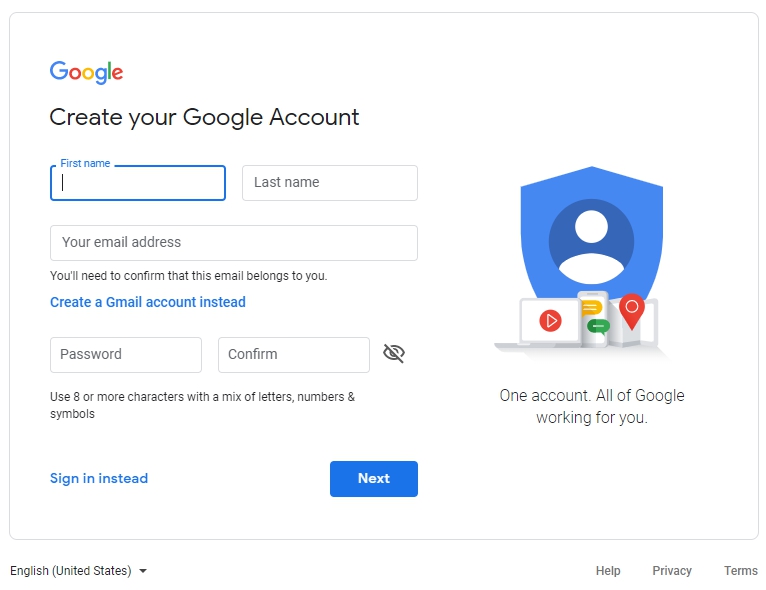 When you're finished, click "Next".
The second screen in this process will ask you to verify your phone number.
It's ideal to use your cell phone for this because once you add your number, Google will send a text message to the number you provided. Included will be a code that Google requires you to enter to proceed. 
Enter that in the screen that looks like the image below and then click next.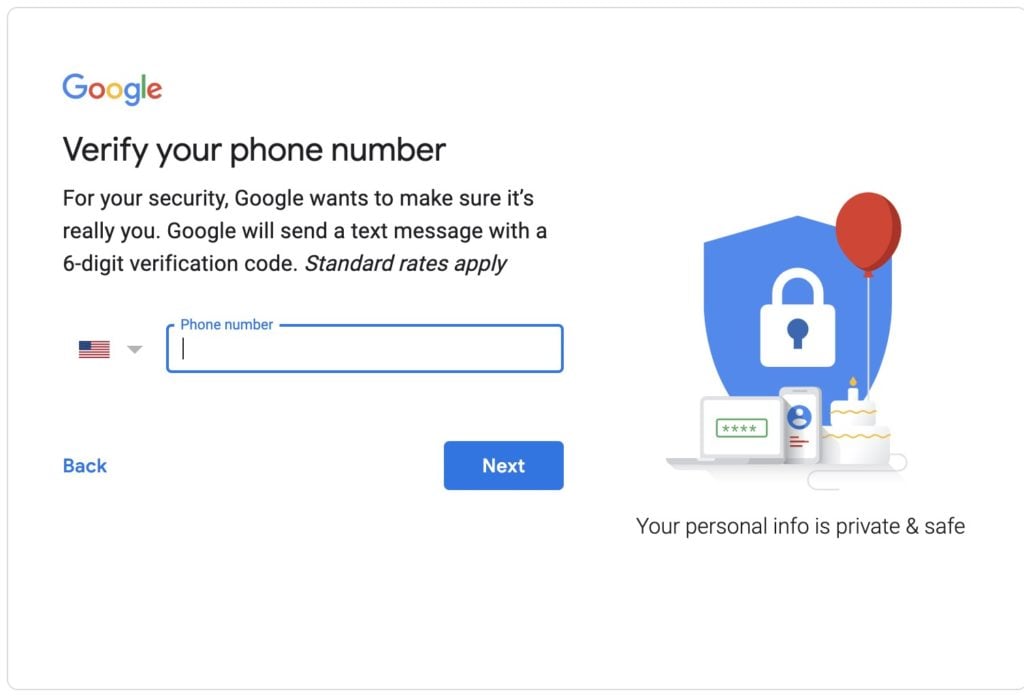 Once you enter the verification code you will be taken to the Welcome screen.
On the next screen, you must enter your birthdate, and gender to proceed. Just know this information is private, Google simply requires it to track you as a real human being, not a robot or bot.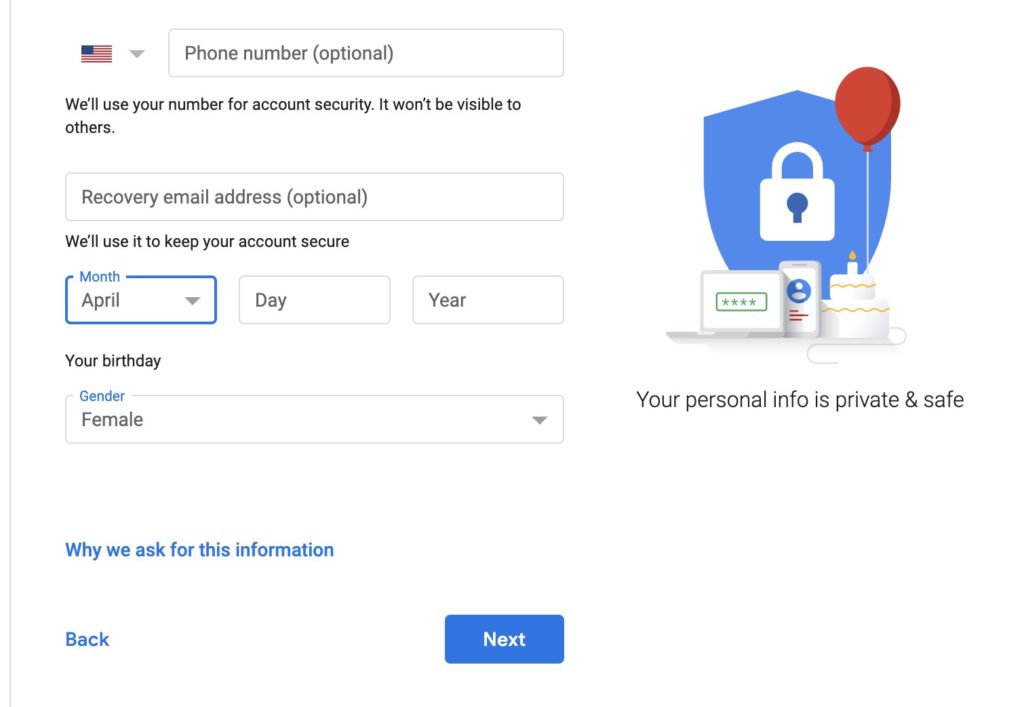 When you're finished, click Next.
Finally, you will see the Privacy and Terms screen.
Read it over and click I Agree to continue.
That's it! You're done. Once you click I agree, you are then taken to the My Account page where you can then sign in and begin using the email address you just created.
Overall, Gmail (and the entire Google suite for that matter) is extremely user-friendly.  Gmail provides everything you need to manage your small business' email communication and it's stood the test of time. You can keep your Gmail address for years without the need to run for the hills because your inbox is overrun by spam. Making your own email account couldn't be easier and with all the great features daily management will be a snap.
Google and Gmail are one of a handful of tools that make running a small business easier and more efficient. If you need help growing your healing practice, whether it's finding clients, building your website, growing your search engine optimization (SEO) or marketing, we're here. Reach out for a private consultation today.