Should I Send A Newsletter From My Therapy Or Coaching Website?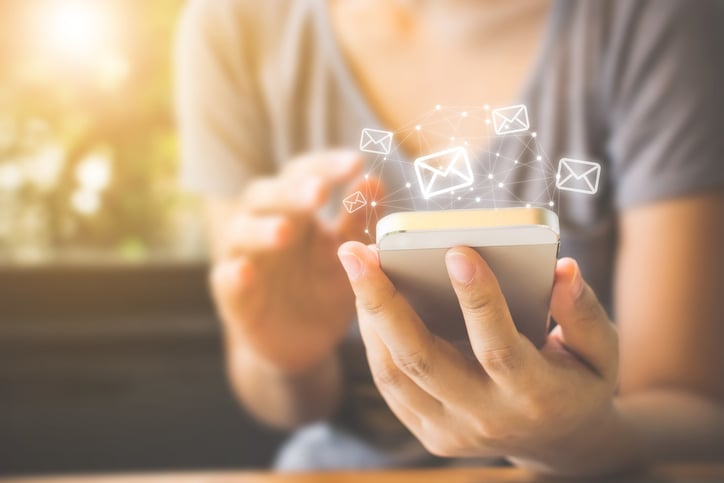 Sending a newsletter is not the arduous task that it once was. In fact, for many therapist and coaches, it's something that if you're blogging now, you can easily fit into your schedule. Questions people often ask include: How often should I send a newsletter? How does it work? What kind of software do you need? What's the cost? Let's get into all of that below.
First, is it a good idea? Absolutely.
The reason to send a newsletter is simple: you want to speak with people who visited your site again.
A few other reasons to send a newsletter include:
When you have a newsletter list, your one-time visitor turns into someone you can speak to again and again, sharing new insight, advice, and services.
Why does this matter? Because for many healing services, clients ebb and flow in and out of their crisis. What feels like a gigantic problem today, may be better in the light of day. Yet, that same issue, when not resolved, can come back with a vengeance tomorrow.
Therapy and coaching issues often have a sort of dance to them as the clients move in and out of trying to resolve their challenges. It's only when clients realize that they cannot solve their problems themselves that they pick up the phone and call for help.
This is the nature of relational challenges. Rarely does someone wake up and say, "Today is the day I'm getting counseling." More often than not, that person has thought about, researched and tried many things before hitting bottom and saying, "I can't fix this myself".
It's in that moment that the client picks up the phone.
Ideally, when they do, they find you.
Also, as you develop other products (webinars, workshops, workbooks and more) you have an interested audience ready to buy.
Newsletters are also on the list of marketing material that agents and book publishers want to see in your book proposal.
Why does an agent care about your newsletter subscribers? Because to them, it's a list of prospects you can sell your new book to. Book agents look at subscriber lists to get a sense of how you're connecting with an audience now. This is helpful in imagining how you might behave when your book is about to publish and selling it is in your court. It's not a true metric of how many books you'll actually sell, but it does give a sense of your popularity and how deeply people want to read your content.
The more subscribers, the stronger your engagement and reach are in the eyes of a potential book publisher. That impacts the sale price of your manuscript/proposal and can mean the difference between a "no", a small deal and a BIG deal.
It's also seen as a starting point.
Ideally, as you write your book, your list will continue connecting you to more and more people who are interested in the topics covered in the book. For an agent, the size of your list (along with your social media and more) truly matter.
What are the steps you need to take to send a newsletter campaign?
You need a newsletter program.
Newsletter programs do a few specific tasks for you: they collect email addresses from subscribers and store them securely so you don't have to manually add names. Then, when you want to send a newsletter out, all of your names are easily accessible. With the click of a button, you can email everyone on your list.
Newsletter programs also manage the "unsubscribe" process for you. When you create your newsletter template (part 3 below), the link to unsubscribe is automatically added to the footer of your newsletter, so it's super easy to manage. Subscribers can click the button and their names are securely removed from your list – this ensures that you're CAN-SPAM compliant. (More on that here if you're curious).
You can also segment your lists so if you want one group of names that share a common interest (eg, they were all people you met doing a public speaking event or from a book signing) you can collect all of those names in one list. Most programs have rules about segmenting lists and this becomes more important as you get deeper into your email marketing goals.
But for basic newsletters, one list is all you need.
When it comes to selecting a newsletter program, most are very economical, including several who charge nothing until you reach 1-2K subscribers. A few industry leaders that work very well are:
To find others, visit Google and do a search on "newsletter programs", often you can find reviews and/or ask your friends and colleagues
Your web person needs to set up your newsletter program so subscribers can register for your newsletter and the names are added to your list.
Ideally, you want to have a signup box on your homepage and on the right sidebar or side rail of your blogs (not sure what pages you need on your website, here's the list). Each of the programs above offers templates for registration boxes to make it easier to set up on your website. You can even offer free gifts or downloads when someone signs up. These are all included, and a good web person can help you easily add pages and connect your free gifts to them so that when someone subscribes, the gifts are emailed or available for immediate download. Talk about instant satisfaction!  
Create your newsletter template.
Ideally, by using one of your newsletter program's templates, you can create the newsletter look and feel you like. Then, it's available every time you want to send a newsletter out. You would just log back into your account and add new content to the old template.
Use content from your blog so you don't have to write something new.
Consider that every client or subscriber you have, hasn't had a chance to read all of your blogs. Newsletters are an excellent way to reuse or repurpose older content so new readers have a chance to see your best stuff.
One great strategy for selecting content is to have a set number of slots in your newsletter for articles (1 or 2 often works well). Then, each time you send a newsletter out, select one new blog and one older one. If you use Google Analytics, then you can look at your stats to see which articles are performing well and use one of your more popular articles so you're guaranteed to get more of a response when you send out your newsletter.
Pick a GREAT subject line.
This is perhaps the hardest part. What can you say in one little sentence to grab someone's attention enough that they click on your email? For me, the best subject lines are descriptive and to the point. I often use the title of the leading article because when titles are done right, they really grab the reader's attention.
They're also super specific to what's included and give the readers a strong idea of what they're spending time on if they choose to read your email.
Other subject line ideas that work well are: including your name (if you have great affinity and connection with your readers) or a short and sweet combo of your two article titles (e.g., "Understanding Trauma & Teaching Kids Self Care").
What tends to not work as well is super salesy or click-bait headlines (e.g. "If You Don't Read This Newsletter Something BAD Will Happen") or overly whimsical headlines or metaphors that leave too much for interpretation (e.g. "The Grass Is Always Greener On The Other Side Of The Fence").
Your title should clearly state what's included and give the reader a hint of the benefits they will receive by reading what's included.
Send your newsletter and then review the stats.
All of the email programs offer stats to show you how many people the newsletter was sent to, who opened it and who unsubscribed. Some will also track click-through rates and social media clicks. These things all matter as you're trying to discern what your subscribers do on their journey from prospective client to actual paid client.
The better you understand your reader's behavior, the more you can predict what kind of newsletters people respond to the best, how often to email, what days of the week get more reads etc.
Create a schedule for both writing new blogs and sending your newsletter.
Newsletters work best when they're consistent. When subscribers have a sense of timing and regularity to your campaigns. However, for the whole plan to work, you have to write new blogs consistently. This is where a writer's mindset can really help. That's not to say you need to write a blog every week, although that works great for things like SEO, even one or two a month will give you enough new content to share.
The best way to ensure that you have both new content and time to send your newsletter is by getting both projects on your calendar. Like all things, you need to make time to create and accomplish this goal. Writing never "just happens", you need the time carved out or you will be left trying to "fit it in" and that may work for a while, but rarely does it produce the level of consistency necessary to grow your online brand and practice.
Get it on the calendar and then you'll be sure to have new marketing material for your business.
Finally, give it some time to grow.
Nothing happens overnight and unless you're a budding superstar, you have to do this the old-fashioned way and that is by putting one foot in front of the other. And in this case, by writing one article at a time, posting them on your website and then adding them to your newsletter template for mailing.
From there, it's rinse and repeat.
What you'll find over time is that you'll hear from new clients that they read your articles or existing clients will bring up your writing in a session. The wisdom you share in your articles truly does matter. For some, it's the motivation they needed to pick up the phone and schedule a session. For others, it's resource material, deepening their work and growth.
Either way, blogging/writing articles is an incredibly important part of the marketing puzzle. Send a newsletter regularly to ensure that you stay in touch with prospective clients and keep your hand on the pulse of whatever challenges your clients face most often. Needs some inspiration, here are some thoughts from super-successful healers on staying on track growing your business.
Do you want to send a newsletter but are not sure where to begin? We can help. As healing professionals ourselves, the YourTango Expert's team has worked with counselors, coaches, and healers of all kinds for over 10 years and we can help you too. For a free consultation to learn how to send your own newsletter, please reach out here.