Social Media Marketing Ideas For Small Businesses & How To Get Started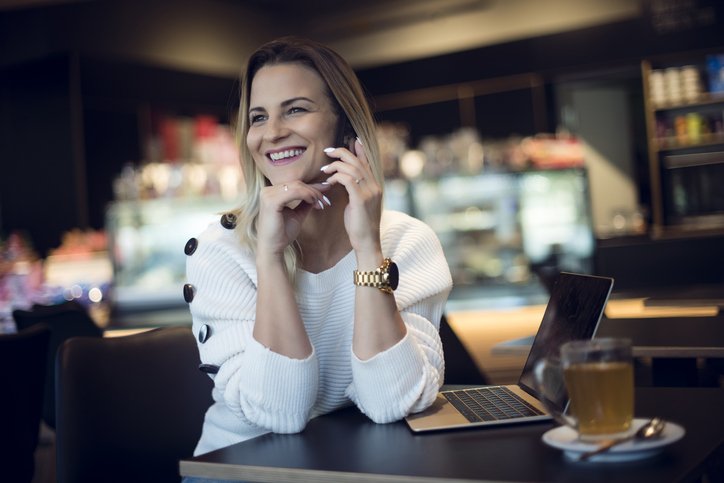 Unless you're asleep at the wheel it should be no secret how powerful social media is. Its place in our lives has been cemented, so much so that it's nearly impossible to imagine a world without it. Research has shown that 3.48 billion people are on social media, that's 45% of the world's population. It is quite clear that some folks view social media as the scourge of the earth. However, there's no denying that it is rife with the opportunity to implement social media marketing ideas for small businesses. 
If your the owner of a small business, marketing and finding clients is at the core of your life. You have to have viable leads to move your business along. That means you need a fertile pipeline of interested clients considering your business as the answer to their problems. In the business world, those leads are traditionally found through advertising. But for the small business owner, advertising is often too expensive to really consider.
So what are the alternatives? Word of mouth is ideal, but there's little you can do to influence how many clients share with friends and family the value you have brought to their life. This "lead pipeline" is really something you have to create on your own and social media fits in nicely here.
First, consider that social media has changed dramatically over the years
As its name implies, social media platforms started out as a means of creating connectivity. For people wondering what their BFF from junior high was up to, they now had the means to find out. Here we're of course talking about Facebook. And from those humble beginnings, a marketing giant was spawned. Looking at what's transpired since Facebook hit the Internet, surely the popularity and promise of Facebook paved the way for the rest. 
Today we have a set of social media choices, each one unique in how it works and attracting a different audience. 
Facebook leads the pack with 68% of American adults reporting themselves as users.

Usage by generation is just as you might expect, millennials lead the way, followed by Gen X, and baby boomers come in last. 

Users spend an average of 2 hours and 22 minutes on social media sites per day

54% of users use social media to research a product/s 

71% say they would recommend a brand to friends and family after a positive experience. 
When viewed in concert it is easy to see the stark implications these statistics have for small business owners. Moreover, they are likely a major contributing factor as to why "80% of social marketers said that their key strategy is to increase engagement across social channels". 
Engaging with customers online is important for your business because it will help establish your business as a trusted, valued brand that cares about interacting with customers. 
So what social media marketing ideas for small businesses are out there, and where should you even start?
Diversifying your social media marketing efforts is a good rule of thumb, but which social media sites are the best to use? Here's a quick breakdown of the top five social media sites for small businesses, counting down to #1:
YouTube
YouTube is the second most widely used social network, with close to two billion users globally. While it has been long held that YouTube was only a reasonable option for large companies with large budgets, perceptions are beginning to change. Since its inception as a video sharing service in 2005, YouTube has grown exponentially in the last decade. 
LinkedIn
LinkedIn is a great platform for reaching professional clients and businesses. Sharing your content on LinkedIn is a great way to establish your expertise on a topic as well as generating new leads. Building relationships, staying on top of industry trends, and creating great content are the essential elements of a strong LinkedIn strategy. 
Twitter
Twitter is an excellent tool for updating and interacting with followers in real-time. Although Twitter may be seen as less relevant nowadays, it still boasts in over 330 million monthly users which is still a hefty number and for that reason, it can't be ignored
Instagram
Instagram has taken off to become one of the most popular social media platforms. As a highly visual platform with a staggering 500 million active daily users, it makes for a great tool to use for social media marketing.  The best way to use Instagram is to be creative. Your pictures tell a story, and you want to sell your business through these pictures. That means clever captions, and the use of hashtags, to expand your reach.
Facebook
Facebook holds steady in first place. Let's take a closer look. 
With over two billion daily users, Facebook reigns supreme when it comes to social media platforms. Its large user base makes it quite attractive for businesses to market their products and services, and with Facebook advertising, the process becomes a lot easier. Along with the use of groups and secret groups, marketers can tailor their marketing efforts to folks that are more likely to buy.
Facebook's popularity for social media marketing is based on 4 key attributes:
Popularity

– Over 1.5 billion users visit the site daily.

Reach

– Out of all social media platforms Facebook has a representative sample across all demographics. 

Growth

– Even after 15 years, FaceBook continues to see growth year after year. With more users, more business pages and more online communities.

Targeted ads

– Facebook business owners can use highly targeted ads to reach specific segments of the population, clearly targeting the market they need. 
Facebook's popularity has stood the test of time and its impact has made it a global icon. However, as a business owner, your sole focus should not be on Facebook, but on social media as a whole. It is still important to create a complete social media presence, and that means using other platforms. 
How do small businesses use social media?
Small businesses know the importance of maintaining a website and updating it regularly with great blog content. Creating great blog posts and optimizing them for SEO will pave the way for organic traffic to your website while serving to establish trust with your audience and position yourself as an expert. 
So it stands to reason — why not take this a step further and use your social media marketing to increase the reach of your blog posts?
OptinMonster's Sharon Hall found that "on average, the higher a website in search results, the more of a social presence that website has" which further proves that social media does have an influence on SEO rank.
This is why so many small business owners use social media to post their blog content. And you should too.
Is there a right way to implement social media marketing ideas for small businesses?
Marketing your small business revolves around a few key areas, with your content (blog) taking up most of your social media posts, but there are still other areas to include.
Enter the 70-20-10 rule, a formula that divides your social media content into these three areas:
70% Build Your Brand

– this includes content that is engaging and of value to your audience, whether it is by educating them or entertaining them. This is where you will develop your brand voice and show off your personality with your audience. 

20% Shared From Other Sources

– this is content that you share to your audience, whether you want to give exposure to an issue, business, or non-profit that is relevant to your audience or you want to share inspiring or comedic posts, this is part of the social experience so you should do your part.

10% Self Promotional

– this is the content you use to directly promote your business.  Ten percent may seem low but the key to selling is to be too salesy. 
Using this the 70-20-10 rule will help you better organize and plan your social media marketing strategy and will help make sure you stay on track to meet your marketing goals. 
What About Advertising For A More Direct Response?
Advertising on social media has become an important area for marketing in the last decade. The reason for its growth is the ability to better target your audience and see almost instantaneous results. In fact, according to SproutSocial – "social networks are the biggest source of inspiration for consumer purchases with 37% of consumers finding purchase inspiration through the channel."
Targeting potential customers give advertisers the edge when creating an ad. Because they know exactly who will see this ad, they can tailor this ad to that viewer.
How can I advertise my business on social media?
Advertising your small business on social media is not challenging. As most of the major social channels offer native advertising tools, targeted Facebook Ads are a prime example
Here's how ad revenue breaks down across the platforms.
Facebook Ads – Facebook advertising is a great tool, valued for its targeting. The average cost per click ad for Facebook is $1.72 while the cost per thousand impressions sits close to $10. Facebook Advertising is among the most used and valued due to its ever-evolving platform.
Instagram Ads – Instagram offers a great platform to advertise on, especially with its younger demographic. It is priced similarly to Facebook, with a cost per thousand impressions (CPM) at about $5. However, with Instagram, you are more likely to receive more engagement especially if your audience is under the age of 35 or outside of the US. 
Twitter Ads – Twitter is a great place to really build your brand and interact with your audience because its users tend to shop online 6.9 times a month, whereas non-users shop online just 4.3 times a month.  The ad revenue starts at about 25 cents per click and about $10 per thousand impressions. 
LinkedIn Ads – Advertising on LinkedIn is great for scouting higher quality leads. The average cost per click ranges from $2 to $7 but can reach up to $12. 
YouTube Ads – Advertising on YouTube is proving to become a key player in the modern marketing landscape. YouTube also takes into account Google search history, for better ad targeting. With these two powerhouses combining forces, it's easy to nail ad campaigns. YouTube's cost per view sits around 10 – 30 cents, to put this in perspective, reaching 100,000 views will cost you $20,000.  
Are Facebook ads worth it?
Facebook advertising is the most robust advertising tool of any social network. Businesses have the ability to target users based on demographics such as age, gender, location, and occupation. 
It is by far the most useful social media marketing tool available for small businesses. 
How To Get Started On Social Media
In the past, we examined the various social media platforms and nuances of each. Here's a list of our articles to help you decide which one may be best for you. 
Social media marketing can have a profound effect on your small business based solely on the number of users. The good news is it's not an all or nothing game. Choosing one or two platforms to focus on and implement your social media marketing ideas for small businesses would be ideal. Anything more than that would be spreading yourself too thin. 
Choosing wisely and using each platform to its full potential can be a boon to your business. Targeted leads pave the way for a great (and quick) ROI and consistent engagement on social media can improve your ranks in the SERP. 
Need help with your social media strategy or wish you had more followers, likes, shares, or subscribers? We can help. Reach out for a free consultation with our team to explore what's working (and what needs a little love) in your content, social, and marketing plan.