5 Tips For Effective Email Marketing & Newsletter Marketing Campaigns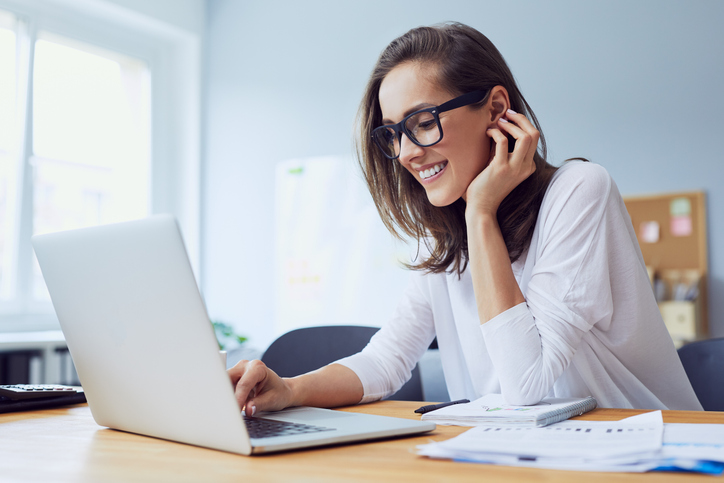 As a small business owner, your days are likely filled with all of the moving parts of your digital marketing strategy. Writing blog content, optimizing content for SEO and of course sharing, your articles/memes and videos on social media, there is a lot to do. But none of these activities has the same potential for your bottom line as your list building and email marketing strategies do. 
When most of us think of email marketing we think of the companies that email offers, coupon codes, and sale "you just can't miss". So while there is a lot of email going around, email marketing persists as one of the most effective digital marketing strategies because it works. In other words, it converts. 
Curious how well? Here a few quick stats to chew on: 
The takeaway here is that email marketing is one of the most efficient and effective marketing tools to increase click to your website and sales of your products. In fact, email marketing has the highest ROI, or return on investment, of any marketing channel online. Research shows every dollar spent on email marketing generates $38 in return. 
Mastering email marketing can be boiled down to a few simple steps, but it is important to note it relies on getting started as soon as possible. Why? Because despite what people say, there's nothing FAST about building your list. It takes time to build brand trust and to create the lead magnets and offers that readers are enticed to sign up for.
But, you have to remember this, list building is one of the ONLY sure-fire ways to limit your costs over time. Because when you have warm leads or people to talk to about your services and products, you can reduce your advertising spend.
One way or the other, all companies need qualified people reading, prospecting, and exploring your offers. Email marketing allows you to take control back of your business, and the sooner you get started, the sooner you'll reap the rewards.
Here are the top 5 tips to get your email marketing off to a great start:
1. Understand your audience so you can write in their language
The first step to an effective email marketing campaign is understanding your audience. This includes their demographics and their need, both of which define your target market. Failure to do so will mean that your marketing success is hit or miss. Sometimes, you'll reach the right audience, other times your emails will be unopened and sent to the trash folder. 
Dig in and do the work to create a demographic profile (or avatar) and you will have a starting point for how to word your offers. When you know what your audience needs, you can write copy that's on target for where your clients are in their investigative/buying process. 
Remember that most people seek information long before they buy anything. When you know the buying cycle of your readers, you're able to meet them where they are. That prevents you from selling too fast and turning your readers away.
Great copy written in words your readers are searching on ensures that your emails are actually opened. Second, it helps you to define your message. When you know who you are talking to and what they need from you, you can speak directly to your clients and close sales faster.
2. Choose your email marketing service
Setting up an email marketing campaign can most certainly feel daunting. Where do you begin and how much time and effort will it take to make some traction?  As the business owner, your job is to make sure that all the wheels are in motion and that requires specific work and attention. Luckily, there are quite a few software options that can facilitate the process for you. 
These platforms are designed to manage the headaches around securely managing and marketing to your email addresses (don't forget about GDPR and privacy, both are often a part of these services). It includes tasks like collecting email addresses, sending out your emails in whatever form they take (newsletter, announcements, etc.), monitoring the response (click-through rates, open rates, etc.) and overall, reducing the frustration often found in trying to communicate with your audience. 
When you're shopping for an email marketing service here are some things you may want to consider:
Ease of use. Choosing a user-friendly option can cut down on a lot of frustration. Look for easy to understand instructions, simple tools for reviewing data, and support when you get stuck that's easy to access.

Do they offer different campaign types? (i.e newsletters, emails, ebooks)

Is there an autoresponder option?

Can you have more than one list? In other words, is segmentation available so you can manage your leads differently if needed. Consider this scenario: you want one main newsletter list, but after attending a great event, you want a separate mailing list for people you met there. Can you have different lists or are you limited to one?

Does the platform work seamlessly with your current content management system or website? To get this answer, you need to know details about your website like how it's built (WordPress, Squarespace, etc.) and how you want to gather names (pop-up, lead box, etc.)

Is there customer support should you run into some trouble? 

Are there any extra fees associated with growing your list, getting tech support, or moving away from the service should it not work out?
Here is the running list of email service providers our clients have used in the past few months:
Mailjet offers the best pricing as well as a forever free plan. It is by far the best free service due to their deliverability. With an offer of 6,000 emails per month, advance email editors, and advanced statistics, Mailjet may be a great way to get a taste of email marketing at a minimal cost.
GetResponse is an all-in-one marketing platform. Along with email marketing, they offer webinars, landing pages, and marketing automation. They have a multitude of intuitive features and have guides that walk you through them along with their customer service. Their email plan starts at $15 for 1,000 subscribers and goes to $65 for 10,000 subscribers.
ConstantContact is the easiest of the bunch, especially if you have a small business. With intuitive tracking metrics, unparalleled customer service, and a ton of useful features, this service is a no brainer. They offer a 60-day free trial and plans begin at just $20 a month. 
One of the more popular services, MailChimp also offers a free plan and is known for its ease of use. They are constantly evolving and adding new features, heading toward an all-in-one platform that includes email marketing. Pricing starts at $9.99 after the free plan.
Active Campaign is one of the more highly rated email marketing platforms currently available. Exceptional deliverability, superior customer support, and great pricing make Active Campaign certainly worth a look. 
What many of these services offer is the ease of email marketing automation. In essence, the hard work of sending tailored emails to subscribers is done for you. 
3.Build your subscriber list
At a basic level, email marketing is essentially about sending emails or newsletters to readers who have expressed an interest in your business or service offerings. So naturally, it follows that you must build a subscriber list as a jumping-off point. In looking to build your subscriber list, you should be aiming to create brand loyalty. Your email campaigns should target this group of people offering them something exclusive and worthwhile.  How do you get people to sign on to your list? The fastest way is a lead magnet.
Lead magnets
Simply stated, lead magnets are the tools you use to incentivize potential subscribers to sign up. And when it comes to lead magnets there are quite a few available options:
eBooks

Resource Lists

Checklists

Exclusive videos

Fun quizzes/surveys

Cheatsheets

Reports

Free chapters from your book

Free consultations
Here, we offer an eBook, "How Your Content Marketing Will Lead To Paying Client" for free upon subscribing to our newsletter (you can do that at the top of this article). This is a great way for potential clients to gain insight and expert advice at no cost to them. The lack of risk in this reward system means that they will remember this every time one of our emails hits their inbox. Once they read up on our website and blog they will find that not only are we helpful in growing businesses but we can work with small business owners one on one and coach them in whatever area they need assistance in.
Most people will not return to a website if they are not subscribed, so building a subscriber list is a great way to encourage repeat visits. Another great tool is an exit pop-up can that makes one last offer for people to subscribe to your list. It's a great way to say, "if you loved what you saw, let us give you more. Here's a freebie to help you see why we're worth it". 
Social media is also a great tool for growing your subscriber list.
For example, with Facebook, you can create a secret, subscribers-only group where you can post exclusive content and keep your readers engaged on a platform that's easy for them to access it. This strategy aims to grab the attention of people already using Facebook so it's easy to join in. There's no need to leave their favorite social platform to gain valuable advice, they can do it right where they are already hanging out.
Facebook is doing what old school marketing used to do at network events. You can create private groups for likeminded people to interact in and tailor your content to those people. When it comes to selling, this is also a great way to build trust in you as the provider and to help clients along the buyer's journey in a way that's authentic and easy for them. If you don't know how to create secret group, or just want to learn more, we've got you covered in the article, What Is A Secret Facebook Group & How Can One Best Help My Business.
Keep in mind that your subscriber list will not grow overnight. Building a list takes time and often it's a slow process to begin. That said, it compounds when it's done right and those results are incredibly positive when done right.
One last thought, while there are sources out there that offer email lists for purchase, this is a practice that is frowned upon. You have the opportunity to organically build an email list filled with potentially loyal readers. In due time your patience will be rewarded.
4. Create quality content
Creating the highest quality content possible for your emails is crucial to increasing conversion. Not to mention all of the secondary benefits you get from SEO (search engine optimization) and building trust in your brand. You can also achieve this by repurposing past blog posts but you want to keep new articles rolling in to achieve the full benefit.
Ideally, each time you send out your newsletter or marketing campaign, you're making good use of your blog articles as well as your latest offerings.
You want the content to be enticing and easy to read.
Finally, remember that timing is important when sending out your emails. In this, you need to pay attention to both the time of day and day of the week that you mail plus the frequency of your communication. Think of your email marketing campaign as a living, breathing organism. It must be tended to, but it cannot be oversaturated.
On the flip side, problems also arise when your emails are sent out too infrequently. In that event, your list may become unresponsive, which dilutes the whole point of your campaign. Make sure every part of your campaign is balanced for the best results.
Multimedia
The use of multimedia cannot be stressed enough. According to HubSpot, 65% of users prefer emails to contain mostly images, compared to 35% of people who prefer just text. This is also a great opportunity to include graphics of your own, whether digitally created or shot by you or someone you have hired. In this bucket think about videos, images, memes, audio files, podcast recordings and more.
Personalize your content whenever possible
Personalizing the content helps to connect to your subscribers. There are many ways to do this. You can address your emails to your subscriber's first name, add specific content that's only relevant to segmented lists, as well as special offers that are tied to a particular list and their reasons for signing on.
When someone reads content that's relevant to them, they are more likely to seek more of it. Sort of like a horoscope. When you care to look up your sign, you want to know exactly what's in store for you.
As you dig into the software you want to use, look for different ways to personalize email campaigns. Some ideas include name, location, demographics, interests, and past activity. Whenever you do this, knowing the exact audience will help you to craft the right message for your readers.
5. Collect data and adjust your efforts as needed
Many email marketing services offer extensive tracking tools and analytics. Some of the more important data to take account of is the open rate, the click-through rate, the unsubscribe rate, spam complaints, and shares.
Open rate
Always focus your campaign around increasing your open rate. You want subscribers to see what you've sent them. A detailed report on how many people have opened your email gives insight into what may be working and what is not.
Click-through rate
The click-through rate looks at how many people have clicked on the link provided in the email. Ideally, they will be linked to your website and increase conversion. A low click-through rate may be an indicator of poorly written emails. Your goal for email marketing is to get readers to do something. If there is no click-through you may want to examine why and refine your copy. 
Unsubscribe & spam
Unsubscribsriptions and spam complaints are not good signs for your subscriber list. It may be time to update the list if this number is high or you might have to rethink your email marketing strategy. People should be looking forward to your emails, so if they are unsubscribing or marking your emails as spam, either they did not want your emails from the beginning or something needs to change.
Shares on social media
The shares report can be exciting because you can see how people have reacted to your emails by whether or not they forwarded the email or even shared it on social media. If this number is high, you are on the right track and must look to keep your subscribers sharing by offering another lead magnet to keep and increase engagement.
After analyzing the results of your email marketing campaigns, take a look into activity on your website after they have clicked through to your website, using Google Analytics. This will give you time spent or bounce rate, show you where the traffic came from, and what pages are most visited. You can use this data to continuously improve your email marketing campaigns.
Email marketing campaigns are just one part of your digital marketing strategy but make no mistake, it is a crucial part of your business.  While it can seem a little overwhelming, you just need to take it step-by-step. Identifying your target market, creating great lead magnets and great content for your campaigns will go a long way towards establishing your subscriber list and subsequently keeping them happy.
Once you know who you're talking to and what you will offer, you can automate the entire process with the help of any one of the email marketing platforms currently available. Using these platforms will ensure consistency and keep you and your business at the forefront of your reader's minds. Bear in mind this is not a set it and forget it kind of deal. You must be sure to consistently track the analytics for your campaigns and adjust as needed. Just like a garden, email campaigns will bear no fruit if not tended to. 
If you need help with your email marketing or newsletter marketing campaigns, we can help. Request a free consultation from our team today or send a private email to melanie@yourtango.com.