How To Use Facebook To Grow Your Therapy Or Coaching Business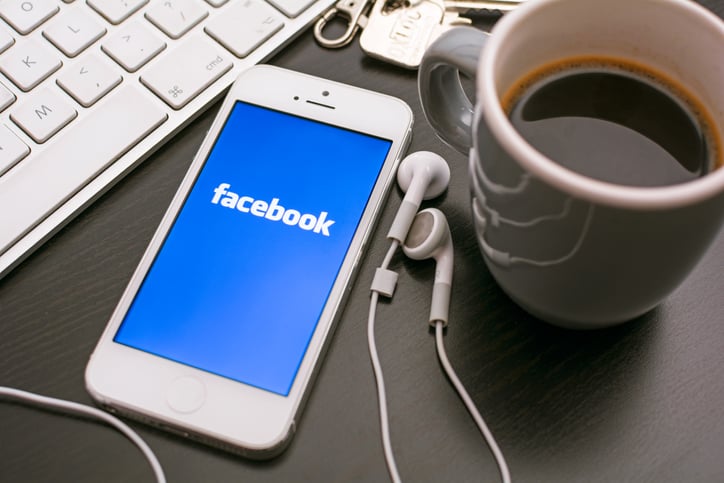 When you are ready to embark on content marketing for your therapy or coaching business, Facebook can be a great place to start. With 2.27 billion active monthly users, establishing a presence on Facebook can give you incredible exposure and allow you to engage in a real way with your followers and potential clients.
In the world of digital marketing, Facebook beats out platforms like YouTube and Instagram. In fact, 30% of senior ad buyers would place Facebook second when it comes to a return on investment, outranked only by Google. If you're not convinced and you're still weighing your options for digital marketing, here are a few facts about Facebook to consider:
It's pretty clear that creating a business page on Facebook can give you access to one of the greatest marketing platforms in the world. All you have to do is get started.
Create The Page
If you do not have a personal Facebook page already you must create one because all Facebook business pages must be created from your personal profile. That said, even though the two pages share the same login details, the two pages are otherwise separate. You cannot migrate likes or friends to a business page without someone choosing to be connected with you on both pages.
You will operate your personal Facebook page just as you normally do and your business page will function as a stand-alone.
To get started, from your personal Facebook page click on the drop-down arrow located in the top right corner. Next, click the Create Page button and select the type of page you wish to create for your business. You will choose to list yourself as either a business, brand, community or public figure.
Once you make that selection, the About Page will pop up. This page will have numerous fields for you to fill out, such as the address of your business, the hours of operation, your mission and credentials etc.
This initial set up of your About Page is crucial to your success on the platform because this is where you let your potential clients know who you are, what you do, how you can help them, and perhaps most importantly, how they can contact you.
Be sure to fill out the About Page completely.
Do not forget website links, email addresses, or phone numbers. All are critical.
After you have filled out those fields, click the Get Started button, Facebook will then easily guide you through the rest of the process.
Name Your Page
When creating your Facebook page be sure to give some thought to the name of your page. It is important to note there is a difference between the username and the name of your page. The username is the distinct URL for your Facebook page vs the name of your Facebook page which is what appears at the top of your page.
The name of your Facebook page is important because that is the term that users will enter into the search bar on Facebook to find you.
Another consideration when naming your page is the differentiation between multiple pages and platforms. At this point, you most likely have a website that bears your name. So now that you are creating a Facebook page, how do you differentiate between your website, your personal Facebook page, and your Facebook business page?
An easy way to differentiate your name between all of the above is to simply add your credentials to your name on your Facebook business page.
Here is an example of how that would look:
Website: Janesmith.com
Facebook URL: www.facebook.com/jane.smith
Facebook personal page: Jane Smith
Facebook business page: Jane Smith LCPC
As you can see all three would in effect be the same, but with subtle differences that will allow you to capitalize on your name overall as a brand.
One final note, the URL for your Facebook change cannot be changed at any time. But, the name of your Facebook page can be changed providing you have less than 100 fans.
Optimization Of Your Facebook Business Page
Once you have filled out the information in the About Page, it is time to optimize your page. Optimization sounds complicated but really it's just industry speak for tweaking your Facebook business page to make yourself easier to find.
Optimizing your page is important because chances are when someone is looking to make a connection with a business (of any kind) they will most likely look for an actual website or a Facebook page for that business.
In essence, your Facebook page will become your second "home page" for your online business. Potential clients should be able to find you easily, and when they do, a quick glance at your page should let them know they're in the right place.
Cover Photo
We've all heard the phrase a picture is worth a thousand words, nowhere is this truer than when we're talking about your page's cover photo (the large photo at the top of your page, not your profile picture).
Your cover photo is especially important when creating your Facebook page as it is the first impression your clients will get when they visit. Need advice about which picture to select? Ideally, the one you choose is NOT the same one you have on your other social sites,  but sometimes that's not preventable. Here are tips for picking your LinkedIn photo that apply to your FB business page as well.
Ideally, you should choose a photo that does some of the advertising for you. The right photo will tell the viewer what your page and your business are all about. You would really be surprised how quickly a simple photo can serve to create a connection between you and a potential client.
SEO and Keywords
Just as SEO is critical to building your practice through your website. Employing the use of keywords and SEO is an important part of optimizing your Facebook business page as well. In this case, you will want to use your keywords strategically throughout your page. For example, if your keyword is "coaching", you may want to consider using that particular word judiciously throughout your page.
Your core keywords should be found in your URL, page title and the about section as they will appear on the front page and show up in search results (on Facebook, not Google- SEO is different between the sites).
Keywords can also be used in photo descriptions, status updates and in the comments. It is advisable to them wherever it looks natural and makes sense.
Overall, the shrewd use of keywords will help with your SEO efforts.
Engaging Content
When it comes to the internet, content is king. Given the social, and potentially viral nature of Facebook, you want to provide content that is on-brand, interesting and fun. Moreover, you want that content to keep your potential clients and followers coming back time and again.
So, you can spend all your time creating and optimizing your Facebook page, but at the end of the day, if your page is boring no one is going to care. Boring content is the roadblock to building the reputation or the following you need in order to grow your business.
What Types Of Content Can You Post
In the therapy and coaching space, engaging or valuable content educates and motivates the reader. Not sure what types of content you can use? Here are some examples of content that you can use:
News about your practice or industry  
Motivational/Inspirational Quotes
Upcoming events or engagements
Curated content from relevant sources
Promotions or coupons
Videos
Hierarchy Of Engagement
When it comes to engagement on Facebook, there is a hierarchy of sorts. If you are looking to grow your followers and build your page, it is important to understand how that hierarchy works.
In a nutshell, the ever-changing algorithms of Facebook reward actions and engagements differently.
So while a text only post may be great, a post with a photo is even better. And what's better than a post with a photo? A post with a video or live video.
Engagement works the same way. A thumbs up may be good, but a heart is even better. What's even better than a thumbs up or a heart? A share or a comment. Effort is highly rewarded on Facebook and the highest rewards come from video.
Video
Video remains one of the most important digital marketing trends for 2019. Every platform offers some type of video or live video option and Facebook is no exception. Facebook loves video content and they haven't been shy about letting us know.
They openly encourage brands to upload video directly to the platform or to create live videos using Facebook's tools.
Not only is video highly rewarded, but it allows you to connect with users on a different level. Live video allows you to connect with users in real time and it helps to create a level of trust that has been unparalleled up to now.
Posting the right content on your Facebook business page can certainly help you grow your business. But, it is important to note that your Facebook business page can help you professionally and socially as well.
Join Facebook Groups
Joining Facebook groups is one of the favored ways to network, find new opportunities, and talk to people who "do what you do". Research has shown that over "…200 million people are members of meaningful Facebook groups…". These groups are normally closed to the general public and you must request admittance, most often by answering a few non-invasive questions about your business.
When you find groups that are specific to your industry, you will see that they are filled with like-minded, helpful folks who are all there for the same reasons.
The three main reasons people join Facebook groups are to:
Learn – You will find that within Facebook groups there is a sharing of information and people are always willing to help. Chances are if you have a question about something, someone in that group has dealt with it and they can offer up some advice or answers. And of course, you can share your knowledge with others as well.
Socialize/Commiserate –  Now that social media sites are being used for their digital marketing capabilities, one of the things that have fallen by the wayside on these platforms is the social aspect. Facebook is a great example of this change. When it first hit the scene many moons ago, we all joined looking to find our friends from high school extended family etc. Over the years Facebook has morphed into a digital marketing powerhouse and being social just for the sake of being social was no more. Enter Facebook groups.
In your local area, you may find a few colleagues, to socialize or network with and who will better understand your experiences than people who do exactly what you do? By using Facebook and joining groups that net is cast much farther and much wider.
Network – When you join a Facebook group you may immediately assume that it's not conducive to networking due to overwhelming competition but this is really not the case. Facebook groups can provide a wealth of leads for your business.
Eventually, you will find that you can develop a network for referrals. You can refer clients to other professionals who are not a good fit for your practice and they can refer clients to you.
Clearly, the prerequisite here is building relationships.
Here are a few Facebook groups for therapists you may want to check out.
Therapists In Private Practice
Speakers, Authors and Coaches Network
Or, Create Your Own Facebook Group:
Facebook groups are a great place to bring a tribe of like-minded people together. Groups can be private or public and both offer opportunities to support the group members. Support can be in the form of coaching, education, tips, and more. And for you, the group can serve as a lead generation opportunity to speak with potential clients as they make their way through the material covered in the group.
If you're curious about how to start your own group, here are some tips you need to know.
Joining Facebook groups, optimizing your page and posting the right content are all great ways to grow your page and your eventually your business. All of these options fall under the category of organic reach. But what happens when organic reach is just not enough?
Using Paid Ads
Social media, on the whole, has changed since its early inception and organic reach (the number of people who see your posts through unpaid content) is steadily declining. One of the newest trends in digital marketing is the concept of pay to play, and it has taken a strong foothold in the social media space.
So why is something that was once free now costing you money?
The answer is too much content. There is simply too much content being published on social media feeds every minute of every day and everyone has their eye on the top spot. In response, companies, like Facebook, are constantly changing their platform's algorithms and redirecting their focus in an effort to deliver the most relevant content to the reader.
Hwhere the concept of paid content comes into play. Paid content is how you can cut through the noise and actually reach your target audience.
Paid ads have taken on a negative connotation, after all, something that was once free must now be purchased.  Well, that's one way to look at it.
The other way to look at it is to see that paid promotion offers you the opportunity to specifically target your ideal client. A targeted ad campaign can offer an exceptional return on investment when it's done right. It can get the right information, to the right people at the right time.
Facebook offers inexpensive "boosting" and more expensive, targeted ad campaigns.
As an industry leader in social media and now in digital marketing, Facebook can be a great platform to start with when it comes to marketing your business. It allows you to gain exposure, engage with your audience and subsequently grow your business. And as an added incentive it is very user-friendly.
However, your success on the platform is entirely up to you. Like everything else in life, you reap what you sow. But putting the time and effort in to properly create and optimize your page, build referral networks and share engaging content will certainly pay dividends down the line.
Two things that may help you along the way:
Need a social media coach, here's everything you need to know about hiring one.
And, if you need a social media management tool, here's everything you need to know about 5 very popular, easy-to-use tools we recommend to clients.
If you need help creating a social media calendar that increases engagement please subscribe to our newsletter list (located in the upper right-hand column on this page) or reach out to us directly to schedule a call and see how we can support you in your digital marketing efforts.