6 Pages Therapy Websites Need So They Are Client Friendly & Accessible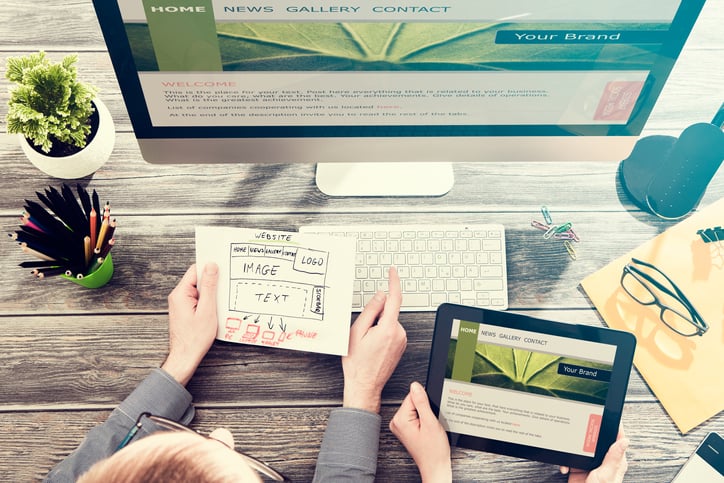 All across the world wide web, there are billions of websites, about 1.8 billion at latest count, with more being added every day.
But isn't it interesting that no two websites are exactly alike? Think about that for a second. Out of 1.8 billion websites, there are zero exact copies. Now, of course, there are redundancies when it comes to products being sold or services being offered. But still, the aesthetics and the language on any given website are all unique to the person or person or persons who run it.
Even in the small corner of the web where therapy websites live, no two are exactly alike either. We can take a look at any sampling of therapists websites and while the therapists may specialize in the same field, their messages, their language and the aesthetics on their websites can be quite different. And each therapist's website will reflect his/her goals for their practice and personality.
But taking a closer look, we find that The best therapy websites have a few core elements in common. Those commonalities lie in organization and the pages that these therapists websites have in common. There are 6 pages that every therapy website needs, let's take a look.
1. Homepage
The importance of your homepage cannot be underestimated. When users end up on your website, chances are the search they conducted led them to a particular page on your site. So when they've landed on a site that is new to them, it logically follows that at some point, those users will visit your home page. Why? Because in a sense they're stranger in a strange land and they need to figure out which way is up.
For this reason, I tend to disagree when some people say that the homepage is the first page users see and that's why it's so important. It's more like the homepage might be the second-page users see, and they use the information on that homepage to gauge the credibility of the website and the information contained within.
Now a great homepage is not packed with information. It is one that is clean and uncluttered with easy navigation and great visuals. Research has shown that "38% of people will stop engaging with a website if it the content or layout is unattractive."
The worst thing you can do is have a homepage that assails your visitors with a cacophony of information. Your homepage may not be the first-page readers land on but it still needs to create an impression and warrant their continued attention.
2. About Page: It's Not About You At All
The about page can be a bit of a misnomer. Let me explain.
Your About page is supposed to tell your reader all about you, your back story, your credentials, and perhaps whatever funny anecdotes you choose to share that shows off your personality. But the most important part of your home page has nothing to do with you at all.
When a user lands on your page after conducting a query, it almost a given that they will want to know who they're dealing with, this is particularly important when we are talking about healing or service based businesses. The readers will want to establish who you are and why they should trust you? But most importantly they want to know what you can do for them.
The most important part of your about page is where you put the focus on the reader. It tells them what you can do for them. The information you put on your about page will tell your reader what can they hope to find as they click through your site. Answers, motivation, new perspectives etc.
3. Who You Serve – Your 'Services' Page(s)
As a therapist is it crucial to be clear about who you serve. Otherwise, you are wasting your readers time not to mention your own. When a reader finds themselves on your website, if you're doing it right they will have a  general idea of what you do, be it a therapist, coach, etc. Now you need to have a page where you go into more detail about who you serve and it's important to be clear.
Consider this, let's say you are a therapist and you specialize in ADHD — and you only work with adults. Now a parent who is concerned about their child is conducting some online research, and s/he finds themselves on your site. See where I'm going with this?
Having a services page can clear up any sort of confusion. This is the page where you can clearly identify specialties, age groups, etc. Anyone reading this page will now know if they are in the right place.
4. Your Specialties Page(s)
Having one page per specialty is another way you can further eliminate any confusion. Where the services page may be a matter of exclusion, having one page per specialty may be more like a matter of inclusion.
So as much as your services page will clarify the demographics you serve. Your Specialties page (s) will shine a light on all your areas of expertise. Dedicating one page to each specialty will ensure that any readers visiting your page will know every area that you work in and nothing gets lost in the shuffle.
Having one page for each specialty can also serve to organize the information on your blog and make it even more user-friendly. For example, if you specialize in depression, anxiety, and OCD, having a page dedicated to each one will help the reader quickly identify where they need to go. So the reader looking for information on depression doesn't have to wade through 15 posts on OCD to get to find the information they want.
5. Blog + Blog Categories
If you are online, and you are actively marketing your business you should be blogging. So it should come as no surprise that the next page all of the best therapy websites have in common is a blog page.
Remember that in your about me page you are introducing yourself and letting potential clients know who you are. If you did it right you also told them about what you can do for them.
Now your blog will take that to the next level. Ideally, your blog will consistently produce content that gives your reader more information about you, your practice and your professional beliefs. Blogging gives you the opportunity to show your expertise and establish yourself as a go-to resource.
Casual readers need a reason to stay, look around, return to your site and maybe even initiate contact at some point. A blog with good content would check off all of those boxes. If you are not yet a part of the blogosphere, YourTango has put together a comprehensive introductory guide to blogging to help you get started.
6. Contact Page
I know it sounds like I just said every page is important.
Well…I did …and they are.
But the contact page is crucial. Really.  At this point, you've put a lot of blood, sweat, and tears into creating a dynamite website and writing great content that continually captures readers' attention.
You're well on your way to connecting with potential clients and growing your business.
After you've given the reader such a great experience on your site, they may decide to take the leap and contact you. And when they do, you want to make it as easy as possible.
Just like the other pages we discussed in this post, the contact page is its own page, it's should be clean, uncluttered and free from any superfluous 'stuff'. The contact page should leave no question in the reader's mind as to what they should do.
If you are working on WordPress, a handy little plugin called Contact Form 7, would prove quite helpful to you. It's a simple, straightforward form that connects you and the reader. Using a contact form eliminates the chances of misspellings, it doesn't require the user to navigate away from your page and removes the chances of emails getting lost in spam folders. Contact forms are direct lines between you and a potential client.
While every therapist and therapy website is different, there are a few pages that are absolute must-haves. If you take a look at some of the best therapists websites, you will find similarities in the organization and pages they have on their sites. The underlying reason for these similarities is simply marketing. All of the pages discussed in this article serve very real purposes.
And yes, you can add to this. There are many add-ons that take a good site and make it great, but they are only helpful when the basics are done right.
Your homepage is just one of the gauges that readers use to assess the validity of your website. It needs to give your reader a good sense of what you do and it should "invite" visitors to check out your site.
Once you have piqued the reader's curiosity you then have to show them what you can do for them. Your about page, who you serve, your specialties page and your blog all work toward that end. Finally, you must give the reader an easy way to initiate contact. Without any of these pages in place, all of your efforts are for naught.
If you're struggling to get your therapy website just the way you like it without spending an arm and a leg for consulting advice, this article gives you the basics. When you're ready to grow beyond that and start finding clients and selling products, we're here to help. Reach out for a free consultation with our team today.