What Is Google My Business & How Can It Help Me With Local SEO? (COVID-19 Updates)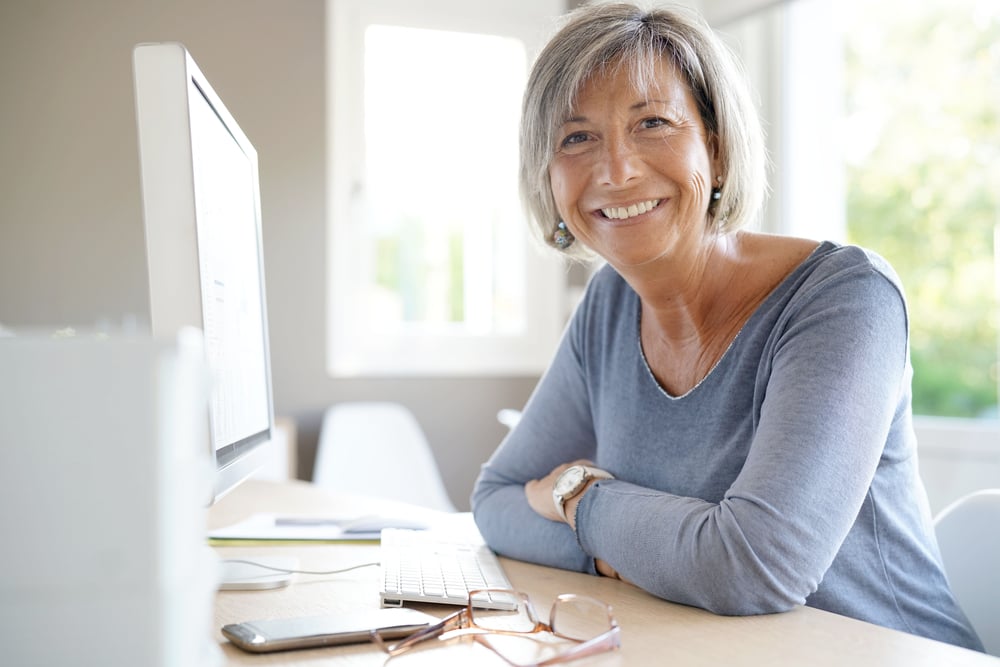 Picture this, you're hungry, it's late, and you're nowhere near home. What do you do? 
Chances are, if you're like most people, you'll do a quick Google search of nearby restaurants to check out who's open late at night and what people are saying about them. In fact, we've all done it, to the point that it has become a critical part of our decision-making process particularly when it comes to food or service-based business. 
With COVID-19, the downshift in looking for local restaurants or what movie is playing has been a real thing, but that has not changed our use of Google to find what we need. According to articles on Medium and source data from OpenVault, internet usage in the first few months of COVID-19 was up 47%.  Now that we've settled into the pandemic, our habits haven't changed. The need for quick info seems to motivate many to keep their phones and computers close, and their favorite search engine even closer.
For people who have brick and mortar businesses (even if you're working remotely today) getting higher placement for your company on Google is still a critical job. Nothing does this better than Google's local service called Google My Business. It's free and easy for anyone to add their website/practice to so clients can find you.
For those of you worried that it means your "home address" will be found in search, Google has solved this too. Their COVID-19 updates have not only expanded your ability to target your business beyond your physical address, but now you can hide your address from view and expand your reach to your entire state if desired.
If you're a small business owner you could be making a mistake by not setting up your Google My Business (GMB) account. And that mistake could be costing you a lot of potential business.
So, what is Google My Business
Google My Business is a free tool that allows businesses to establish themselves as a listing on Google Search and Maps. Business owners simply create an account with Google My Business and add in all pertinent information, such as location, hours of operation, contact information, a link to their website, etc. 
Subsequently (sticking with our food analogy) anyone looking for a place to grab a quick bite in Newnan, GA at 9 PM can simply pull out their phone and find a suitable establishment.  The same is true for popular queries like "therapist near me" or "life coach in Boston". If the words tied to the searcher's query match your location and profile, you will show on the map of options for them to search through.
Using Google My Business to its full potential means optimizing it for the benefit of local SEO. The better optimized your listing is for SEO will determine your rank and thus your ability to gain new clients.
Is Google My Business important?
Getting your business profile on Google My Business has a potentially huge impact on your bottom line. Leveraging a tool like this is crucial for small businesses that rely on foot traffic to their brick and mortar establishments. 
The fact is there is a critical link between online searches and consumer behavior. And contrary to popular belief the world has not gone completely digital. It's not an all or nothing — just yet. 
Here are just a few statistics to give you an idea of how important it is to shout about your business from the digital rooftops. 
When you look at the fact that 97% of people learn more about a local company online than anywhere else proves exactly how much dependency is bestowed upon search engines, especially Google. 
This is the essence of local SEO. 
And now I bet you're wondering where do you sign up? We thought you might ask. 
How do you create a listing on Google My Business?
Creating a Google My Business account is a straight-forward process. Follow these steps to begin.
Visit

google.com/business

Sign in to your Google account (create one if needed).

Enter the name of your business. Select next.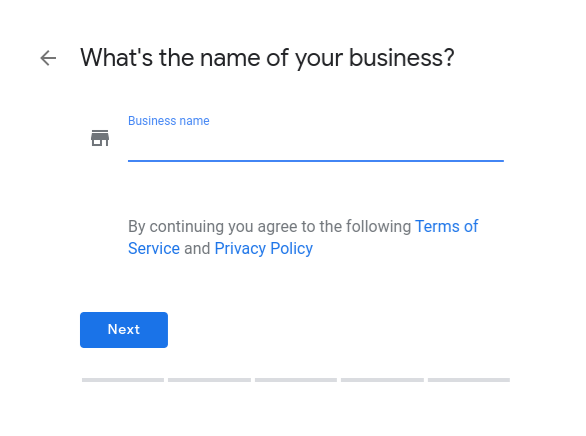 4. Google will ask if you want your business to be listed on Google Maps and Search. Select yes. 
5. Enter the address of your business. If you have a home office, this would be your home address. To hide it from view, watch this quick video for details on how to hide it.
6. Google will then ask if you serve customers outside of your address, e.g. delivery/visits. Select yes or no. If you select yes, enter the areas you serve, this can be edited later.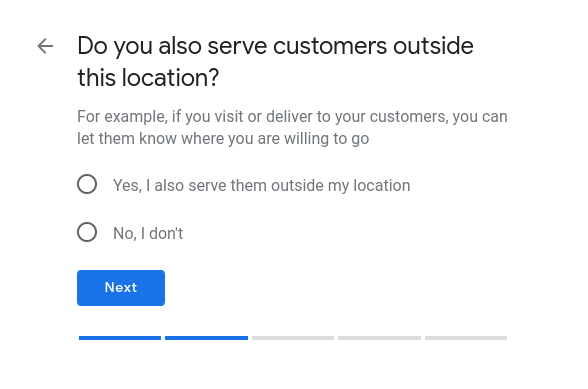 7. Choose your business category. This is important and should be the most common language or words used to describe what you do. In other words, don't get fancy here or people will miss out on your offering. 
8. The layout of the page and work going forward are shown on the left side of the screen. Start at the top and make your way down. We suggest completing everything on the home screen and the remaining items here are important items to not leave out.
9. Your COVID-19 policy, hours, changes, and offers.  You can list all of the above from the top of the home screen and this gives you an important place right at the top to share how COVID has affected your practice/business. For example, maybe you now offer telehealth from your home office? This is a great thing to share. The same is true for any services you offer for essential workers or any discounts that are COVID focused.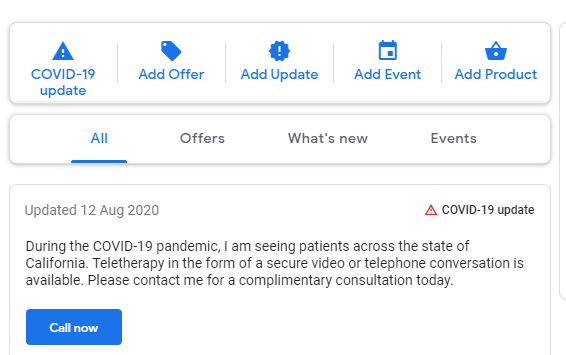 10. Under your business options are the "services" you offer. Be sure to list as many as make sense for your practice. Again, using common language is best here so your profile has a better chance at matching the words potential clients use when searching for someone like you.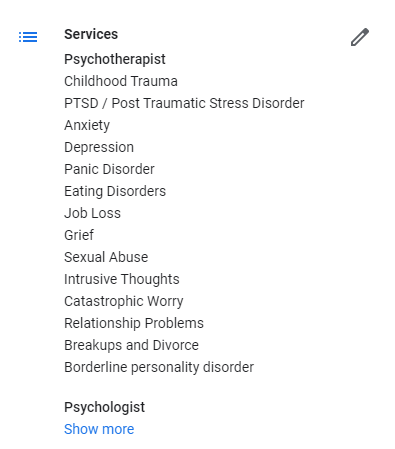 11. Enter the contact details to show on your listing.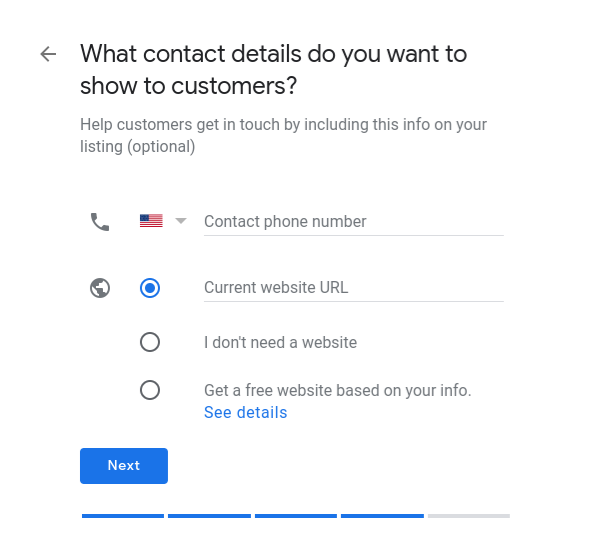 12. Select finish.
13. Verify your business so Google knows you actually work/live at the location you listed. Google will send a postcard to your business within about five business days. This postcard will carry a pin needed to verify your business and voila, your GMB listing is ready to be optimized and viewed. After you initially verify your business, Google will verify your business in the future using a text message and a PIN, but for most people, this process starts with an actual piece of mail sent to the address listed. 
What is local SEO?
Local SEO is the process of increasing the search visibility of your business. It is similar to SEO in that it is the ranking of pages that a search engine displays. However, the criteria for ranking in local SEO is quite different than SEO itself.
When the Google algorithm determines the rank of a particular business in terms of local SEO there are a few factors that are taken into consideration.
Prominence

– how well-known a place is offline. (This also includes review counts, links, and articles.)

Relevance

– Google's algorithms attempt to find listings that best match a user's search.

Distance

– how close a listing is in regard to the user.
Is Google My Business good for Local SEO?
Google My Business is essential for local SEO. And local SEO has proven itself to have a heavy hand in the success of small businesses. Research has shown that more than 50% of searches that use the phrase "near me" result in a store visit.  And 86% of people looking up the address of business do so on Google Maps. 
For any business interested in driving interested readers to their site without spending on advertising should dig into SEO and its benefits. Here's a primer to get you started.
How do I get more views on Google My Business?
Local SEO and traditional SEO share a key component when it comes to ranking and that's the use of keywords. The best way to get more eyes on your Google My Business listing is to use appropriate keywords. And just like traditional SEO, you want to get into the mindset of your customers. In that area, you always want to use the language (aka keywords) they use. 
Ask yourself if you were looking for you on the internet what words would best describe your business. And those my friends are the terms that you should use frequently in your GMB listing. 
Optimize, Optimize, Optimize!
After setting up your GMB account, it is important that you continue to update it regularly. Consistently providing updated information about your business and optimizing your listing goes a long way when it comes to the customer's decision-making process.
The following is a list of things that can be optimized on your Google My Business listing:
Business Description – this is your chance to give viewers all the details of your business, what makes you different and why is it worth the trip. 
Services – stand out from the crowd by telling the world the kind of help you offer with details to back it up.
Your COVID-19 Policies, Hours & Offers – this update allows people to read temporary adjustments you've made to your practice such as offering "teletherapy" while the pandemic goes on. You can also share any specials or discounts for people affected by COVID such as "free or discounted help for essential workers".
Photos – When users searching up local businesses, they want to see exactly what these businesses look like. Google found that businesses with photos received 42% more requests for directions than those without, and those with photos received 35% more clicks than those without. 
Bookings and Reservations – this is a useful feature as it lets users book and/or make a reservation directly from the listing. 
Google Posts – are an easy way to engage with your users as they view your GMB listing. You can use the post as an opportunity to make announcements about upcoming events and share news. You can also share excerpts of articles you write on your blog with a link back to read the full post on your website.
Google Messages – This feature allows users to directly message businesses. The only caveat here is that responsiveness is key. 
Q&A – Another feature that encourages engagement, it allows users to ask questions about the business. It shows you care about your business and the customers. 
Insights – is an analytics tool built-in directly into GMB. It allows business owners to see some pretty useful metrics for their GMB listing. Furthermore, owners can see the number of views, they can also see where the traffic is coming from and what (if any) actions users take on the page. 
Smart Ads – Business owners have the option of running ads for their GMB listing through Smart Campaigns. Just remember that a paid ad guarantees that your listing will pop up in the search results.  
Putting It All Together
Given the fact that we rely so heavily on the internet and our smartphones, in particular, it would behoove any small business owner to figure out what is google my business and create a listing. Of course, everyone's first thought is to head over to social media and rush headlong into their marketing. But when it comes to getting foot traffic into your local business establishment appealing to someone two states away with your message will only fall on deaf ears.
The benefit of Google My Business and local SEO is that businesses make themselves visible to potential customers within their specific geographic area and that itself can be a game-changer. 
If you're not sure how to effectively use Google My Business to support your business, especially in the wake of COVID-19, we can help. Please reach out to request a free consultation from our team today. 
Updated 8/25/20